A Trader's War Room
Mar 3, 2022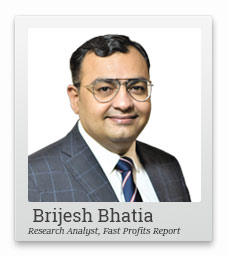 In this video, I'll tell you about my war room as a trader.
This is how I'm responding to the fallout of Russia Ukraine conflict in the Indian stock market.
How should your trading change during war time?
I'll answer this question and provide you with my view on the market.
Hello viewers. Welcome to the Fast Profits Daily. Myself Brijesh Bhatia.
Well you have seen the headline. A Trader's War Room. During such a scenario where markets are very, very volatile, be it global markets, be it Indian markets on the back of the Russian and Ukraine war, what a trader should do.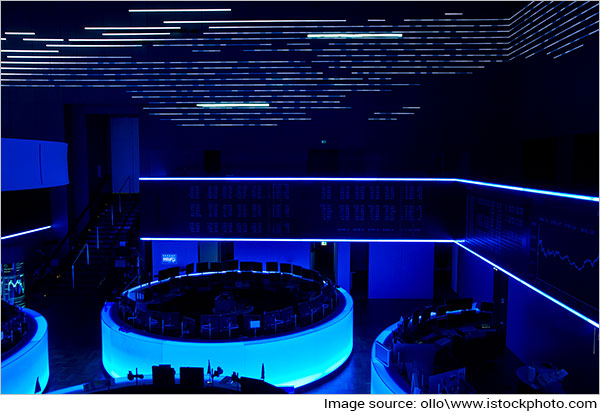 Well, I have started the video with the quote over here: 'War does not determine who is the right only who is left', and it was written by Bertrand Russel and it means at war can be between any countries between any people. But the one who is left is surviving and same goes with trading as well.
In such a scenario where markets are very, very volatile and keep up making losses and even if you're making a profit in such a volatile scenario, the ratio of profit to loss is very, very low at current point of time because markets are trading with the gaps.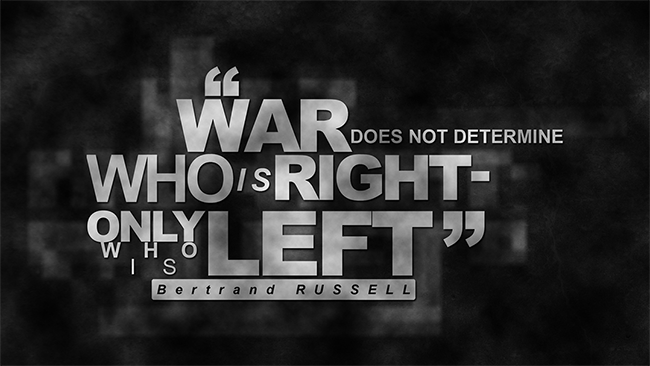 I will show you the data of the Nifty how the Feb has been performing in the context with the gaps. So here it is very, very much important who are left rather than who was right in the decision, be it Russia or Ukraine, be it Americans, be it the Indians it doesn't matter. But the one who are left post the war can leave live their life in the future.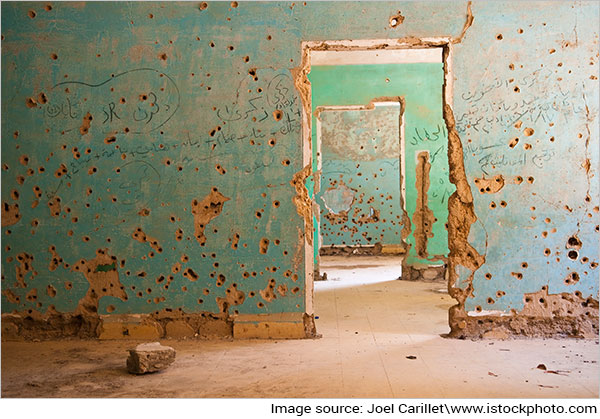 Well, if you look at the second image over here, this is the image during the war and if you look at the wall over here, it's been hit with N number of bullets over here. These are your trades. If there is a loss, if there's a continuous loss in your trading account, this will be a scar to you. And it is very much important that you save your capital, than making more profits at current point of time. This is very, very much important to the traders war room.
Sometimes it is more important to save than making the losses and taking unnecessary risk over here. So let's look at the important data over here what I was saying. This is the Feb 2022 month data, the open, high, low, close.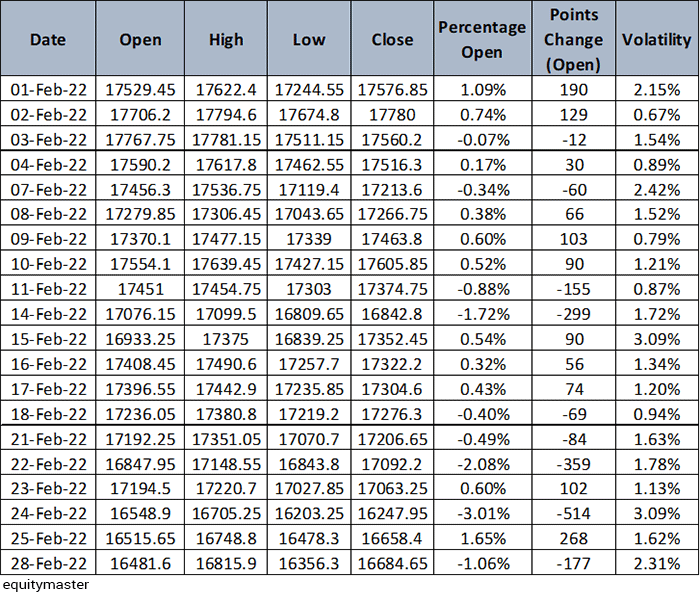 If you look at the percentage points open next day, the difference between today's open and previous day's close, there were only two instances where the opening was less than 50 points. Rest out of 20 training sessions, 18 training sessions where the markets opened with the or gap up or gap down of more than 50 points.
So it indicates that the volatility with the gaps is very, very frequent and it was on the back of the news, with the Russian Ukraine war going on, the last 10-12 days momentum was very, very weak. At the start of the Feb series, we had inflation and US interest rate scenario building up, where the gaps were very, very frequent.
Look at the last column the volatility here, we have seen more volatility, about half a percent or 2-3%, or intraday difference between high and low, which was divided by the previous days close.
So even if you look at the algos, which were trading, they we're unable to make the profits because if you take up a position as per the Algo and exit gap or our gap down, you exit your positions, intraday volatility was so much that the algo was giving in and out so very frequently.
So at current point of time, as a trader, I would say, it is better to be safe than sorry. Saving your money at current point of time is very, very important because if we are let going like going 30-45 days such kind of momentum, and there are any number of trades during the year.
So I think that's a certain amount of time you need to let go the trades. Even if you look at the volatility cycle, I'll come on to the volatility reading.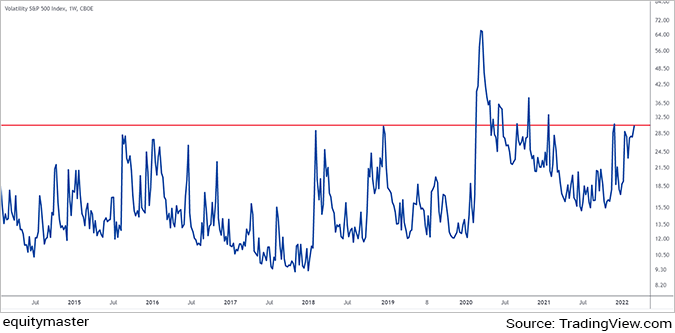 So this is the CBOE VIX, which is the volatility index, and if you look at it, it has been trading at the higher levels now. 2020 was an extreme year ,if you look at pyramid over there, that 2020 was something very different. But since then, the volatility has been highest at current point of time.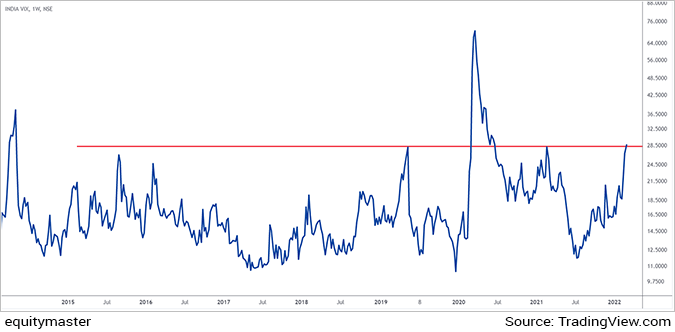 Even if look at the India VIX over here, the chart, it is being trading at the higher level on 28_29 percentile, which is again the highest level.
So volatility, I think, would remain higher due to his Russia Ukraine war. Things are not settling down and global markets, though it is not much related to us but if you look at the global markets, US has been being very, very volatile. We have seen a number of decisions coming. The top piece is as a news that one city has been captured by Russia of the Ukraine.
So there are various news coming in and out and markets are very, very volatile. If you remember, the Monday session, SGX on Friday was near 16,900 plus. Monday again went down lower. Opened gap down of 150-200 points. We came back very, very strongly and ended around 100 points positive. So such kind of volatility would continue to remain in the markets.
As a trader, you should think of taking a vacation or a pause from your regular trades or you can lower down your risk position sizing. But I believe let things settle down probably in a week or in two weeks' time, and then the market is all yours.
So for traders, the war room decision should be that in such kind of situations, either you lower your positions or be on a sidelines till the markets or the dust settles down between Russia and Ukraine. When the market settles there are always opportunities to trade with the same system.
During this time, each and every algo systems or the systems which you are trading, might face some of the losses because volatility is not a part or the back testing for such kind of long-term trades. Such volatility was expected.
Even if you look at 2020, we haven't seen such kind of volatility. They haven't seen such kind of gaps for last 18 trading sessions out of 20. So this is one of the scenario is going on. And I would say the war room decision should be to stay away from such kind of markets. Let the dust settle and then get back into the markets with the bank.
Signing off, Brijesh Bhatia.
Warm regards,

Brijesh Bhatia
Research Analyst, Fast Profit Report
Equitymaster Agora Research Private Limited (Research Analyst)
Recent Articles