A New Super Cycle in Metals?
Mar 5, 2021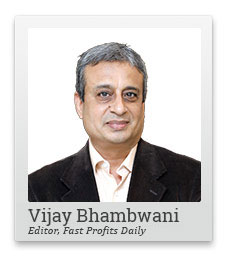 Every now and then, the financial markets come up with a new and exciting theory.
Traders and investors get caught up in it and prices go soaring higher.
Then things cool down and people regain their senses. This usually happens after suffering losses.
Is something similar in the metals space? Is history repeating itself?
In this video, I'll tell why you should be wary of the new and exciting metals supercycle theory.
Trust me when I say there is more to it than meets the eye.
Hello friends. This is Vijay Bhambwani, and in this video I want to address the issue of something that you must have no doubt heard about in the public domain, on social media, mainstream media, being whispered or even yelled across chat rooms.
Is there a super cycle boom in the metals/hard asset markets in the commodity space?
Now this is connected with inflation, with bond yields, and so many of these hypothesis are floating around that I thought it would be a good idea to record a video in the topic.
Friends, I'm Vijay Bhambwani, a trader with 35 years of training experience under my belt, 28 of which are as a founder, promoter and CEO of a limited company that trades for a living. So when I speak in these videos, I tend to put forth my views as a door of deeds rather than a theoretical person.
FREE Event: The Great Indian Wealth Project
So what is a super cycle? Typically speaking, a super cycle where price is concerned, I'm gonna keep it simple. We as traders are concerned with the price and in a super cycle or a grand super cycle, prices tend to leap up by huge quantities, by huge magnitudes.
The impetus, which is the velocity and the acceleration in price, is extremely, extremely strong, and you will see upper circuits in prices many a times. The bulls are so strong that your traditional indicators for example, oscillators might just remain over brought for extended periods of time. Just when you think a correction is around the corner, there will be no correction and prices will hit new highs.
Now in commodities, super cycles can be created by two different factors, and these two different factors will determine what will be the qualitative aspect of the rally. It's not just about the quantity, it's also about the quality. Believe me, a poor quality rally is something you don't want.
So let me first explain the difference between commodities and equities. That financial markets determine prices by effect of demand and supply is something that you already know. In the case of equities, there is one thing which is extremely peculiar, which I am sure you, as an astute investor/ trader, would have thought about. The supply of shares is constant, which is because the paid up capital of a company doesn't change from day today.
Demand can change from minute to minute, hour to hour, day or week or month to month. It can also be stimulated by interested parties using various platforms. So it is easy to drive up the share price of a company from Re 1 to Rs 1,000. As long as you keep buying, you can push it up because you know that you've cornered the shares and no supply is going to come. The paid up capital remains constant.
Now, take, for example, base metals. The most common base metals are aluminium and iron ore. As a matter of fact, 8% of the earth's crust is made up of aluminium. So chances are barring water bodies, barring mountains and hills, barring the deserts, anywhere you dig, say, 50-100 metres into the earth, you will find some amount of aluminium.
So whenever prices of commodities start jumping up, all you need to do is dig more. The mining companies will dig more and produced more aluminium or, for that matter, any other metal, and they will start to lock in their prices.
But in the case of a super cycle, where there is a shortage of aluminium and the demand is, the actual demand by producers, is so big that no matter how much the companies sell, there is demand for more and more metals and the buyers are even willing to pay higher prices.
On the other hand, there is another type of a super cycle where the demand is not there. So the producers will curtail the output, which has happened in Corona. Many companies, many miners are seeing crippling amount of shortage of labour and remember mines are underground with very little fresh ventilation.
So this is a breeding ground for any kind of infections, especially like covid. You can't expect them to be masked all the time and taking oxygen cylinders and breathing like a scuba diver through a pipe or a hose. So this is fraught with risk and there are supply cuts.
But at the same time, there is so much of unbacked currency being printed that this money has to find avenues to get itself in invested and not just invested, earn profits from it. So how do you earn profit after investing money in something? Remember, you're not shorting new investing.
So you buy something in large quantities, subdue the output and want the price to go up. In my humble opinion, I'm open to the idea that you can agree to disagree with me or even disagree and disagree with me. Keep the lines of communications opened. Bouquets brick bats, flaming, whatever it is that you want to do, do it in the comments section. I welcome this with open arms.
So I am of the humble opinion that the commodity markets are going up. The metals markets are going up not because demand has shot up, but because supply has been curtailed, either deliberately order to Corona compulsions and there is huge amount of money floating into the market, and that wants to basically push prices higher.
Now, as I record this video, it is the evening of Thursday, and on my computer trading terminal, I am seeing a 4% decline in copper and a 6% decline in nickel. As a matter of fact, nickel has been in a free falls in the last couple of days.
Are these the indications of prices which are so strong that there is a grand super cycle around? You need to think for yourself. If there was a grand super cycle or even a super cycle, prices would not be hitting lower circuits, prices would not be in a free fall. As a matter of fact, nickel in the absolute number of rupees, has seen a triple digit fall, and it has been in a state of extreme sell off since at least two and a half sessions.
There are nothing but bullish reports about the steel industry, and you cannot manufacture steel unless you mix iron ore with nickel. You cannot have any industrial activity unless you basically you use copper. Copper is known as the tin roof of the economy. It is known as Dr Copper because it measures the health of the manufacturing economy. If at all the health of the manufacturing economy is so good why is copper down 4%?
I am not saying that you should be shorting anything at all. That's premature. All I am telling you is that there are two types of super cycles. One is speculative in nature. The other is built on solid fundamentals of demand increase.
Look around you. Are you actually seeing manufacturing, production, construction activity pick up so much that these metals are absolutely in short supply? They walked down Masjid Bunder. Take a walk down Darukhana. Take a walk down Dana Bunder and take a walk down Reay Road. This is Mumbai's market and let me tell you not just Mumbai. It is the largest scrap dealers market in Asia.
I have been for the last over 15 to 17 years been on television and up to 2015, I was on TV every day. I have cultivated so much of contacts in these areas, all it takes is for you to pick up the phone and ask the scrap dealer how much metal is being locked up by eager buyers or is he just sitting and having cutting chai because there is no business? I leave the decision to you.
On this cheerful note, I bid goodbye to you in this video, not before reminding you to click like on this video if you liked what you saw. Subscribe to my YouTube channel if you haven't already done so. Click on the bell icon to receive alerts for new videos being uploaded here.
In the comments section, send me whatever you have. Love, hate, bouquets, brickbats, I accept everything and help me spread the word of knowledge based investments and trades by recommending my videos to your family and friends.
Have a very, very profitable day. Stay safe. Don't get carried away by what you hear and see in the media. Exercise your own caution and let's be careful out there.
Thank you for watching my video. Vijay Bhambwani signing off for now. Take care.
Warm regards,

Vijay L Bhambwani
Editor, Fast Profits Daily
Equitymaster Agora Research Private Limited (Research Analyst
Recent Articles