Beware of the Oil Rally
Mar 8, 2021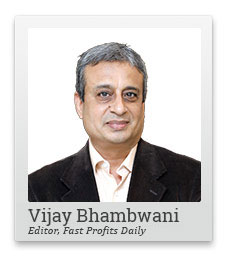 A couple of weeks ago, I asked you not to buy into the energy trade.
In other words, I asked you not to go long on crude oil.
Crude oil prices have been rising steadily this year. Many of you have questioned my bearish stance.
I think it's time I set the record straight.
In this video, I'll tell you exactly why I think you shouldn't be on the long side of this trade and when in fact you can actually short crude oil.
Let me know your thoughts.
Hello, friends. In this video, I want to discuss the curious case of oil and how it has moved in divergence from gold.
You see, last week gold took a knock along with silver, of course, because of anticipated reasons like rising bond yields, which means that traders were expecting interest rates to go up and a rising dollar.
Now, the dollar is the invoicing currency, which means in the international commodity markets you normally pay for buying commodities in the US dollar. Now the relationship of the dollar verses commodity prices is like a see saw in a garden. You put a heavier child on this side, it will go down and the lighter child goes up.
So when the dollar becomes strong, commodity prices become weak and vice versa. So when the dollar strengthened and the bond yields also went down, which means higher interest rates were likely, and as Warren Buffett says, gold is not very attractive for him at least, because it does not need any dividend or interest.
Learn: How to Potentially Accumulate Rs 7 Crore in Wealth Over the Long-term
Now, an interest rates are expected to go up, people are expected, now remember, these are all expectations and sentiments, it was feared and expected that people will take money out of gold and invest it in fixed income over a period of time. Which is why in anticipation gold prices fell.
Now the same should have applied to crude oil. A strong dollar should have brought crude oil prices lower. Higher interest rate should have resulted in all that unbacked currency, which was printed last year due to the pandemic relief on stimulus, call it what you will and was invested in high risk assets, should have come out and gone back to interest baring securities, but crude oil continued to rise.
What makes this a curious case is that both crude oil and gold are somewhat loosely correlated. When crude oil prices rise, it is feared that inflation would also rise and as a fallout of this, gold prices are seen to go up as a hedge against inflation.
But gold was falling and crude was rising. So is the correlation broken and why is it so? This is the crux of the video. Friends, I'm Vijay Bhambwani, a trader with 35 years' experience in the market, 28 of which are as a founder, promoter and CEO of incorporated company that trades for a living. So when I give you my perspective, it is from the point of view of a door of deeds, more as a hands on a practitioner and not just the academic or the theoretical aspect of the markets.
Now if you have been watching my videos since 2019, when I started recording videos in the Fast Profits Daily playlist here you would remember that from July 2019, I have been bullish on crude oil, saying that the only reason for me for crude oil to go up was the Saudi Aramco IPO, which was ultimately launched in December 2019.
The IPO size was a far cry from the US$ 200 to US$ 300 billion which Prince Mohammed bin Salman or MBS as he is referred to in the international journalist community, it was a far cry from US$ 200 to US$ 300 billion which MBS wanted.
I said that to up to make Aramco as a solid investment grade company whose prospects of profitability were bright, the Saudis would deliberately push up crude oil prices and entice investors to invest in the IPO. Sure, enough crude oil prices went up and peaked out by end of December, and they actually started falling from the first week of January.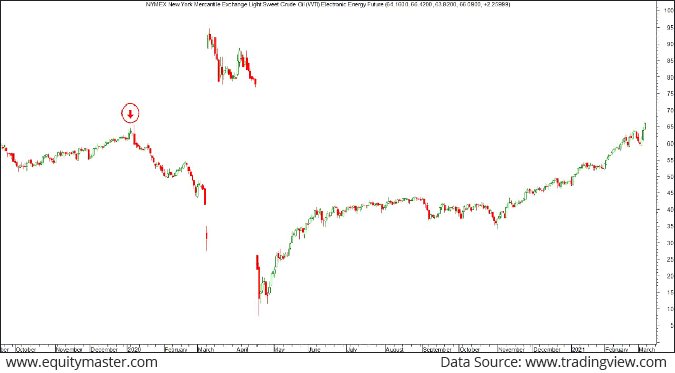 Coming up on your screen is a chart which I have marked with a down arrow in a circle, which shows the peak at approximately US$ 65 a barrel as on sixth of January 2020. Do remember that the covid related meltdown down in financial markets only came in the month of March 2020. All the other assets were falling only after the long downs were announced worldwide, and that happened starting from the first to third week of March, depending on which country you're looking at.
But from the first week of January itself, once the Saudis had done and dusted the Aramco IPO, crude oil prices have been plummeting. Guest what? Post IPO I had recorded a video saying that the IPO of US$ 25 billion plus, though it's a humongous sized IPO, is a far cry from what MBS wanted and it is just enough, just enough, to repay the bondholders who are waiting for redemption in 2020 and 21 and don't be surprised if the Saudis come out with another IPO.
Unfortunately for the Saudis, the pandemic hit and no fresh IPOs were possible but now, not only have they announced a fresh IPO, but a Euro denominated bond float has also been announced. So now money is being asked or sucked out of the market and here again, oil prices are going to be boosted, boosted in the usual manner.
Which is why, my friends, you're seeing oil move in an opposite direction from gold. Remember, like I said in my video on the supercycle in industrial metals, some of you found that I was basically sitting on the fence and not taking a clear stand. Please do understand. I was very clear in what I said that there is a bull market or maybe even a super cycle in base metal markets, but you have to see whether it is qualitative or quantitative.
Quality of bull market is when buyers are demanding more and more of the product in spite of rising prices. A poor quality, therefore, a quantitative rise in asset prices are when the buyers are not really very eager to buy, but they need that commodity anyway, and the seller is creating an artificial scarcity by saying, look, I don't really have this productive the quantity that you want, but I can procure it for you at a later date, provided you keep me 20% premium on the price and keeps on raising the premium.
Do remember that in the last couple of quarters, the Saudis, along with the OPEC and now non OPEC members coming into OPEC and calling it the OPEC plus, have deliberately cut output multiple times, and as a matter of fact, Thursday last week, the Saudis have announced a one million barrel per day output cut, a fresh round of output cuts, on Thursday and immediately, oil prices jumped on the MCX.
So is this rally in oil price driven by eager buyers rushing to the oil exporting countries and saying, we want more oil? Or is this rally fuelled by artificial scarcity created by output cuts? I think this is an artificial rally. Of course, justification will come from various quarters and this is not really surprising about the financial media. This is a trick as old as the hills.
We had Equitymaster cut through all the jargon and stick to facts and bring you the truth. Sometimes it is also unpleasant in nature. So do remember post IPO how the price of crude oil fell sharply off a cliff.
Once the planned Saudi Aramco IPO, which will be the second IPO, is done and dusted, I anticipate a similar decline in crude prices, which is why I caution you, dear friends, to be extremely careful. Don't get carried away. Don't rush into a trade just to earn alpha or pure profits because you're seeing momentum on the upside.
The oil markets are in a surplus as far as output is concerned, and there is also a lot of tension within the OPEC. It's not just a cohesive cartel, but there are a lot of political, ideological, and even geographical disparities between the OPEC plus members. It's an uneasy collection of minds, which are just going along with a vested interest because crude oil prices are rising and they all stand to benefit.
But at some point in time, unless the oil exporters start selling more oil, nobody is really going to benefit much because the cash will not come and the minute they start to sell more oil, prices will fall, which is something the Saudis know.
So they are holding back everybody from raising their output till the Aramco IPO and once the IPO is done and dusted, you're going to see oil come down again. Don't forget all the usual triggers like electric vehicles, solar power, wind power, alternate sources of energy, etc are still as valid, and as a matter of fact, in a rising oil price scenario, alternate sources of energy become even more commercially viable. So this is another reason why you should be basically extremely cautious.
Don't get carried on with the stories that you hear in the public domain because these stories can flip on a dime overnight. It's your money. Let's be careful out there.
On this sombre note, I bid goodbye to you in this video not before reminding you to click like on this video if you liked what you saw. Subscribe to my YouTube channel if you haven't already done so. Click on the bell icon to receive alerts about fresh videos whenever they uploaded here.
In the comments section, do let me know what you think about this video. Bouquets, brick backs, love, hate, give me everything. I except all and help me reach out to fellow like-minded traders by referring my video to your family and friends.
Have a very profitable day ahead Vijay Bhambwani signing off for now. Thanks for watching.
Warm regards,

Vijay L Bhambwani
Editor, Fast Profits Daily
Equitymaster Agora Research Private Limited (Research Analyst
Recent Articles