Best Sector for Long Term Investors
Mar 10, 2021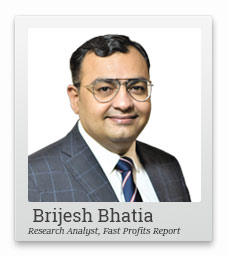 Among the many requests for videos we receive from viewers of the Fast Profits Daily, 'top sectors' is always a favourite.
A few weeks ago, I did a video on energy stocks. I said these stocks are good picks for the short term. The market validated that view.
But what about the long term? Which is the best sector, the one I'm most bullish on?
Well, I have the answer for you in this video.
Let's dive in...
Hi viewers. Welcome to the Fast Profits Daily video series. Myself Brijesh Bhatia, senior research analyst and editor at Equitymaster.
So markets are likely trading in a range as of now, and we are witnessing 14,000-15,300 has been slightly a range. Though there are gaps up and gaps down, market has been slightly volatile, trading a couple of percent plus minus and things are going on.
WATCH NOW: Full Replay of Our Urgent Broadcast on India's Revival
But in this video, I'm not here to share the view on Nifty but one sector where an investor should look out. The one sector where the wealth creation can be a big opportunity and that sector is FMCG. So first, let's look at the broader picture of the monthly chart of FMCG Index.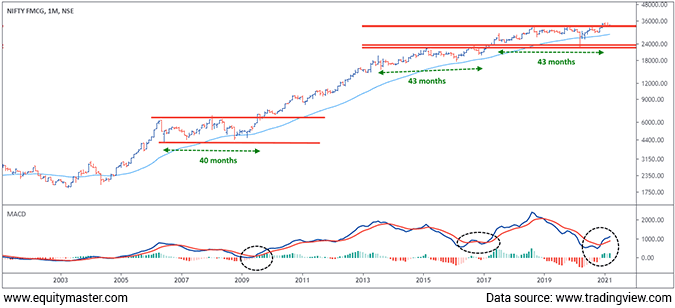 So if you look at the monthly chart of the FMCG index it's been a rally. A consolidation. A rally. A consolidation. A rally. This has been going on in the FMCG space. Always, FMCG has been being one of the defensive sector. During the bad times it has strongly outperformed. In 2013 to 15, where most of the sectors were underperforming, FMCG was the one which has seen outperformance over that point of time.
But if you look at the chart over here, it's been consolidating, a rally, again a consolidation, and most important, if you look at the consolidation as per the time series there is a saying in technical analysis that history repeats itself.
So if you look at the consolidation initially it took her on 40 months of consolidation. So again a big period. Then a rally. A consolidation of around 43 months. Again a rally. a consolidation of 43 months, and again, the prices are now breaking out of those consolidation again.
Although we have seen in January and February, a break out. March has been slightly still. I would say not a big momentum but we believe that the retest and the fresh leg of wealth creation, momentum this sector can show his on the cards.
If you look at the lower panel over here, the MACD which is moving average convergence divergence, if you look at the average when the averages, after falling down, gives a positive crossover above the integer line, the amazing move has been witnessed in the coming months, coming years.
We certainly believe that if we look at the current point of time where the positive crossover has happened on the average and even if I look at it historically, previously these positive crossovers have happened, the markets have seen a huge rally.
This point of time, prices are breaking out of the range plus the MACD it is giving a positive crossover. Again, it's a strong conviction that in the months to come, the years to come FMCG could strongly see an upside momentum.
We have seen ITC, Dabur, Britannia, HUL, the biggies of FMCG have been consolidating in last few months, and that could see a huge uptick, and we are not surprised if we might see probably 2021 ending on a bigger, bigger, note for FMCG space and probably 2022-23 can be the year of FMCG, looking at the moves which it has been showing.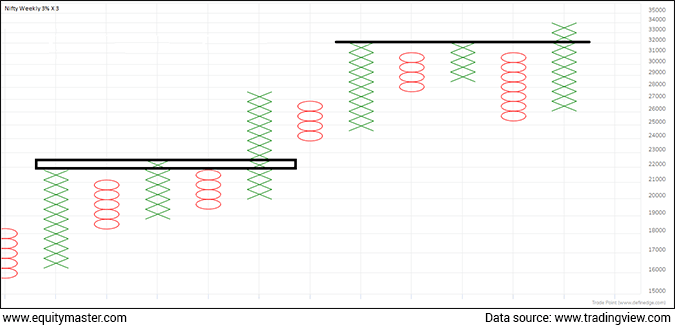 Now look at his second chart over here. This is the point and figure chart. So basically another way of looking at the charts. The X here represents the bullish momentum. The O here represents the bearish momentum.
Now this is again of weekly chart. I am looking at longer term, not a short term point of view or medium term. I'm looking at a longer term. If you look at the 3% by 3% which means that every week, prices close 3% higher the X is formed. When prices fall by 9% which is 3*3 which is 9, an O is formed.
So similarly, if you look at the consolidation, it has a happened, a triple top, the pattern on the right hand side, the black line, which is showing the breakout, has happened, and triple top generally marks a big, big breakout, even it's a shorter time frame or if it's the longer time frame or a long term chart you are looking at.
So here, it's definitely breaking out of a triple top on the point and figure chart is more convincing and adding the fuel to the bar charts, which is being breaking out of the 43 months consolidation break out and again, if you look at the time series wise, yes, history is repeating again and again in the FMCG space.
So we believe that if I look at the two charts just to sum of consolidation breakout, time wise consolidation breakout, MACD, triple top on the point and figure chart, and the triple top if you look at the previous, though I will not say it's a triple top, but if you see the previous highs were taken out of the FMCG at the initial level on weekly 3% by 3%, we have seen a huge rally.
If I just measure this target, we are trading around 32,000-33,000. If I measure in the point and figure, it comes up around 50,000 plus.
So yes, we believe that FMCG could have huge steam, and this could be the one sector which could be the big wealth creator in 2021-2022. So you should look at these charts for wealth creation and again, I repeat, this is not short term or medium term which I am looking at from the index point of view, but yes, on the wealth creation, this is an amazing sector you should look at.
I leave it to you on the stock selection process but this sector is a promising one for me on the wealth side, and I definitely look at an investment opportunity in the FMCG space.
So before signing off, I request, in case you haven't clicked to our subscribe button on our YouTube channel, do click it. Do comment on our videos, how do you like it and in case you think that some of the parts from trading side, investing side, technical side, we will definitely right to make it out for you.
Signing off. Brijesh Bhatia.
Thank you.
Warm regards,

Brijesh Bhatia
Research Analyst, Fast Profit Report
Equitymaster Agora Research Private Limited (Research Analyst)
Recent Articles