Rupee@74: This is What I Recommend You Do
Mar 11, 2020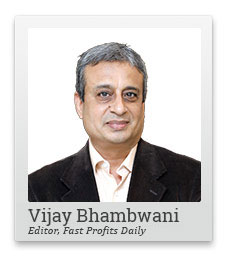 The Indian rupee recently fell to an all-time low breaching 74 to a US dollar. That's a significant 5% fall in about a month and a half. This was due to the recent strength in the dollar against many currencies.
As a trader, how can you make fast profits from such moves in the currency market?
Today, I want to share with you my personal trading strategy. It's simple and highly unconventional but it has proved to be very profitable for me...
...and I'm sure you too can make solid profits if you use it in your trading.
Enjoy the video!
Hi, this is Vijay Bhambwani and I'm going to talk to you about something very unconventional.
Today, I'm sharing my secret sauce of currency trading with you. This is something that I learnt over the last couple of decades that I've been trading in the markets and I've been trading currencies since the time they were launched in the exchange traded platform in India.
Currencies are basically extremely sensitive to inflation and I'm talking of real effective inflation, not the headline number.
When I used to write articles for DNA money, which was a separate pull out section of DNA newspaper, it was a separate section when it was launched, we basically used to give our outlook for currencies, commodities, etc, and this is a tip or trick that I learnt to be able to get higher rates of accuracy for my readers of the column in DNA money.
I noticed that the prices in the vegetable markets, if collated and collected carefully, and the right vegetables and fruits were extremely accurate indicator of where the currency peg was likely to be.
So we put together 16 vegetables, six fruits milk, eggs, and meats, poultry products prices and we tabulated them into an Excel sheet and once a week I would collect prices.
Here, you have to be careful. You need to collect prices from the same vegetable market because the data sample has to be collected from the same source. You cannot collect prices from the Colaba vegetable market on week one and Dadar vegetable market on week two and Borivali vegetable market on week three. It has to be from the same place.
So we would basically collect prices once a week from a vegetable market. Note it down in an excel sheet. Follow this process for four consecutive weeks.
If I found that 85% to 90% of these items, 16 green vegetables, six fruits, milk, eggs, and poultry meats, if 85% to 90% of these commodities were higher in price on a week on week basis, for four consecutive weeks, it was an indicator that real effective inflation at the street level was rising.
This would be a trigger for me to go long on the USDINR, which means I was buying the dollar and at the same time, going short on the Indian rupee.
Statistical traders would want to know the accuracy rate of this system of trading. If you want to try this system out, you will be surprised at the results.
I found that I was making money six times out of ten, which is 2/3 of the times. Now, these are odds that any trader would love to give a right arm and a leg for. This is not something that calls for rocket science. There is no secret calculation, computation, etc. This is as earthy as it gets. You can't get any simpler. Is just a matter of being diligent and collecting data patiently on a week on week basis.
All other factors remaining constant, if there is any outbreak of a war or Coronavirus kind of an emergency, if crude oil prices were to shoot up because of some terror attack like it happened in September on the Saudi Aramco facilities, or the killing of Iranian major General Suleimani, these are outliers that, of course, will disturb the entire equation.
But if all other factors are remaining constant and if you were to follow this system, I can tell you with a certain degree of comfort and confidence that this system has worked for me, and I've continued to use it and will continue to use it, till I find a better system to replace this system.
If you were to basically keep your trading systems as down to earth and as earthy as they come, simplicity is the essence of beauty, and beauty in the market can only mean profits.
So this system will enable you to take the money out of the other guy's pocket through your trading terminal and put it in your pocket.
Hey, I can't get this any simpler than this. I assure you, you must give it a shot. It's not something very difficult to do. You can tell the lady of the house, or you could basically go out there on a Sunday and collect prices yourself once a week. It's a very enlightening, interesting, and extremely profitable endeavour.
Before I sign off from this video, let me remind you, we are now on telegram with the handle Equitymaster official on telegram. Please do join us there. I keep putting my views 24/7 on the Equitymaster telegram channel.
In the comment section, let me know what you think about this video. Also, let me know what other videos you would want me to record in the future.
Do click on like, if you're watching this video on YouTube, and do share this video with your family and friends.
This is Vijay Bhambwani signing off for now. Do take very good care of your trades and investments.
Thank you.
Watch out for my next video tomorrow morning.
Have a profitable trading day.
Warm regards,

Vijay L Bhambwani
Editor, Fast Profits Daily
Equitymaster Agora Research Private Limited (Research Analyst)
Recent Articles