Here Are 2 Simple Trades for You
Mar 12, 2020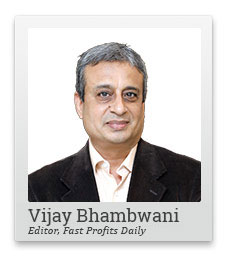 Today, I'm sharing with you two trading opportunities.
Regular readers will be aware of these trades. You may have already profited from my earlier recommendations.
Even so, I think you deserve to know my latest view on these 2 high-conviction trades.
After all, I want you to make fast profits...yet again!
If you haven't profited from these trades yet, don't worry. There's still a lot of money to be made.
Let's jump right in...
Hi, this is Vijay Bhambwani and today in this video, I am going to talk to you about a subject that's really my favourite and it's made me a lot of money and money for the clients of the Weekly Cash Alerts service - Natural Gas and Crude Oil.
You guessed it right. We're gonna talk about the outlook of natural gas and crude oil, and I'm going to share the method behind the madness or the reasons why I say what I say.
In the last few months, I've always been recommending a sell on natural gas and crude oil and the market prices have basically validated my hypothesis and we've seen the price is coming along the expected trajectory.
Now, let me share with you the reasons why and if you're smart enough, you would have guessed what to do after this video ends. I'm gonna leave money on the table for you by way of a possible trade that you can initiate on your own.
You see, at the time of the Aramco IPO, the Saudis and the Kuwaiti government, which are basically neighbours, have agreed to jointly restart the extraction of oil from two oilfields on their border, which are the Wafra and Khafji oil fields. The output from these oil wells is substantial, ranging between 400,000 to 500,000 barrels, which is almost half a million barrels per day.
And if you basically check the newswires, it is officially confirmed now that come April, Wafra and Khafji oil fields are going to pump out half a million barrels of oil.
Move to Europe. Norway has an oil conglomerate, a giant oil company called Equinor. It has basically re-commissioned a giant oil field, called the Johan Sverdrup oil field. That oil field is shortly, going to pump out 450,000 barrels of oil per day.
So if you were to combine the Wafra, Khafji, and the Johan Sverdrup oil fields, you have almost a 1,000,000 barrels of oil coming in as fresh supplies per day.
That's not all. In a very surprise and unexpected welcome oil find, Equinor has found another oil well 11 kilometres away from its Gudrun oilfield. This was basically an unexpected oil field. Therefore, it has now been nicknamed 'the wildcat'. So let's call it the Gudrun Wildcat. Here again, the output is upwards of a quarter of a million barrels per day.
Before I wind up with how much more oil the world is going to be swimming in, let's not forget Guyana. This wild card country has had an oil discovery, which it is going to commercially exploit and the first 125,000 barrels of oil have already been shipped out and Guyana, by 2023, is going to be a big exporter of oil in the global oil markets.
Just before you think that it can't get any more oversupplied, the Saudis have now announced of a giant natural gas discovery in a well called Jafurah. It is so big that the Saudis are planning to pump in US$ 100 billion. Yet that's right. US $100 billion to develop and exploit the natural gas from this oil field.
The UAE has announced an oil discovery. This is so as to reduce their dependence on Qatar, which is now basically out of OPEC, and Qatar is a major natural gas exporter. To the extent that it is one of the biggest suppliers of natural gas to India through our state-owned company called Petronet LNG.
The state gas company called RasGas of Qatar has a tie up with Indian Petronet LNG for supply of natural gas. So the has found huge reserves of natural gas in its own sands to basically wean away from dependence on Qatar, which will again exert a huge amount of pressure on natural gas prices.
Let's now go to Gazprom, the Russian gas exporting company. Gazprom has basically announced almost completing the 800+ mile pipeline to Germany to supply low cost, affordable gas to Europe. Which means the gas surplus Russian economy is going to pump the already oversupplied international gas markets with low cost gas.
I have, at the end of last calendar year, around November, recommended a high conviction trade of selling natural gas around Christmas and squaring up those shots around Vernal Equinox on 21 March 2020.
My logic was, natural gas demand would spike up around Christmas when the requirements for heating of commercial and residential premises would spike up, and as the summer sets in, the demand for natural gas would basically shrink substantially.
Now add this huge oversupply to the shrinking demand of natural gas. You've guessed it right. You have a trade here. I leave that to you!
In addition to this all, the Chinese have basically enforced the force majeure clause in the contract of its offtake, or buying, of natural gas from its suppliers, thanks to the Coronavirus attack. The Chinese have refused to take delivery of natural gas because their consumption has collapsed, which again leads to a bigger glut in an already oversupplied natural gas market.
So, ladies and gentlemen, you have oil and gas which can actually make the world swim in itself. Can you guess where the prices are headed?
And let's not forget the inflation that will come down because of cheaper oil and natural gas prices.
All other factors remaining constant. I would expect the equity markets to have a salutary effect after a period of some lag of course, once the Coronavirus scare is done and dusted and has been dealt with effectively.
I would expect the fall in inflation thanks to lower crude oil and natural gas prices to trickle down into the global economy and boost of equity prices.
But I caution you, this will happen after a lag effect. So you can expect good news around the corner if you're patient and if you know how to cherry pick, you have trades in commodities and you have trades in equities, which are going to benefit from these prices of falling commodities.
Before I sign off from this video, let me remind you, we are now on telegram with the handle Equitymaster official, where I put in my news and news 24/7.
Also, if you're watching this video on YouTube, do not forget to click like on this video. Do share it with your family and friends and in the comments section, let me know what you think about this video and what other videos would you want me to record in the future.
This is Vijay Bhambwani signing off for now. Do take very good care of your trades and investments.
Thank you.
Have a profitable trading day!
Warm regards,

Vijay L Bhambwani
Editor, Fast Profits Daily
Equitymaster Agora Research Private Limited (Research Analyst)
Recent Articles