Why Gold is Still a Buy
Mar 12, 2021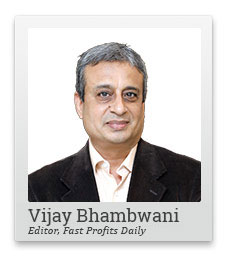 Gold has fallen sharply from its recent life high.
Many gold bulls are doubting the long term potential of gold as an investment.
I'm not among them.
I am a very strong bullish on gold. I have always said gold is an ideal long term investment. I'm not in favour of short term trading in gold.
I remain convinced about the long term potential of gold and in this video, I'll show you why it's a good time to consider buying the yellow metal.
Hi, this is Vijay Bhambwani. I'm a trader with 35 years of trading experience, with 28 of which are as a founder, promoter and CEO of an incorporated, limited company that trades for a living.
In my videos, I bring you the perspective from the point of view of a doer of deeds and in this video, I want to talk about a subject that I promised in my previous video, about gold.
You see, when I recorded the silver video made you a promise that I would address your concerns about why gold prices are falling and why I am still insisting that gold will go up. A few clarifications would be in order.
New Research: Our #1 Stock Pick Right Now
Number one. For my friends who are watching this video from overseas, please reserve your comments before you note that the price that I am talking about is an Indian national rupees for every 10 gm of gold. You guys are so used to the idea of trading your gold in terms of US dollars per troy ounce. Radically different. We are talking about Indian rupees, per 10 gm.
That said, now another clarification. Nowhere in my videos have I said that gold is a short term trade. Please go back to all the videos since 2019, and I have said gold is a long term investment.
Third point I have always and always favoured physical buying in bullion. I have never said go out and buy xyz. If some of you have forced me to a name ETFs, I have given you names of ETFs which I thought were worthy, but I have even clarified that physical bullion remains the best bet. Now let me share my thoughts as to why I said that.
Why do you buy bullion in the first place? Let me ask you a question in place of the question that you have asked me. Why do you buy bullion?
Now, I'm talking from a behavioural point of view. You buy bullion because you don't trust paper and you are bullion in paper form? Wow, all the more power to you. Now you're diversifying from paper assets and buying bullion in paper form. That doesn't speak very well. That doesn't sound very intelligent in the first place.
Secondly, the reason why I said gold is an investment and you must take physical delivery of it, is because the path to appreciation in prices and gold is never smooth. No where will you see you can take a foot ruler or a scale and plot a perfect trend line, which just goes up all the time. I am going to be showing you a chart in coming up in the video after a while.
So gold's journey is never smooth and as a statistician, and if you have basically seen my work on Equitymaster's Telegram Channel, which I urge you to join if you haven't already done so it goes by the handle Equitymaster Official, if you seem some of my work on this telegram channel, you will realise that I deploy a lot of statistics in our analysis before I basically recommend any kind of market directional views or even trades.
So the longer you take a time frame, the more variable factors which you haven't thought off right now can creep in into the future. This is a given. So when I say gold price projected target X Y Z as on 31st December 2021, and recently in a podcast I even gave an elevated target for 31st December 2022, which is good 21 months away, a lot of slips can come between the cup in the lips in the next 21 months.
So you must understand that volatility on this journey is given. If you are trying to trade futures, which I have never recommended in my videos, you have only yourself to blame. Now, if you scroll down my list, the playlist in which this video is, you will realise that in the middle of last year, I have recorded ample videos warning you about what can potentially go wrong in gold.
We can't just discuss bullishness. We also have to see what anticipated hurdles can come in the way of a bullion buyer and mind, you before you go further, my call on buying bullion and holding bullion, still remains in place.
Now just a small recap of what I think can go wrong in bullion and is going wrong in bullion. In the earlier video, in the middle of last year, calendar year, I give you the names of top 10 countries which are major, I would even call them swing producers of gold. The output is so high that these guys with their output, can actually dictate prices of gold just as OPEC is dictating the price of crude oil.
Now, if you see and this data is available on Google. You can just Google search the top 10 countries producing gold. The top 10 countries exporting gold. The first thing that hits your eye when you see the names of these countries is my God, these are distressed countries. Not all of them are very developed and many of these are hit so hard by the covid pandemic that they need huge amount of money for economic stimulus. This is something that I very clearly mentioned in that video.
You can please feel free to go down in the playlist and look any video about gold. If you just go out there and see, you will get a lot of insights about what I have been thinking over the months over the years since 2019 about gold and silver.
So these countries, in order to provide economic stimulus to their population, can only sell what they have, what nature has given them natural resources, commodities. So Saudi Arabia can sell oil and gas. These gold exporting countries can only sell gold.
Can they distress sell to repay their overseas debt, to provide stimulus, to raise cash for the government, to raise working capital? Of course, of course. Which is why I have been telling you, please go for physical holding.
The reason why I love physical gold is its bought and paid for. Once you buy, there is no mark to market margin calls or any other botheration. It's lying there in your safe. It's all bought and paid for. It's a sunk cost. Sit quietly on it and given time.
Now these distressed nations and it doesn't really take too long for you to Google search that these distress nations, their export figures, will also be available to you in the public domain. Check out why and how they are exporting more. Check out what gold coast Ghana is doing. Check out what the Dominion Republic is doing. Check out what Peru, check out Mexico, check out what Russia is doing. They are all under varying degrees of economic stress. All of them.
So this is expected along in the journey and which is why you must be patient. This is an investment. I repeat gold is an investment, not a trade, at least from the point of view of my videos.
Now it's hit a very critical level and coming up on your screen is a chart that tells you what is happening in gold.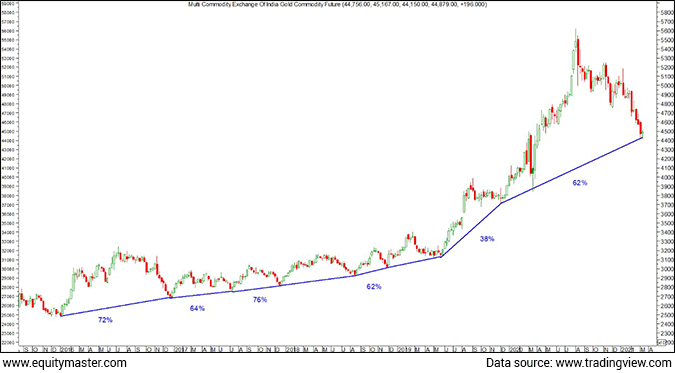 Mind you, this is a weekly chart. So this is again not for traders. What I have done is measure the peaks and troughs and seen how much of the rally gold surrenders before the next rally starts. This chart is spanning a minimum, a minimum of half a decade. So this is not your basically, curve fitted chart or I have not cherry picked the data to suit my needs. This is covering all the peaks and troughs in the last half decade.
Notice how the first rally that started in late 2016, surrendered 72%. The next one, 64%. The 3rd one, 76%. The 4th one, 62%. The 5th one and this was a steep rally, remember, there was covid, surrendered only 38%. The present one, we have already surrendered 62% of the rally that has started over a year ago.
Now the first thing first is if you realise all these numbers are somewhat, I'm using the word somewhat, close to Fibonacci levels. Do you remember 61.8%, 78.6%, 38.2%? All these numbers are tallying with a Fibonacci figure.
The other thing to note in this chart, is how the rally has become ballistic of late. For the first time, you saw a decline of less than 50% when gold gave up only 38% of its gains in the last to last correction and in the ongoing correction, which is still continuing although I'm seeing some resistance to further declines, it's not the hard bottom, it could go down a little from here, but it has already retraced 62%.
Which is why, if you are a Weekly Cash Alert subscriber, you would have received instructions last week about triggering a small tranche. I've divided your gold allocation into multiples of 20% of what capital you should be allocating, and a further 20% of your allocation had got triggered last week.
This is the reason my dear subscribers, as to why I told you to pick up some more gold in staggered lots. So when you split your holding into multiples of 20% you can average down five times. So one more lot purchased off late. This done, gold according to me, and I don't claim to be 100% right, the time or the price can prolong, the price can decline a little more than what I think it would, the time might take a little longer, but about the rally in gold, I'm purely sure of.
Recently, I did an interview on CNBC, and I said gold has stood the test of time for 5,000 years. I don't see why is going to lose its glitter so suddenly. The guys who professed to know charts as per the Dow Theory say that if any asset loses 20% from its peak, it has hit a bear market rally. By your logic by your logic, gold has surrendered more than 20% ample number of times in the past, and it has more than doubled in the period of the chart that I recently shown you. There goes your Dow Theory.
Gold is gold. It is the currency of the Gold and the kings, and that is what it will remain. It is not for the faint hearted. Don't try to make short term trades out of long term investments. You will come to grief and don't pay mark to market and margin calls. Take your physical delivery or stay out.
On this cheerful note, I'll bid goodbye to you, not before reminding you to click like on this video if you agree with what I said. Subscribe to my YouTube channel, if you haven't already done so. Click on the bell icon to receive instant alerts about fresh videos being uploaded here.
In the comments section, keep the lines of communication open. Bouquets, brickbats, love, hate, I love hearing from you. So does YouTube. It favours those videos when there are lots of comments. So keep pouring them in negative and positive and help be reach out fellow like-minded traders by referring my video to your family and friends.
Have a very, very profitable day. Vijay Bhambwani signing off for now. Thank you for watching. Take care. Bye.
Warm regards,

Vijay L Bhambwani
Editor, Fast Profits Daily
Equitymaster Agora Research Private Limited (Research Analyst
PS: Join me online on Monday, 15 March, at the Vertical Profits Summit. I'll will share with you my proprietary trading system to make thousands of rupees in profits within a few hours. Register for my free summit here.
Recent Articles