The War That Has Shocked Global Markets
Mar 13, 2020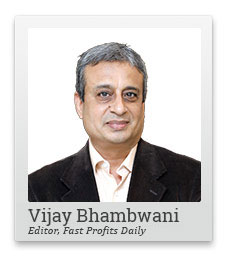 Global markets are in turmoil.
The spread of the Coronavirus has taken much of the blame for this crash and rightly so.
However, the oil price war, started by Saudi Arabia, is just as important for the markets... if not more.
This is a war which will affect you even if a cure for the Coronavirus is found tomorrow.
You need to be prepared for what's about to happen.
I believe this video will go a long way to help you with that.
Hi, this is Vijay Bhambwani and I am recording this video from my residence to talk about something which is so urgent that it basically cannot wait.
I want to talk to you about the oil price wars that are unfolding upon us and every single day, brings out a new development.
The Saudis have now announced raising their output to 13 million barrels of oil. A day earlier, it was a little over 11 million barrels of oil but the Saudis were talking about exporting 13 million barrels of oil a day, which basically implies that they were willing to dip into their reserves to be able to sell more oil to the world. That actually was a bit of good news because there was a limit to how much inventory the Saudis would have.
But now it looks like they are willing to up their output as well, even if it means incurring huge amount of cast, which basically tells you that the Saudis are now digging their heels into the ground and saying, we want to prolong this oil price war.
I am here to talk about how long I think, or rationally, you should think this oil price war can last and where do we go from here?
Let me basically remind you of the videos that I have been talking about the bearishness in crude oil and natural gas throughout the second half of calendar year 2019.
I am not talking about 'I told you so' or my bragging rights about what I said and what happened about oil and gas thereafter. We are basically talking data. We're basically talking hard numbers, and we are talking rationality here.
The Russians basically had a very uneasy alliance with OPEC members. Russia is not a part of OPEC but the Russians were attending the OPEC meetings, made OPEC call itself OPEC+, which meant non-OPEC members.
Now the Russians are the big boys in the room. Putin has basically the largest gas reserves, which he sells through his company, Gazprom. Donald Trump, by the way, has imposed sanctions on Putin's gas company and also the energy trading company Rosneft. Now this is something that I have already mentioned in my videos earlier.
The Russians are desperate to sell oil for a simple reason that they have economic sanctions imposed upon them after they moved their military into Ukraine, in Crimea.
Oil prices are falling and the Russian exports are getting them fewer dollars. Putin needs to raise his revenues, if it all he is to avoid an Arab spring in Russia.
The Saudis themselves need a lot of money because their social welfare programme, by way of which they avoid a social unrest like the Arab Spring from the minority Shia population that they do have in Saudi Arabia.
They basically distribute money by way of social welfare programmes and these social welfare programmes are now getting bigger and bigger thanks to inflation, and therefore, the Saudis will need a lot more money to distribute it so as to avoid a regime change.
With oil prices falling, with Saudi Aramco's IPO collection falling short of what the Prince Mohammed bin Salman wanted, the Saudis have a problem. They're trying to edge out all the other competitors using strong arm tactics by creating a short-term oil price decline.
Have you ever seen any common street fight between two hoodlums? The rules of street combat are standard operating procedure and simplicity in itself.
Rule number one. He who throws the first punch and hard punch tends to win.
Rule number two. After your opponent is down after you land the first hard punch on him, at least appear to and threaten to follow it with more and more punitive action.
Rule number three. There is no point in either of you guys killing yourself. So if any guy comes to broker a peace between the two of you, take it. If no third-party mediator comes to broker a peace, you basically back off and let the other guy surrender. If it all any one guy dies, it doesn't help the survivor either.
My guess is Prince Mohammed bin Salman is basically trying to do exactly that. For the next couple of weeks, he will try these tactics of shock and awe. He will appear to be capable of landing more and more hard punches to the oil market by way of raising output, by way of dipping into his inventories, and you will see newer announcements emerging day after day from the oil market.
A couple of hours ago on Thursday morning, I'm recording this video on Thursday, I read the Abu Dhabi National Oil Company, ADNOC, announcing a million barrels per day increase in their oil output. Which basically means that ADNOC will then be able to export hypothetically four million barrels of crude oil per day.
In my last video, I talked about the Wafra, Khafji, Jafurah, Johan Sverdrup, Guyana's oil field, the Goodland Wildcat, etc. Now here you have ADNOC, adding one more million barrels of oil a day.
A back of the anvil, simple calculation tells you that we are now sitting at a surplus, a new added surplus, upto to two and a quarter, if not two and a half million barrels of oil a day. That obviously means oil prices are likely to remain subdued, which is why all throughout 2019, I was advocating oil as a sell in addition to natural gas, of course.
But how far can oil prices go?
They definitely can't go below zero and they definitely can't be allowed to go to zero. Otherwise, the entire an exercise of edging your competitors out of the export market, which the Saudis are trying to do, becomes irrational.
My guess is oil is unlikely to go below US$ 20 a barrel. If it does skim below US$ 20 a barrel, maybe a band or a dollar here or two and in terms of time, I think this oil price war will see some kind of a brokered or a self-negotiated truce in the next six weeks if not eight.
I would not see this oil price conflict going beyond the first or second week of May 2020. I don't think any of these big boys, Vladimir Putin or Mohammed bin Salman, having any intent of bleeding themselves to death. I think in the next 6 to 8 weeks, this will all be over.
What really happens thereafter?
Cheap oil would mean cheaper inflation. Of course, the stock markets would have thanked significantly. Commodity and currency markets would have taken gigantic hits. Sentiments would have eroded and it will take time for the markets to come back to its feet.
But what will really happen is that fundamentally good companies, stocks which technically have not seen major violation of their chart patterns, will be the first to bounce.
I assure you, I will keep abreast of the situation and will update you through my videos.
Do join me on Equitymaster's telegram channel with the handle Equitymaster official. I will keep posting my news and views over there 24/7.
This is Vijay Bhambwani signing off for now. If you're watching this video on YouTube, please click the like button. In the comments sanction, tell me what you think about this video and what else you would want me to record in my forthcoming videos.
Do not forget to share this video with your family and friends. Do take very good care of your investments and trades.
Thank you.
Watch out for Apurva's video tomorrow. He will show you how you can make fast profits in a falling market!
I'll be back on Monday morning in the Fast Profits Daily.
Have a safe weekend!
Warm regards,

Vijay L Bhambwani
Editor, Fast Profits Daily
Equitymaster Agora Research Private Limited (Research Analyst)
Recent Articles