How to Select Stocks for Day Trading
Mar 15, 2021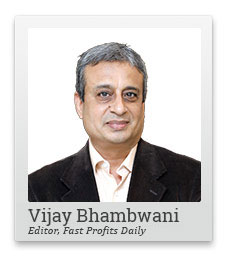 I've been asked by many viewers to do a video on intraday trading.
Specifically, a video on how I go about it.
Well, as your editor, I will do my best to accommodate your requests.
I've already made a video on how to get started with day trading. In today's video, I'll show you how I go about picking stocks for day trading.
I will use a real world example so that you don't fall into the trap of learning from theoretical examples.
Let's dive right in...
Hello friends. This is Vijay Bhambwani, a trader with 35 years of trading experience under my belt, 28 of which are as a founder, promoter and CEO of an incorporated, limited company that trades for a living.
In these videos of mine, in this display list, I tend to teach you from a point of view of a doer of deeds rather than the academic or the theoretical aspects of trading.
Today's video is about how to select a stocks for an intraday trade, based on the price is that we have on Friday, which is the 12th of March, and how I would have traded through Friday on the 12th of March itself and what my outlook is going forward for Monday on 15th of March 2021.
Revealing Tomorrow: The Great Indian Wealth Project
As I record this video on a Sunday evening, I am projecting what I would do for Monday morning's session and do remember that this is a case study rather than a buy or sell recommendation.
I repeat, this is not a recommendation to buy and sell, but we are basically discussing here how to think, how to prepare for a trading session ahead, and what other triggers that you need to look for in a stock.
Now do remember that different stocks will have different parameters and we will be looking out for different aspects, but here, the outlook on this counter that I have chosen, which is Hindalco Hindustan Aluminium Company ltd, is that of a short sell. Later on, we'll see in the share price chart as to why I chose a short sell rather than a buy.
You see, the price of Hindalco fell between eighth of January 2021 and continued to fall till 28th of January 2021. That is a parent on the chart that you're seen on your screen right now.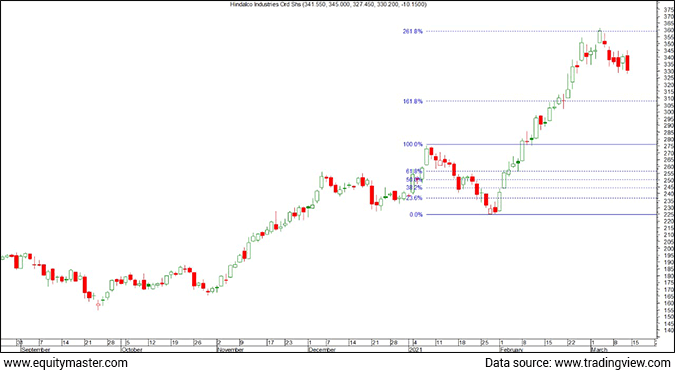 Now, if you were to take this fall as 100% a simple deployment of a Fibonacci ruler or a Fibonacci retracement ruler would have told you that the share peaked out and 261.8% retracement or hyper extension.
Now it has retraced lower somewhat accurately from the 261.8% retracement, and as per the Delta trading theory advocated by one of the greatest technical analysts of all time, J. Welles Wilder, who is the father of the RSI or the relative strength index, once you see the intraday low of a candle, which has logged an all-time high, and if the stock is remaining below the intraday low of this all-time high candle, it should be assumed that the stock is likely to be under pressure.
So as of Friday morning, which is data which we have till 11th of March, as on Friday morning on 12th of March, what we have seen is after forming a high, out of the five trading sessions that followed for trading sessions were declines.
There were red candles, as you are seeing on your screen right now. Only Thursday's candle was a bullish one, a green candle. So on Friday morning, we were undecided as to what to do in Hindalco, and we would let the market opening tell us where the prices were headed.
Now, before trading in Hindalco. It is not just in Hindalco that you need to look at, but a variety of other factors as well. Friends, it's by now known and established as a fact that the markets opened cheerfully on Friday and then nose-dived in the latter part of the session.
Now Hindalco, as you are seeing on your chart, has a big red candle, which means the opening was high and the closing was low. As a matter of fact, while the market was moving up, Hindalco actually made a high, which was higher than the previous session, which is Thursday's high and when the market started nose diving Hindalco started falling.
There were two things that I needed to check out on Friday before I would short sell in Hindalco and the third one was a fundamental factor. The two things that have would check was, where our aluminium prices right now and guest what?
Aluminium prices were down, which means Hindalco, which is a mining company, would be selling aluminium at a lower price, therefore earning a lower profit, which means fundamentally speaking, the reason to go short was a valid one.
The number two aspect was where is the rupee headed? Now the USDINR at that point in time was under pressure, which means if you were to hypothetically, I'm using the word hypothetically, if you were to hypothetically import Aluminium into the country, the landed price of Aluminium in the country was somewhat lower than come back to Thursday, which made that there was competition from imports. Not that Hindalco would import but this is how the market prices something.
Now these are technical aspects that I looked at. The third one, which I told you the fundamental reason was, is the company clean? By clean I don't mean any misdemeanours, any crimes committed, but when I say clean from an intraday traders point of view, it was whether there was any news flow or there was no news flow.
If there is no news flow to interfere with the price of a company, the company is set to be clean. If you google search before the trading session or even before entering into a trade, and Hindalco, you would see that there was no news flow that was to interfere with the share price.
Now, as soon as the market started falling and Hindalco's share price fell below Thursday's low, you would open up short sales, and by that time, the candle of Friday was much bigger in range as compared to the candle of Thursday. Remember, the high of Friday was higher than Thursday, and now the low of Friday would be lower than Thursday.
Which means this was a bearish engulfing candle, a huge bearish candle which was, in all probability, likely to dominate the sentiments.
Now this is a post mortem of what I would have done on Friday. As for the delta trading system, remember this video is being recorded on Sunday evening, as for the Delta trading system, what would James Welles Wilder advocate for Monday morning?
Hey, it's pretty simple. We let the price tell us where it wants to go, and if the price on Monday is staying below the intraday low of Friday, you are to open a short position on Monday, keeping a stop loss somewhat within very shortly, within the lower end of the candle of Friday. You allow yourself on the way of a couple of rupees and go short on Monday, provided it was trading below the low of Friday.
Now this basically is a set up that I saw in Hindalco. For going long there would be similar setups on the reverse side but like I said, different stocks, different parameters. So one size does not necessarily fit all.
But if you were to keep your trading set up simple, your trading logic based on sound principles of trading and I trust J. Welles Wilder's Delta Trading system, absolutely.
So if you were to Google search, you will find a lot of material on this excellent trading system, which has stood the test of time for almost five decades. Although the system is dated, it still works.
Friends, I bid goodbye to you in this video, leaving you with this knowledge of how to segregate stocks and select them for trading, but not before reminding you to click like on this video, if you liked what you saw. Also subscribe to my YouTube channel if you haven't already done so. Click on the bell icon to receive instant alerts about fresh videos being put up here.
Keep the lines of communication open in the comments section. Bouquets, brickbats, love, hate, I welcome all your feedback and help me reach out to fellow like-minded traders by referring my video to your family and friends.
Have a very profitable day ahead. Vijay Bhambwani signing off for now. Thank you for watching. Take care. Bye.
Warm regards,

Vijay L Bhambwani
Editor, Fast Profits Daily
Equitymaster Agora Research Private Limited (Research Analyst
Recent Articles