Is the Stock Market in a Bubble?
Mar 16, 2021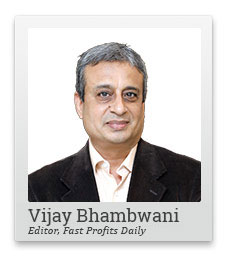 Has the stock market moved into bubble territory?
This is something that many experts around the world have begun warning us about.
But are they correct? Is the stock market really in a bubble now?
This is an important question to answer because it will have huge consequences for traders and investors alike.
In today's video, I'll give you my view.
Watch the video and feel free to agree or disagree. Either way, I would like to know your views.
Let me know your thoughts in the comments.
Hi, this is Vijay Bhambwani and I trade for a living since 35 years, 28 of which are as a founder, promoter and CEO of an incorporated company that trains for a living.
Now today, in this video, I want to discuss about whether the stock market is currently in a bubble territory. Is there are bubble in the market, which is likely to burst somewhere down the line, maybe in the immediate future or not so immediate future, or how is still in a safe zone, or is there a third possibility thereof?
Now, before I proceed further, I'd like to draw your attention to the fact that I base my opinion somewhat, I am using the world somewhat, because there is no such thing as a black and white definition of a bubble. There is a lot of grey area. There is an overlap of a lot of economic studies before you can actually call something a black and white line cast in stone.
Revealing Tomorrow: The Great Indian Wealth Project
For reference work, you should read a book by James Calverley called When Bubbles Burst. He is, to the best of my knowledge, one author who has done extensive work on market bubbles and how asset prices inflate, what are typical tell-tale signs and how you can avoid getting sucked into the fag end of a bubble just before it's about to burst.
Now the definition of a bubble. In economics, the way the market moves, is categorised into phenomena. One, pro cyclicality and the next, counter cyclicality.
Now, as pro cyclicality says, as the word pro itself suggests, the markets, the financial markets are going in the same direction as the economic cycles. So economic activity is expanding. Business is likely to improve. The markets being forward kind of discounting mechanism, sort of take it in advance that the economy will improve down the road and therefore start climbing in anticipation of better economic activity ahead.
Counter cyclicality, on the other hand, is when the main street economy is going in one direction and the stock market could be going in the exact opposite direction, that is called counter cyclicality. So maybe the economy is doing very well and the markets are falling or the economy is doing very badly, but the markets are rising. So when both are going in divergent directions, opposite directions, this is called counter cyclicality.
Currently, what is happening is that we have possibly put the worst of the covid pandemic behind us. Vaccines are now available. As a matter of fact, I have two super senior citizen parents at home, and I am preparing to get them vaccinated pretty soon. I want to avoid the crowds and within the first 15 days of the vaccination drive starting, the waiting period for the vaccines is cut down to a bare minimum. You can actually go in, get vaccinated, and a couple of minutes later you could be home. So the vaccine drive is basically a gaining momentum, gaining traction, and once herd immunity is achieved, my guess is that the worst of the corona pandemic would be a bad memory at best.
Economic activity has not yet picked up to exactly the pre-covid levels, which means that the stock market have a run up in advance in anticipation of good times buy it's not yet a bubble. You could have always the possibility of a bubble, maybe around March, April, May of 2020 when the economy lock, stock and barrel was shut down, but the stock markets were still rising.
Now the businesses are actually opening up. Economic activity is actually picking up and the markets are basically running ahead. You can call it and overheated market but you can't call it up bubble as yet. So in 2020 especially March, April, May, and June, you could have said that there was counter cyclicality which was present in the market. Economic activity was not going down. It was shut, but the stock markets were zooming up into the stratosphere like a rocket.
This time around in 2021 there is somewhat of a pro cyclicality, but the market seemed to be running far ahead of the pickup, and therefore, there is a possibility of consolidation or maybe even profit taking.
But we are not calling it a bubble yet.
Now, as I said, if you read James Calverley's book, it will give you a lot of tell-tale signs of what bubbles really are. Typically speaking, the markets will think head nor tails before hitting upper circuits for no rhyme or reason. Stocks that would at best be called junk quality shares will be just zooming higher and higher day after day without any respite. Corrections will be either very, very brief or maybe even sideways, but not down. Out of maybe 220, 240 working days, the stock market will be up 205 days.
Now, these are classic signs of a bubble, a rally that is running way out of hand. Yes, of late the markets have been unusually firm but let's not forget that economic activity has started to pick up and we are running ahead, not countercyclical to the economic activity.
Which is why I am saying that we may be overheated, but we have not yet reached a bubble status yet. So I don't think the balloon is going to burst suddenly at this point in time. If there are any tell-tale signs appearing, I will definitely record another video to that effect.
But at this point in time, you must always, always be careful and look over your shoulder for that vicious correction at any given point in time, even though it doesn't look imminent. It pays to be careful and do remember, before you put in any harsh comments, when I say big cautious, it does not means be bearish. I'm just saying be cautious. Cautious does not bearish.
You must always be cautious because there's money involved and losing some amount of your money means that you have to make up for the lost time just to come to ground zero and we don't want to waste time losing and then bringing yourself up to ground zero again. You want to go to positive territory all the time.
So at this point in time, stay invested. Hold on to your blue chips. Good quality stocks. We aren't hit a bubble status yet. If possible, avoid very aggressive leveraged buying. Do not overextend yourself on borrowed money, and leverage is borrowed money, unless you're a professional trader, a professional risk taker, who is trained to know what he or she is doing in the market.
Veterans are okay to take a leveraged risk or even stack their investments one after the other but retail investors should stick to a cautious part of taking deliveries and sticking with them.
On this reassuring note my friends, I bid goodbye to you in this video not before reminding you to click like on this video, if you agree with what I said. Subscribe to my YouTube channel if you haven't already done so. Click on the bell icon to receive instant alerts about any fresh videos being put up out here.
Keep the lines of communications open in the comments section by commenting on my video. Bouquets, brickbats, love, hate, everything is welcome, and if you think this video was worth your while, do help me reach out to fellow like-minded investors and traders by referring my video to your family and friends.
I wish you have a very profitable day. Vijay Bhambwani signing on for now. Thank you for watching my video. Take care. Bye.
Warm regards,

Vijay L Bhambwani
Editor, Fast Profits Daily
Equitymaster Agora Research Private Limited (Research Analyst
Recent Articles