2021: The Year of Bitcoin
Mar 17, 2021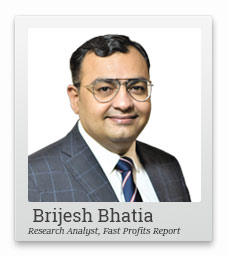 Bitcoin recently surged in price to US$ 60,000.
The calls for a price of US$ 100,000 are getting louder.
But is this realistic? What do the charts say?
In this video, I'll share my view by showing you why the bullish momentum is justified.
Let me know your thoughts in the comments. I love to hear from you.
Bitcoin at US$ 100,000 price. Are you surprised? You shouldn't be because I have the reason to tell why it can touch US$ 100,000, and it can even go higher than that.
Before showing the chart why I think it can go to US$ 100,000, I request click the subscribe button on our YouTube channel so that you will receive the videos as soon as we post and also click the bell icon so that you receive the notifications as well when we post the videos.
EXPOSED: The Shocking Truth Behind Today's Hottest Investment Opportunity
Coming to the bitcoin. Well, it has been the talk of the town and volatility has been at the highest level in the bitcoin and this is nothing new for bitcoin. Similarly, we have seen right from 2011-2014, similar volatility has been there though it was not an eye catchy at that point of time, but with the technologies now, bitcoin is easily tradable.
At that point of time there were less exchanges which were offering, I would say less companies that were offering the trading platform for bitcoin during the 2011-2014 boom, I would say that was also boom for bitcoin.
But since 2014, I guess it was 1,100 something dollars and since then it traded rangebound or merely 162 weeks.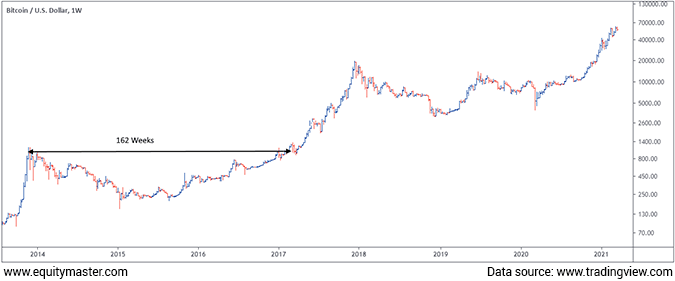 So if you look at the screen now right from November 2013 to January 2017, it consolidated in a range, and it was exactly 162 weeks. Why I'm highlighting 162 here is because, as per the fib time cycle, 162 is a great fib number and generally when the fib cycle plays out, the price breaks out, makes the new high or new lows right at the fib numbers. They tend to give fast and furious moves.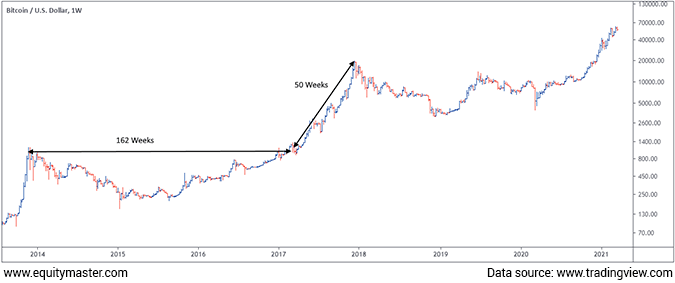 That was the first break out in January 2017 where it gave a huge, huge rally and in next 50 weeks, a 162 week consolidation and the 50-week rise. So if you look at the arrow over here, the 50-week rise where the bitcoin has gone from January 2017 to December 2017, right from US$ 1,100 to around US$ 19,666 which is around 17 times that bitcoin has gone up in a span of 50 weeks and then again, back to the technical term, where we indicate that history repeats itself, it went down to the consolidation for another 162 weeks.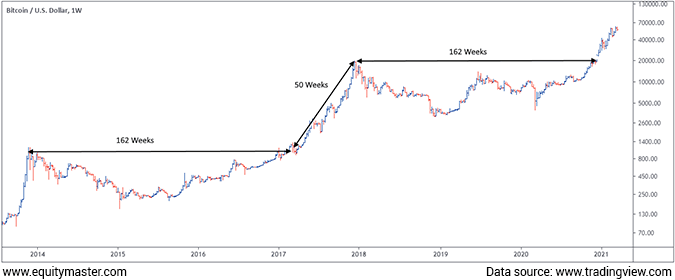 So if you look at the screen now, 162 weeks, right from December 2017 to December 2020, it consolidated in the same span, which it did in 2014 to 2017 and again a break out in December 2020. If you remember, three weeks back we have done the Investor Hour and I highlighted that 2021 is the year for bitcoin and this was the reason I highlighted that.
The 50 weeks rally is about to come at the end of 2020, at about 19,600-20,000 dollars, since then it has tripled.
Do not forget January 2017 to December 2018, it has gone 17 times. Even if I take the the five times rally arrived at around 20,000, it's around 100,000. So I am expecting 2021 would be the year for bitcoin and still at around 50,000-55,000 when we did the Investor Hour it was abound 43-44,000 dollar mark. It went to 60,000 and now it's back to 55,000.
We still saying that bitcoin has a huge potential on the upside and 2021 will be the year for bitcoin. We are expecting it to be above the one lakh dollar mark and probably might share on 135,000 dollars by the end of 2021, which is 50 weeks of rally and if history repeats itself. As one who studies the basics of technicals, there is always a term that history repeats itself, and I believe that this time history will repeat and probably we might see bitcoin going about US$ 100,000 mark.
So stay invested. Any dip in the bitcoin we see that it's an opportunity. With the various technologies, various companies offering various types of opportunity in bitcoin, you must definitely have some portion, a part of your investments in bitcoin, which is a big wealth creation as of now.
So before signing off I would again, request click the subscribe button and do not forget to post a comment if you like the videos. Thank you.
Warm regards,

Brijesh Bhatia
Research Analyst, Fast Profit Report
Equitymaster Agora Research Private Limited (Research Analyst)
Recent Articles