Trade Less to Make More Profits
Mar 18, 2020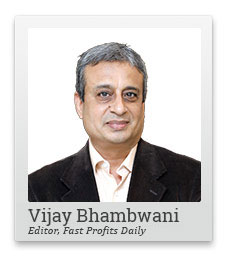 How often do you trade the markets?
If your answer is 'every day' or 'twice or thrice a week' then I would like to ask you a question - Does more frequent trading help or hurt the bottomline of your trading business?
Yesterday, I talked to you about our 6-month long winning streak. Trading 'less' was a vital part of our strategy.
Today, I want to present the case for trading quality over quantity.
If there is one thing you can do right away to boost your trading profits... this is it.
Hi, this is Vijay Bhambwani back with you again and let me start by reminding you we are on telegram. Please join us on our telegram channel to receive live updates 24/7 from me and other research reports from Equitymaster with the handle Equitymaster Official on telegram. I'll see you out there.
Let's begin this video by why I do not give 10 recommendations a day.
I came in this market in 1986. By the year 2000, it was a very different market. It was a digital market with trading taking place on computers, instead of the trading ring on the Bombay Stock Exchange.
SMS is had come in. Yahoo messengers and other messaging services had already come in. There were a lot of online advisory and email services which had already kicked in, and I joined the bandwagon of starting an email advisory service with SMS support.
I faced the problem which I think a lot of my contemporaries who are still in the business, I am not, who are still in the business are still facing - the number of calls that you give out to your subscribers.
Unfortunately, subscribers equated receiving value for money for their subscription fees with the number of calls that they get. In my humble opinion, this is an incorrect approach.
If I was a subscriber, I would look at the amount of returns that I make by way of profits on the capital that I invested, and the money that I use for trading on the advice of the advisor or the research analyst who I have hired. Look at the returns rather than the number of calls. What I am basically telling you is look at the quality rather than quantity.
At the end of the day, when you are sitting with your income tax practitioner or auditor, you should show a net profit in your balance sheet from the trading and if it all the trading is not resulting in a profit, the number of calls really, really don't matter. Let's take a look at it from the trading point of view and let's treat trading as a serious business, which it is.
When you are trading too frequently, you are incurring what is known as execution expenses, so your brokerage, your GST on the brokerage, your STT or CTT, depending on whether you're in equity markets or in commodity markets, your stamp duty, your exchange turnover tax, your SEBI tax, are all drags on your profit because you have to pay these expenses out of your pockets before you even take your money home.
The more frequently you trade, the less take-home profits you will have because all these expenses are your partners and the sad part is that these expenses will have to be paid, irrespective of whether you make a profit or a loss. So these expenses must be kept to a minimum.
Please do remember, in my earlier video, I have talked about the trade efficiency ratio. The amount of profit that you take home after paying all these execution expenses. I had said in the video, for every rupee that you're paying as execution costs, you must take home at least Rs 2, if not higher in post expense profits.
This is possible when you focus on quality and not on quantity. So forget about the number of calls. Focus on the profits.
Let me give you a real-world example.
We launched the Weekly Cash Alerts service sometime in end of March 2019. We started giving out calls in April 2019.
The month of April went like a breeze. The market was doing very well and I sent out a lot of calls. Market Gods were merciful and we made money on all the calls. May was a little cooler or somewhat passive, quiet.
From June till August, I had a nightmare. You see, the texture of the market changed. All industrial metals, aluminium, copper, lead, nickel, zinc, were basically transferred from cash settled to physical delivery settled mode, which meant that the turnover in these counters collapsed.
Impact prices, which is the difference between the buy and the sell price simply shot through the roof. So it costed you more money to basically enter an exit a trade because the spreads between the buy and the sell simply widen up.
Believe me, I tried to yank profits out of the market while the markets were in no mood to yield any kind of significant returns. It's like trying to pull meat out of the jaws of a hungry lion. It's simply not possible.
So the more number of calls I tried to give, the more, we fell flat on our face. We re-did our strategy and from September onwards we started reducing the number of calls and started focusing on quality rather than quantity.
Guess what?
We haven't had a loss from September to March.
Touch wood. This is what I mean by saying why you should not focus on the number of calls but on the amount of profit that you're actually taking home.
You as a trader must put food on the table for your family four times a day. Focus on the money, not on the number of trading recommendations. Higher number of trade recommendations basically invites a huge degree of execution costs. As a trader, a real-world trader, I'm very well aware of that, and I treat these costs as a drag on my profits.
And I want to ensure for my subscribers that the trade efficiency ratio, which is the take home profit after paying all these execution costs and taxes, must be a factor of two, if not higher. Which means for every rupee paid by way of these execution expenses, I must allow you to take home or facilitate you to take home more than Rs 2 in profits.
This has always been my endeavour and in the coming year, we are re-gigging our systems so that our efficiency ratio or the trade efficiency ratio is pushed even higher.
There is a probability that the number of calls may either stagnate or maybe come down a bit but I am aiming to put more money into your pocket from your trading terminal. Take it from me. So focus on the amount of profits and not on the number of calls.
Before I sign off from this video, let me remind you to click like on this video if you're watching it on YouTube. In the comments section, do let me know what you think about this video and what other topics you would want me to cover in my future videos and please on forget to share this video with your family and friends.
This is Vijay Bhambwani signing off for now. Please do take very good care of your trades and investments.
Thank you.
I hope you found the video useful. If you did, please share the knowledge.
Have a profitable trading day!
Warm regards,

Vijay L Bhambwani
Editor, Fast Profits Daily
Equitymaster Agora Research Private Limited (Research Analyst)
Recent Articles