Big Profits from our Latest trade
Mar 18, 2021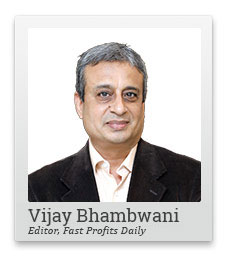 Recently, I asked my subscribers to close our open trade.
Needless to say, I've received a lot of positive feedback from happy subscribers about the big profits they have booked.
However, it was not a sure thing. Early in the trade, we were in the red.
It took a lot of conviction to maintain our faith in the system and hold on.
Today, I'll show you why I did not give up on this trade and also how my system told me not to close the trade at a loss.
I believe we can learn a valuable lesson from the success of our latest trade.
Watch the video and let me know your thoughts in the comments.
Hello friends. How are you doing out there? This is Vijay Bhambwani. I'm a trader with 35 years of trading experience, 28 of which are as a founder, promoter, and CEO of a limited company that trades for a living.
In this video, I want to dissect and use a case study of how we recently, the subscribers of the Weekly Cash Alert service, recently reined in profits from the unlikeliest of trades in the commodity space, which was by consensus, an extremely low probability of succeeding.
I do admit that a lot of subscribers were beset by a lot of doubts, and therefore I want to use this video, basically teach you how I think. You can choose to disagree of course. It's your prerogative. Use the comment section, in that case, to express your disagreement or displeasure or whatever. Everything is welcome here.
Learn: How to Potentially Accumulate Rs 7 Crore in Wealth Over the Long-term
So I will start with the chronology of events. If you are Weekly Cash Alert subscriber or have received mine Fast Profits book and/or the trading calendar in which, in both cases, in the book Fast Profits, which has been published by Equitymaster.
Unfortunately, it was released only two months before the lockdown occurred, and therefore we could not really publicise it too much, nevertheless, it's still available with Equitymaster, and the trading calendar is something that has been given to all subscribers wherein I have broken the year into 12 compartments, each one of a month.
I have given you with logic, with reason because I would like to share with my readers the why of what. I don't just want to tell you, do this, because I am saying so. I want to convince you that you are doing something because you understand that is what you must do.
So I have broken the year into 12 compartments each of a month's duration and I have with logic shown you what you must trade in the commodity space and why. Similar logic exists for currency. Similar logic exists for equities, indices, bonds, everything. Markets are consisting of cycles.
So around Christmas, as per the trading calendar, we resorted to short sales in natural gas. Unfortunately for us, even though it was a couple of days after Christmas and normally as per my trading calendar, prices peak out somewhere around Makar Sankranti, which is around the 14th of January, and start either tapering off or plateauing and then by the month of February, they start falling.
Unfortunately, this time around there was a spanner in the works. Polar Vortex, wherein the cold climates of the Arctic region descended upon Northern America and Europe because big chunks, miles and miles long of ice melted due to global warming and came into the Artic Ocean.
This resulted in a huge spike in the gas heating demand and therefore gas prices went through the roof.
At that point in time, I received a lot of anxious emails from a lot of my subscribers as to whether I was thinking logically at all. I am not offended but yes, I do admit that I was pressurised by so much of feedback coming in, which was expressing concern.
A couple of them, even when to the extent of saying that maybe it was a wrong trade on my part and I was just being too stubborn in holding on to that trade. I actually don't grudge you that also. There were one or two flashes. I'm using the world flashes of a few nanoseconds wherein I thought, hey Vijay, maybe, maybe this is a wrong trade.
But immediately, I would kind of come back to my senses, redo the math, go back to my in-house trading model, the Barracuda, which is the statistical trading model, which I have programmed myself, and I had to re doubt myself time and again, re-check the numbers and convince myself that the numbers were still good.
Believe me, a couple of conversations and I had on social media, with random social media followers, a couple of them poked fun at the Barracuda and said, look, it's just no good. It's basically not able to take you out of the natural gas short sales profitably.
I re-did the numbers and did the math and found that the numbers were still solid. So solid, in fact, that the prices on the MCX were the equivalent of US$ 3 per MMBtu in the overseas market and in parts of the USA, spot delivery was taking place around very small lots, very, very tiny shipments, were taking place at 500 US dollars. You heard me right. 500 US dollars as compared to US$ 3 on the COMEX.
Now, this was the strange phenomenon we witnessed in the natural gas trade and last night, which is the 16th of March 2021, as I record this video on a Wednesday, last night on Tuesday, we wound up this natural gas trade. The March series, we lost 5% because it was short sold at a very low rate. The April series, which was shorted at an extremely positive rate, very close to the top, yielded 65% returns. So the March series lost us 5% in capital. The April series gave us 65% in profits. You do the math.
Why did square up this trade? Now, a couple of very, very happy subscribers told me that hey, with just one lot each of natural gas and mind you, the initial margin for natural gas is approximately Rs 50,000.
So when you deploy Rs 50,000 with 2,000, 3,000 more on span margin, as a matter of fact, the April series span margin plus the mark to market loss was at a highest level, Rs 53,000. On Rs 53,000, you got back a profit of Rs 35,000 per a lot, in the April series. In the March series, we lost a little over Rs 5,600 per lot.
So what happened was that another circuit down and natural gas had been coming down with lower circuits and I even joked about it on my social media pages. If you remember the movie China Gate, which had come about 20 years ago the villain, the antagonist in the movie used to say 'Milega, milega. Sab ko milega'.
He used to tell the vultures and the crows that he would be dropping dead bodies so that the vultures could eat and I told my social media friends 'Milega, milega. Sab ko milega. Natural gas, lower circuit mai milega.' This was when natural gas was climbing and my statistical model kept on saying that it will collapse with lower circuits.
And sure enough, in the last three weeks, if you check your charts, natural gas has hit more than one lower circuit. For my overseas friends who are watching this video, please, not before you comment anything on this video that on the MCX, the first lower circuit is of 4%. The second lower circuit is of 2%. So we are not talking about the COMEX lower circuits. We are knocking on the Indian Commodity Exchange lower circuits.
And sure enough, this natural gas trade yielded us the second highest profits and put our FY2020-21 into a superb yielding year. Do remember that this year we have had a lot of challenges. There was a lockdown and immediately after the lockdown, the MCX used to shut down at 5 pm.
Do remember that all the price mobility in commodity markets on the MCX takes place after the US market opens and 7, 7:30 and in those days for months together, the MCX used to shut at 5 pm because the employees were told to leave home and avoid the covid infection.
So we had months and months of trading knocked out from under our feet. Secondly, the Weekly Cash Alert subscribers would know that in calendar year 2019, the highest amount of profits came from crude oil, and after April 2020, when crude oil went into negative territory, some brokers went to court. The MCX imposed more than 100% margin on crude oil, and brokers banned their clients from trading crude oil. My hands were tied for many, many months and I could not recommend a trade in crude.
Base metals were put into delivery settlement mode. In spite of all these kind of limitations, in spite of all these chains that I was put under, we have managed to put FY 2021 as a super profit year. Of course, the trades were fewer for the reasons that I have specified but this last trade itself and I am happy to report that some subscribers were so satisfied that they told me that they recovered Equitymaster's entire annual subscription in this one trade alone.
So this is how we snatched profits from the jaws of losses, which is why I kept on telling you that you must have faith. As a matter of fact, around the third week of January, I recorded a video with the title You and Me.
I said the adviser and the subscriber are like a racer in his car or a motorcycle. The racer places all his trust in his machine. If he doubts the machine he will never be able to race and if he is unsure about the machine, chances are he might even crash. Have a little faith.
This time around, we are planning another trade, the stature of natural gas. Maybe a little bigger, which might test your patience. It will test your conviction. It will make you doubt yourself. It will make you doubt me.
But I intend to win again. This trade will come to you very soon.
In this case study the first thing I realised, and you should realise, I knew because I wrote the trading calendar, it got reinforced. I realised that profits come with sheer conviction, with staying power, with willpower and from the tenacity of your own belief systems. So when the next rate comes, I do believe that conviction in the trade should be supreme.
Which is why I laid the groundwork for this trade in my morning mailers to you and I have already explained to you what is going to happen and why. I will never tell you to shut your eyes and follow me blindly like the Pied Piper of Hamelin. I will explain to you why I am telling you to do what.
Let this be a case study of what we are going to build forward in FY 21-22 which I think is going to be the best possible year going forward for the Weekly Cash Alert.
Now for a couple of queries which have come from my friends who are watching my videos. They want me to record videos on the best ETFs. Please scroll down in the playlist. There are at least two videos that I have recorded on ETFs and why you must focus on index ETFs more than stocks.
The second was the video that I recorded yesterday, is the market in a bubble space. Please note that do not think that this video is telling you or enticing you to buy or I'm fishing for subscribers as one guy very cryptically commented in the comment section, that maybe I want some more subscribers or Equitymaster wants more subscribers. We are not fishing for subscribers. Do note you are basically seeing what you want to see in that video.
Time and time again in my video, I have recorded in this video itself that markets have run ahead of their fundamentals, though they have not reached the bubble zone yet. Markets running ahead of fundamental means that there is always and always a chance of statistical mean reversion, which means, reverting back to mean. Here mean reversion would be falling down.
But because it is not yet a bubble, it's not that everything is going to go to zero or is going to explode or implode rather.
Can go to the bubble zone?
Yes, if it keeps on rising against the fundamentals and keeps running ahead of its time, it might reach the bubbles zone also.
Will the falls be vicious?
Whether it is a bubble or whether it is an over extended market, the falls will not be vicious. You will not be allowed any mercy. Your stocks will fall like stones whenever the market falls. Which is why I have told you in the video itself, I tell you that you must be cautious time and again cautious, cautious, and more cautious.
That does not mean bearish. If you think cautious is equal to bearishness, you have very poor English learning skills. I have cautioning you. This market is extended, but it does not mean that it's a bubble. At least not yet.
On this cheerful note, I'll bid goodbye to you in this video, not before reminding you to click like on this video, if you agree with what you saw. Subscribe to my YouTube channel if you haven't already done so. In the comments section, do let me know what you think of this video and what you would want me to record next. Love, hate, bouquets, brickbats, throw everything at me. I accept everything.
If you agree with this video, help me reach out to fellow like-minded traders who believe in knowledge-based investments and trading by recommending my video to your family and friends.
Have a very profitable day ahead. Vijay Bhambwani signing off for now. Thank you for watching me Take care. Bye.
Warm regards,

Vijay L Bhambwani
Editor, Fast Profits Daily
Equitymaster Agora Research Private Limited (Research Analyst
Recent Articles