How to Pick Stocks for Short Selling
Mar 20, 2020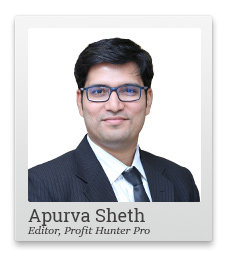 Hi, I'm Apurva.
Today, I'm going to show you how I pick stocks to short sell in the market.
Last week, I showed you my 8-point checklist for short selling.
Now, I want to share with you the process I use to identify specific stocks.
I'm sure you will find this knowledge useful in the volatile markets we are in these days.
Let's dive in...
Hi, I'm Apurva Sheth and I welcome you to this latest addition of Fast Profits Daily.
Now, Coronavirus is spreading day by day and it's absolutely essential to contain it by social distancing.
We here in Mumbai are especially advised to work from home. So today, I am recording this video from my home.
I like to inform you an advance that there might be some disturbances in this video because of the traffic, which is there nearby. So please excuse me for that. Now, if you face any difficulties in listening to this video, then I request you to go through the transcript.
So now keeping all this aside, our goal at Fast Profits Daily is to give you information, knowledge, and wisdom, which you could practically use in the markets, to take money out of other trader's pockets through the trading terminal and put it in your pockets.
So, as a part of this mission, last week I showed you, how to use a few filters, a few techniques that you would help you identify stocks for short selling. So these were eight criteria that I asked you to use. Four of them were on fundamental side and four were on the technical side.
So today and going to show you how one could have actually used the four fundamental filters to identify a short selling opportunity in the markets.
Now here is the list of all the F&O stocks, along with the four fundamental filters that I spoke about last week.
In this column, is the percentage of promoter shareholding in the company. Here, it is the percentage of stake the promoters have pledged with financial institutions. Here is the debt/equity ratio and here is the profit after tax for the latest quarter.
Now we, all of us at Equitymaster, use ACE equity to pull out this data. Now, if you want to, pull out data like this, then you could use free websites like screener.in, ratestar.in, so there are all these various websites which enable you to identify such data. Now as I told you we use ACE equity for our purpose.
Now let's put filters on this. My first filter is promoter holding < 40% in the company.
My second filter is all the companies which has promoter pledging in it. So I'll just tick out companies with zero promoter pledging and let all the others remain in it.
So now I have 15 stocks in this list. Now, these are all the probable candidates for short selling or these are all the stocks which have a more vulnerable to selling.
Now I'm not selling that all the companies will fall. Although in this market, every company has fallen left, right, and centre but we want to identify the ones which are most vulnerable. So we have 15 companies out here now. During this week, one of this companies was taken for a ride by short sellers and this was IndusInd Bank.
IndusInd Bank dropped by more than 30% on Wednesday and it ended the session with the loss of about 24%. It lost one-fourth of its value in just one single trading session. You can imagine how painful it would have been for the investors in this company but there is another way where a trader could make money by short selling.
So has happened in IndusInd Bank?
As you can see out there, the promoter holding was 14.38% and 26% of the promoter holding was pledged. The debt/equity, since it's a bank the bank would always take leverage and the debt/equity ratio would always be more than one.
Now let's check out the chart of the company. So here I have the stock price chart of IndusInd Bank.
This is the trading candle for Wednesday's session. Now, as you can see out here, this is the highest ever trading volume the stock has ever generated in its lifetime. I'll just zoom out and show you the magnitude of trading that happened in this one single session.
It is higher than all the other candles and almost triple of what the largest candle, largest volume day as ever been in this company. Both the exchanges put together, the trading volume was 7.8 crore shares which exchanged hands on Wednesday. This was about 11.3% of the total equity shares and the total delivery volume in the company was just 1.82 crore shares. That's about 23% of the total traded stocks were really delivered or actually changed hands.
And now, as I told you earlier, the promoters hold about 14.38% of equity in the company. That's about 9.03 crore shares. Now they have placed one-fourth of these shares and it could be possible that some of these shares could have found its way into the market simply because the stock has been falling and as the stock falls, the collateral value of these stocks also fall.
If the promoters are not able to pay some margin or some money to the financial institutions, it's possible that they could sell the stock in the open market, which could have led to this major fall in the market or it could simply be that the short sellers have identified the weakest candidate and they might be selling the stock. So it could be either of these reasons.
Now in the company's bulk and block deal data on Wednesday, we could not find anything interesting about major shares changing hands. So we will have to wait for the company to publish its revised shareholding pattern to know more if there is some change in the ownership.
But one thing is clear. Shares of companies in which the promoter of holding is less and where they have pledged a majority of the shares with a financial institution, there is a likelihood that the stock could be vulnerable to selling.
So if you are a safe trader and trade only on the long side then you should keep out of such shares. If you are an aggressive trader who likes to take a risk and trade in the futures market, then you could short sell such stocks.
So that's all for today. I hope you enjoyed watching this video and in case if you did, then like this video. Share this video with your friends. Subscribe to our channel.
Also, don't forget to subscribe to our telegram channel where we keep on posting interesting updates about the markets regularly.
So do take very good care of yourself. Stay safe and stay in your home.
That's all. Thanks a lot and have a nice day.
I'll be back next week in the Fast Profits Daily and watch out for Vijay's video on Monday.
Have a great weekend!
Warm regards,



Apurva Sheth
Analyst, Fast Profits Report
Equitymaster Agora Research Private Limited (Research Analyst)
Recent Articles