How to Invest During High Inflation
Mar 22, 2021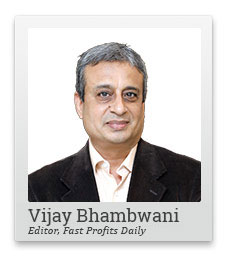 Inflation is on top of every serious investor's mind.
It is the one economic problem that could upset the market.
It's important that you are prepared for it.
In this video, I'll tell you how I think of inflation and the best stocks you can buy to safeguard your portfolio.
Watch the video and let me know your thoughts. I love hearing from you.
Hello friends. How are you doing today? This is Vijay Bhambwani and I'm, trader with 35 years of trading experience, 28 of which are as a founder, promoter, and CEO of a limited company that trades for a living.
Now, in this video, I want to answer very critical top of the mind recall question that I am sure must be hounding many investors out there. Do remember, I emphasise upon the word investors. So I am talking about long term investments, not immediate short term trades. So do note that and comment accordingly.
You see of late, there has been a lot of heat and smoke about rising bond yields, rising interest rates, and possibly even spikes in inflation or CPI, consumer price index. So what happens to your investments in case inflation really spikes? Can you do nothing about it? Do you wait the period out, or is there some time of adjustment that you need to do to your portfolio to be able to ride out this storm and come out ahead of the broader markets?
Revealing Tomorrow: The Great Indian Wealth Project
You see, I have always believed, and this view is fortified by decades of trading and investing experience in the market, that seldom do markets go the way you expect them to be.
So the process of investments and trading is like a military battle plan. Nothing actually goes exactly as per plan. There are a lot of hurdles along the way. Unexpected twists and turns. The market throws a curve ball at you ever so often, and it is only if you keep adapting to the changed scenarios, keeping in mind, of course, the broader game plan that you started out with, that you will come out ahead in the fag end.
So this fight in inflation is something that you may not have factored in earlier but now that it's confronting you, looking you in the face, what do you actually do? Now what is the concept of inflation? What really happens and how you can counter it, is what the video is all about in my usual 360 degree worldview style of thought.
Inflation is nothing but the rising of input costs or raw materials because of which the finished product becomes more expensive and therefore, people are controlling the amount of goods and services that they are buying because money is limited, and you're saving power erodes in high inflation periods.
This is why the Austrian School of economists call inflation the Misery Index. Higher. Inflation is supposed to make the citizens miserable. So in a scenario where inflation will make affordability an issue and therefore people will buy fewer and fewer things, what do you do to your portfolio so that it's relatively insulated?
You know what? The markets are forward discounting mechanism, advance discounting mechanisms. They sense that this is coming and they price the assets, the stocks accordingly. So in times of inflation, when the general population reduces or stops going out to malls and stop going crazy at the shelves and no more buy things by the dozen, you know that there will always be some things that they will continue to buy, which means life essentials.
These are consumer non-discretionary products. Non-discretionary means this is not a choice that the consumer had in terms of consumption. So food, medicines, bare essential clothing, etc fall into this category.
No matter what happens, you don't really have a choice whether you want to eat or not, you can control how much you can eat, but at the end of the day without eating, you will perish. Therefore, these companies tend to be relatively and I'm using the world relative here, to be relatively better in times of high inflation, because the market senses that they are selling products of essential service nature and therefore, the contraction and demand will either be minimum or not at all.
Now do remember that in 2008, when we saw a massive demand crunch, a steep fall in demand, we actually saw items like toothpaste sales falling. So after a very, very long time, FMCG or fast moving consumer goods companies saw a decline in toothpaste.
But they were smart enough to adapt, and they started manufacturing more of tooth powder, which is a lower cost solution. It serves the same purpose of brushing your teeth and basically cleansing your mouth.
Customers who were hit by inflation were resorting to down trading. Down trading means buying a similar product in a lower price category because the original product of choice becomes unaffordable or expensive.
So do stick to products where the customer actually has no choice about consumption. So if you're sticking to toothpaste, sticking to companies that make generic medicines, lifesaving medicines, critical care medicines, and companies that are in food, the food chain, food marketing, etc, you will realise that their business will not really be impacted as much as companies which are into entertainment, luxury items or possibly travel & tourism etc, because those areas fall in the non-essential or consumer discretionary products.
Here, the consumer has the discretion of whether he wants to take a foreign holiday or the consumer has the discretion, whether he wants to upgrade his car. So avoid consumer discretionary product companies and stick to consumer non-discretionary product companies. This is where your portfolio will be the safest. This is a cave you can run to and hide during high inflation periods.
If there is a problem, this is my belief, if there is a problem, there is also a solution. It may not be mitigating the entire problem, but it will blunt the effect of the problem to a huge degree so that in the ultimate analysis you still come out ahead. This is the object of my video, to make you come out ahead.
On this cheerful note, I bid goodbye to you not before reminding you to click like on this video and subscribe to my YouTube channel if you haven't already done so. Click on the bell icon to receive instant alerts about fresh videos being put up out here.
In the comments section, do let me know what you think about this video. Keep the communication going and if you liked what you saw, do refer my video to your family and friends and help me reach out to like-minded people.
I wish you have a very, very profitable day ahead. This is Vijay Bhambwani signing off for now. Thank you for watching me. Take care.
Warm regards,

Vijay L Bhambwani
Editor, Fast Profits Daily
Equitymaster Agora Research Private Limited (Research Analyst
Recent Articles