Stock Market Crash?
Mar 23, 2021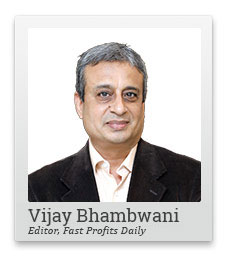 A small cottage industry has formed recently predicting a market crash.
The recent volatility has added to the worries of investors and traders alike.
The market is certainly overheated but will it crash anytime soon?
If so then when can we expect it? What will be the scale and duration of such a crash?
In this video, I'll tell you what I think.
Watch the video and let me know what you think.
Hello, friends. How are you doing out there today? I hope the market is treating you well and you're navigating through the ups and downs of the markets with a flair and easily making good profits in your trades.
Friends, I'm your host, Vijay Bhambwani a trader with 35 years of experience under my belt, 28 of which is as a founder, promoter and CEO of a limited company that trades for a living.
In these videos of mine, I attempt to share a very basic thought as to what I would do with my company's money if I were to trade. I merely put forward these thoughts to you and I'm glad that many of you have appreciated these thoughts.
New Research: Our #1 Stock Pick Right Now
Now, the recent video that I recorded that the market may be overheated, may have run ahead of its fundamentals, maybe overextended, but it's not a bubble yet, that's led to a lot of queries. That's led to a lot of curiosity, some amount of nervousness, some amount of excitement.
The logical questions that followed were, Vijay, when do you expect the markets to fall and will there be any possible tell-tale signs that the market is going to fall?
So I'll try to attempt these questions in this video, and I'll use my 360 degree worldview system of thought. Let's take a rational look at what will happen in the markets or likely to happen in the markets rather.
Do remember, like I said in my video of yesterday, that the process of investment and trading is not a linear one. It's not a smooth process. It's more like a military campaign. There are going to be a lot of unexpected pulls and pushes from both ends, and you need to be prepared for the unlikeliest of events, which is why we, as traders and investors, deal in probabilities and not guarantees.
So we are now going to take a look and see what might transpire. The number one question. When will the market fall, or when will the market collapse?
Frankly speaking, I have no clue. I have no firm date as to when the market will start collapsing and when it will hit rock bottom, when it will bottom out. How much in terms of percentage points it will fall. I don't claim to have a firm view.
There are a lot of opinions in the public domain out there that the markets will fall from April. They will fall at least so much or they'll fall from May, June, July at least fall this much. Frankly, I have no such magic wand.
What I will look at is based on my theory or hypothesis. Feel free to disagree with me in the comment section, please. My theory about financial markets is that in financial markets, everything and I mean everything, happens for a reason and that reason itself is always financial in nature, because money has a way of sniffing out profits and even threats. So it finds its way in and way out of the market.
So the number one thing that I would look at is inflows into the market. Now, recently, there was a media article about how P-notes, participatory notes, have hit over 93,000 crores in February of 2021. Now, this is a major event. Money coming in from the FII route, through the P-note route has historically seen, whenever there have been huge spikes and P-note inflows, the markets have either stabilised or have been bullish in nature.
So when I see inflows either trickle down or maybe outflows beginning to occur in both the P-notes and in FII regular investments, I would start to think that the markets are hitting turbulence or resistance, and the reversal might follow.
But so far so good. I don't see that happening, which is why I said the markets may have extended. They may have run away far ahead of fundamentals. Businesses are closing down. People don't really have as many jobs as they would want to but markets are rising, nevertheless. Which is why the markets are running ahead of fundamentals but they're still not in a bubble zone. A bubble zone would be when there is FII outflows and the market still continues to rise. That's not happening.
Number two. Technically speaking, at least one major significant previous swing low or a big round number, should be violated. Now, unless that happens, I don't think the markets are indicating any such collapse as of now.
So take, for example, the bank nifty unless you see the 29,000-30,000 round number being violated and the bank nifty is staying below this level, I don't think the markets are warning you of any collapse. For that matter, 13,500 or 14,000 of the Nifty 50. Unless that's taken out, I don't think the bulls have anything significant to worry about.
Will corrections happen? Yes. That is the nature of the market to correct but a full-fledged crash when the nifty drops by more than 20% of its value, not retracement, value, absolute value, is not really on the cards as of today, when I'm recording this video on 23rd of March 2021. The FII data, the technical data, the money flow data, don't exactly talk about any such major collapse happening right now.
Do remember, in my past video, I have told you that the month of March is an extremely volatile month, and that's something that you would have obviously seen, what you saw on the last day of the previous week, which is Friday, the 19th of March, a big collapse at the open and then a spectacular rally towards the second half of the day.
Now these are signs that March is a very, very unique month because the mutual fund industry is very interested in boosting the markets higher for NAV management. So now the real test of the markets will start coming in from April onwards.
But as of now, I don't think that the month of April is also seeing any sudden yanking out of funds. Do remember that there are round trip expenses. When you send money from abroad, you pay bank charges. When you take money out of India, you again pay bank charges. So I don't think the FIIs have actually come here to make 2, 3, and 4% profits and get out.
So unless these three indications come in, technicals, money flow, and fundamentals, unless these three are taken out, I don't think you are expecting a crash as of now.
But volatility will remain high. You will obviously continue to look over your shoulder and be extremely careful and do remember when I say be cautious, it does not mean bearish. It just means be careful and always keep stop losses on your trades.
So as of now, we are still in bull land and continue to hold your long positions keep trailing your stops higher and higher as the market price goes up. So that at some point in time, even if your stop is hit, you would still be taking money home.
On this cheerful note, my friends, I'll bid goodbye to you in this video, not before requesting you to click like on this video if you liked what you saw. Subscribe to my YouTube channel if you haven't already done so. Click on the bell icon to receive instant alerts of fresh videos we put up out here.
In the comment section do let me know what you think of this video. Positive, negative, love, hate, all comments are welcome. Help me reach out to fellow like-minded investors and traders by referring my video to your family and friends. I wish you have a very, very profitable day ahead. Vijay Bhambwani signing off for now. Thank you for watching my videos. Take care. Bye.
Warm regards,

Vijay L Bhambwani
Editor, Fast Profits Daily
Equitymaster Agora Research Private Limited (Research Analyst)
Recent Articles