How You Should Trade in this Market
Mar 24, 2020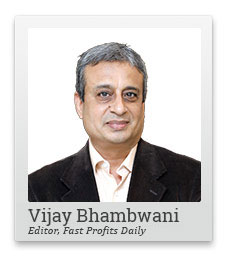 The equity markets are in a free fall. It's a scary market out there for traders.
In times like these, capital protection becomes more important than capital appreciation.
Things will get better and the market will recover but before that, the situation will get worse.
In today's video, I am sharing with you my view on this market and what I believe you should do.
Hi, this is Vijay Bhambwani and I'm recording this video from the relative safety of my house.
I hope you are also are taking precautions in these challenging times of the Coronavirus to protect yourself and your family members by staying indoors.
I will begin by cautioning you about why the worst is not over yet and why I believe that fishing for bottoms in these times maybe a very challenging affair.
I would like to begin with a question first.
Do you really believe the equity market indices, the Sensex, the Nifty 50, the Bank Nifty, are actually the benchmarks or barometers of the economy.
I beg to differ.
With equity participation in this country being only about 5 to 6 percent of the population, what the Sensex or the Nifty does on any given day, effects about 5 to 6 percent of the population.
To be sure, this number is extremely big when seen from the perspective of 130 crore or 135 crore huge population that we have but there must be another barometer which actually measures economic activity far better and is all encompassing. Byy al encompassing I mean which concerns everybody.
Is there any such barometer? I think there is. Not only is there such a barometer, it is traded on the exchanges, and information and data about it is available on your cell phone as we speak.
I'm talking about the USDINR. The rupee let or the rupee strength or weakness versus the dollar.
Every Indian may not be concerned about the BSE or NSE indices but every Indian is concerned about what happens to the buying power of the rupee that he or she has in his or her pocket.
Allow me to explain.
If you were to take this Rs 100 note and go to your friendly neighbourhood shop and ask for comes. If today, with the Rs 100 note you are able to buy 3 bottles of coke and tomorrow, with the same Rs 100 note you are able to buy only 2 bottles of coke, you know what?
You are 33.33% poorer.
Your Rs 100 note is able to buy 2 bottles where as earlier it was able to buy 3 bottles of Coke. So the purchasing power of the rupee has eroded.
As I record this video on Monday morning on the 23rd of March, the rupee has hit an all time low against the US dollar and crossed the 76.25 mark which tells you that we are at a life time low against the dollar.
India as a net importing nation will now start to import inflation. Any and every thing that you import will suddenly start to become more expensive.
So starting with cell phones, capital goods, technology, heavy machinery, pharmaceuticals, oil and gas, two thirds of our imports are actually hydrocarbons and fossil fuels.
So till the time that the rupee does not stop falling against the US dollar, I will not agree to fact that the worst is over.
According to me, the rupee is the best barometer of the economy and not the stock indices and unless the rupee tells me the worst is over, I will not admit that the worst is over. I will let the market talk to me.
Why the impact of the Coronavirus has been downplayed is another aspect I want to talk to you about.
Do you know that in the metropolitan cities like Mumbai, Delhi, Kolkata, Bangalore, Chennai, how much of the migrant work force constitutes the day to day work force?
It could be as low as 10% or as high as 25%.
Now all these guys are rushing back to their villages to be with their families. This means that to this extent, there is demand destruction in the metropolitan cities for FMCG companies. That means less toothpaste, slippers, medicines, talcum powder and God knows what else.
Unless these, guys come back to their jobs again, I don't think demand is coming back.
Another aspect I have talked about is, I believe something the experts are missing out on. Demand destruction is something that every TV channel is taking about but distress supply is something that people are missing out on.
What of the producer countries? What if the producing countries, who also have Forex debt on their on their books, resort to distress sales at bargain basement prices of natural resources to pay off the forex loans?
This is happening in Latin America. It's happening in Middle East and North Africa. It's happening in South East Asia which is ground zero of the 1997-98 currency crisis.
It is also happening in Asia Pacific starting with Australia to the extent that the Australian dollar is actually called a commodity currency which means, it's a currency that derives its strength from the export of commodities.
Here you have a problem.
There are fewer buyers and the sellers in order to pay off their debt are willing to sell at lower and lower prices.
Do you know that Venezuela which is a huge oil exporting nation, is willing to sell oil at less than US$ 18 per barrel?
Yes that's right. Less than US$ 18 per barrel and the price is negotiable. Which means if you bargain hard enough, they might sell it to you for less than 18 also.
This is the extent to which the global economy is likely to shrink. This problem is not going away fast.
This will require you to dig your heels in, pitch your tent, and say I'm going to be like a chess player, who will make one move every 45 minutes a very carefully, deliberate, and contemplated move every time I move a pawn on the chess board.
Which is why I am saying this problem is not going away in a hurry. You're in it for the long haul. Plan accordingly.
What should you do?
If you were to make a mistake, what kind of mistake would you rather make.
If I talk for myself, I would rather err on the side of caution. I would rather focus on capital protection than capital appreciation.
As a child, I would hear my dad and his business friends coming over on Sundays for lunch and dinner. That's where I picked up all my knowledge about trade, finance and business.
I would always hear this old gentleman say the following, Sir salamat to pagdi bazaar.
If your head is intact, which means if you're alive, you can wear a thousand different turbans.
This is a time when you should be staying alive, both financially and physically. Do take very good care of your health, your investments, and your trades.
This is Vijay Bhambwani signing off for now, not before reminding you to like this video if you're watching this video on YouTube. In the comments section, let me know what you thought about this video and what else you would want me to record in my future videos. Please share this video with your friends and family.
I will keep coming back to you recording videos every day from my house. Also join me on Telegram where I post my view every single day. Thank you.
I'll be back tomorrow in the Fast Profits Daily.
Stay safe and have a profitable trading day.
Warm regards,

Vijay L Bhambwani
Editor, Fast Profits Daily
Equitymaster Agora Research Private Limited (Research Analyst)
Recent Articles