Nifty in 2021
Mar 25, 2021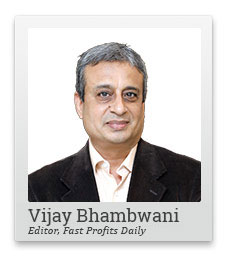 I have received request for a video on the level of the benchmark index i.e. the Nifty.
I admit this is not my area of expertise. I don't usually give out price targets or make predictions about what the index level could be.
However, as your editor, it is my duty to give it my best shot. So here it is.
In this video, I'll take you through my thinking on what the Nifty could do in 2021.
Specifically, I will give you a range for the Nifty that you can expect to see this year.
Let me know if you agree or disagree. I love to hear from you.
Hello friends. How are you doing out there? I hope the markets treating you well and you're able to navigate your trades through the market very efficiently and effectively.
This is Vijay Bhambwani and in my video today I am going to try and attempt to answer your question about where the Nifty is likely to go in the calendar year 2021.
Two requests. Please try and bear with me for the background noise of the construction that's going on in the building next door and secondly, I will admit that I am not very good and making long term projections for traders on something as volatile as the headline index. So we are guestimating here. We are trying to attempt to rein in a tiger, which is not going to be a very easy job, and nor is it laser precise.
Revealing Tomorrow: The Great Indian Wealth Project
So in my recent videos have been saying that the market is far from a bubble. Will there be a crash? I said there will be a corrective fall, but not a crash. In this video, I'm gonna narrow it down to attempt to give you a broad band of where the market is likely to be headed.
Now what we saw once the lockdowns were imposed last year was that the headline indices made a low and now I am referring particularly to the Nifty in the spot segment. It made a low of 7,511 in the week ended 27th of March 2020 and the very next week a rally got triggered and this rally has been a spectacular, stupendous, fabulous, fantabulous, call it what you want, a rally that has delivered more than 100% in less than a year because in the week ended 19th of February 2021 the Nifty made in the spot segment a high of 15,432.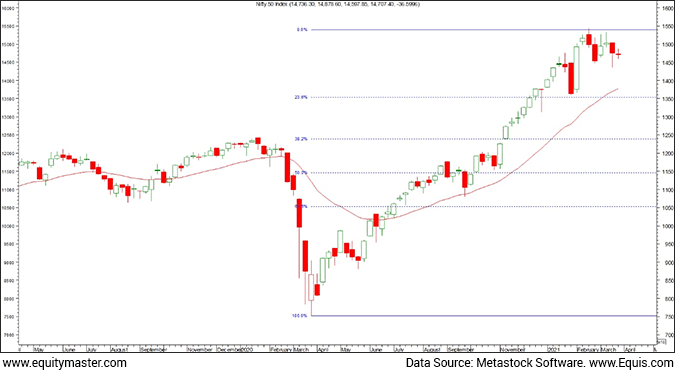 Now, as you can see on your screen, what I have done is plotted a weekly chart of the Nifty in candlestick patterns and very simply plotted a Fibonacci retracement ruler. Now this is something that even amateur technical analysts will be able to identify very effectively.
As of now, I have taken the bottom at 7,511 which of course, is established and activated. A top of 15,432. If at a later date, the top is overcome and a higher top is made, you need to adjust the Fibonacci ruler to the new top, but for now, 15,432 is the top that I have taken.
The bare bone or the bare minimum correction that you can expect in the market as per Fibonacci levels is 38.2%. Now this is a standard operating procedure, and this 38.2% is at approximate levels of 12,400. Now, this would, 12,400 I'm not saying it's necessarily coming, or if it is coming, it's going to stop there. Now remember, we our guestimating.
Now at 12,400 also, this would still be a valid correction. It would not count as a bubble bursting. You have often seen a correction of 38.2% in individual stocks, currencies, bond markets and definitely in equity and index futures.
So up to 12,400 would be a valid correction and as we speak, as you can see on this chart, the 25 week exponential moving average is at 13,775. As of now that's not even tested. So let's not call this a bubble bursting. It would be too kind of premature. This is an ongoing correction, as I would call it.
Only after this 25 week exponential moving average is violated and remember, as the price progresses day by day, the 25 period exponential moving average reading will go higher because the price, even though is falling, is still higher than 13,774 and this EMA or the exponential moving average will gradually edge higher.
Of course, at some point in time, it will touch the price and if the market falls deep enough, the exponential moving average maybe violated. This is why the Fibonacci ruler is a better yardstick, as compared to a standalone exponential average.
The rally if it were to sustain, on the other hand, so far we have only seen where that declines can come up to. The rally, if it can sustain and I'm taking a pot shot an estimate for the calendar year, not the financial year, the calendar year 2021, it has the potential in an extreme, optimistic scenario, if that were to occur between 17,200 to 17,500.
Now I would like to break this down into the trader's psychology. I have noticed whenever I used the words careful, caution have got negative feedback saying you're bearish on the market and similarly, now that I'm saying that it's a correction, but not a bubble bursting and the markets are not in bubble zone, I am noticing that there is resistance to the idea.
Of course, it's a free world. You are more than welcome to agree to disagree or even disagree and disagree even violently so if you want in the comments section. I welcome only or feedback because the behavioural technical trader in me keeps marking tick marks or a cross on a mental spreadsheet, that I maintain of subscriber or viewer feedback that helps me gauge the mood of the market. So go out there and a log of your feedback positive and negative.
Now, the from the markers when I give you such ranges and give you a broader kind of outlook of bubble, not bubble, correction, crash, whatever, the problem occurs when you start looking at things from a very short term, or maybe even an intraday trader's perspective.
The same problem is something I realised in my call on gold. While I was talking about gold in the end of calendar year 2021 which I even went and extrapolated to the end of calendar year 2022, people started responding to it as of these were trades.
Now do remember when you trade you basically leverage. When you leverage, you're using borrowed money or OPM, other people's money. I call OPM as a pump. Opium as in a narcotic and OPM as in other people's money.
Now the fact that you cannot take leveraged positions by paying a maybe 10 to 11% in an index future and 16% in a stock future and therefore, multiply your returns, people tend to forget that even the losses tend to get multiplied.
So a trader basically gives it his or her all into a day trade and I'm hearing horror stories about how people who recently lost jobs or their businesses aren't really doing all that great, etc are even borrowing money on the credit cards to pay margin money in the market and trade.
Now obviously those kind of traders will get very seriously hurt in a market scenario where the downside projection of the Nifty is open up to 12,400 but the upside projection has opened up to 17,200 to 17,500.
Now, if you're basically a scalper who is playing for 10, 20, 30 points for the Nifty, these wide ranges can be extremely, extremely intimidating. Which is why you need to basically sit back a little, take a longer term view and see where the markets are going and align yourself in the overall bigger picture of the market.
Yesterday, I saw flashes of a very old movie, Hindi movie called Sarkar and Amitabh Bachchan the mega superstar of India was telling his son, Abhishek Bachchan, in the movie, do not forget the long term, a threat perception when you are chasing a short term political gain.
You know what? We traders and investors need to imbibe this philosophy even in a short term trades. Look at the longer term picture before you even take a shorter term trade. This is what even Warren Buffett says. Do not buy a stock, even for one minute, if you think the long term prospects of this stock and not good.
So before you trade, do keep the longer term picture in mind. Which is why I keep saying in all my videos, be careful, exercise caution and if you join Equitymaster's Telegram channel, which I think is a must have in your trading inputs, the handle is Equitymaster Official, I keep warning of my readers that the statistical beta for the pure price volatility is at highs where retail traders frankly cannot handle.
To be very honest with you, there are days when the statistical beta is so high that I sit back in my chair and say, boss, I am not trading today. This is far beyond the risk levels that I am allowed to take on my statistical model based on the Jensen's measure. The Jensen's measure is when taking on one additional unit of risk, returns one additional unit of reward or more, ideally more, otherwise, the trade is not to be taken, and above now, the Jensen's measure is screaming for you to be absolutely careful.
Am I calling this a market crash? Not yet. I stand by my hypothesis in the previous videos where I've said it's a correction, the markets have over extended, but it's still not in bubble zone. the declines will be sharp like I mentioned, but the ranges are with you. Do not over speculate. Do not even speculate, I would say.
Borrowing money on credit cards and paying interest to pay span margins or initial margins is an absolute no no. This is the best way to come in financial suicide. I am sure you my viewer are much smarter than that.
On this cautious note, I end this video not before reminding you took click like on this video if you agreed with what you saw. Subscribe to my YouTube channel if you haven't already done so. Click on the bell icon to receive instant alerts about fresh content being put up here.
In the comments section do keep the lines of communication open. Positive and negative feedback is welcome. Help me reach out to fellow like-minded investors and traders by referring my video to your family and friends.
Have a way profitable day ahead. Vijay Bhambwani signing on for now. Thank you for watching. Take care. Bye.
Warm regards,

Vijay L Bhambwani
Editor, Fast Profits Daily
Equitymaster Agora Research Private Limited (Research Analyst
Recent Articles