Why is the Market Falling?
Mar 26, 2021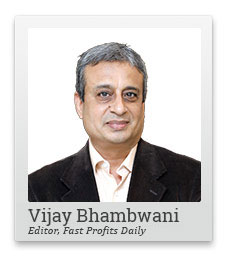 The stock market has started to fall in earnest.
Many analysts are calling it the long-awaited correction.
But why is the market falling?
I have identified three immediate reasons for the fall.
In this video, I'll take you through them. I'll also tell you what you should do with your positions.
Watch the video and let me know your thoughts.
Hello friends. How are you doing today? I hope you're navigating yourself well in the markets and basically weaving in and out of the traffic or the static of the market that provides you with day to day volatility.
As I have been saying in my previous videos about the Nifty, about the markets, this video to takes off where we left off in the previous videos and, like I reminded you, please do join Equitymaster's Telegram channel wherein I put updates every day. Very simple, very effective and basic number crunching, which puts you ahead of the market because numbers eliminate emotions and give you plain facts.
Revealing Tomorrow: The Great Indian Wealth Project
So in this video, I am going to talk about what's spooking the market right now. Since the last couple of months, I have been using the world caution, careful, be careful, and avoid aggression in long positions, especially in the telegram channel posts. Trade light.
So there have been a lot of questions as to why I recommend caution all the time. Why is it that I'm always saying trade light and if you've seen the market moves over the last couple of days, you will know why.
It's very important, and these are lessons that you learn after you survived a couple of bear markets. You've seen bull and bear markets and seen what it is like to get carried away by excessive greed or be hammered down by excessive pessimism.
So if you just ask yourself this question, if you were an investor in the previous bull run that started from 2003 and ended in January 2008 what if you were to get out of your long positions may be 2, 3 weeks after the correction started and got back in around, say, October or November 2008, maybe five or 10% before the markets bottomed out?
You know what? You would be far better off than a lot of people who would have ridden the market all the way down and then back again. So it's never too late.
Why am I so calm all the time? Why is it that I'm saying, don't worry, it's not a bubble? It's a correction, and corrections can go up to 20%. Why not? In yesterday's video gave you levels of how the Nifty can basically breach even the 13,000 mark even by just going down by 38.2% retracement level on the Fibonacci retracement ruler.
Why am I so calm? It's because we have seen it all, we basically gauge the market sentiments by listening to the chatter on social media and hear out public opinion, etc and more importantly, asset allocation, diversification.
So we deploy our money as a company in fixed income, so that home and hearth expenses are not really a problem. You basically allocate certain amount of your money to bullion and then a certain amount of money in equities.
Like I said in yesterday's video, don't make a life and death thing out of each and every trade by throwing in all your money in a single trade. That is counterproductive. That is what can kill you. So otherwise a healthy correction in the market is something that should that you should always be prepared for. Which is why I keep saying in my videos that looking over your shoulder is something a trader does every day.
Now we take a 360 degree view as to water spooking the market because unless you know the cause, you will not know how long the effect will last and what remedial measures that you need to take.
The number one thing that spooking the market is that oil prices are jumping up even as the US dollar index, or as it is popularly known as the Dixie, DXY, are both rising.
Now this is a worry for India because India is a net importing nation and a strong dollar basically results in everything that we import become more expensive where the landed cost is concerned and two thirds of all our imports are fossil fuels, which is natural gas, crude oil and these are multiplier commodities. When the price of crude oil and natural gas goes up, everything from your auto rickshaw taxi fare, your fruits, vegetables, milk, eggs, meets great pulses, everything basically becomes more expensive.
Yesterday I read media stories amount how a very large crude carrier has come stuck in the Suez Canal and that has resided in a spike in oil prices. Now this is the cause for oil to go up. Now let's take up cause and effect and look at how long it will take.
I don't expect this tanker to block the traffic in the Suez canal forever. As a matter of fact, if you do a simple Google search you'll realise that the Suez Canal carries less than 6% of the world's crude. So even if you were to block it for a long, long period of time, it's not going to be killing. There's a lot of oil in this world, and 6% of it won't really make much of a difference.
This is the markets knee jerk manner of rallying and causing shorts to get squeezed, which is sending prices higher. So by Monday or Tuesday next week, I think crude oil prices will come down because this tanker would have come out from his hinged position and be salvaged out of place.
The second and more important trigger. Argentina. The vice president of Argentina has sent out feelers to the International Monetary Agencies that it is unable to meet US$ 45 billion in debt payment to the global lenders. Now this is serious stuff.
Now let me tell you what I expect in the calendar year 2021 failing which latest by 2022. APAC which is Asia Pacific. A lot of weakness there. MENA and a Middle East North Africa. Primarily oil exporting countries whose revenues depend on oil. They will have a lot of cash crunch. Some of them might even re-negotiate their debt with overseas lending agencies, which means one step short of default.
South East Asia and Latin America, or LATAM. Now these are four primary weak spots in the global economy and the savvy investors who read the tea leaves of the market know it.
Argentina's warning shot of devolving on its US$ 45 billion redemption is sending out red flags in the FII circles. So they are basically selling in anticipation because emerging markets have risen far, far more than their economies warranted and these are nations with a lot of debt. So in this process of either re-negotiation or defaulting on the debts is concerned, if it spreads to other areas, you will probably have another round of selloffs.
Number three. This time around, I remember recording a video in January saying will the markets correct in January, and I received a lot of a whiplash of negative feedback that you are wrong, the markets are not going to fall.
Sure enough, the markets fell viciously, very viciously, but the correction was extremely, extremely short lived. So even though technically speaking, the markets fell and I was proved right but the decline was so brief that it's almost blink it and you miss it.
This time around, the retail segment is a lot more cautious than it was in January, which tells me that now when you tell somebody that the market's long term outlook is positive, they basically tell you long term is fine but I think in the near term it's going to fall.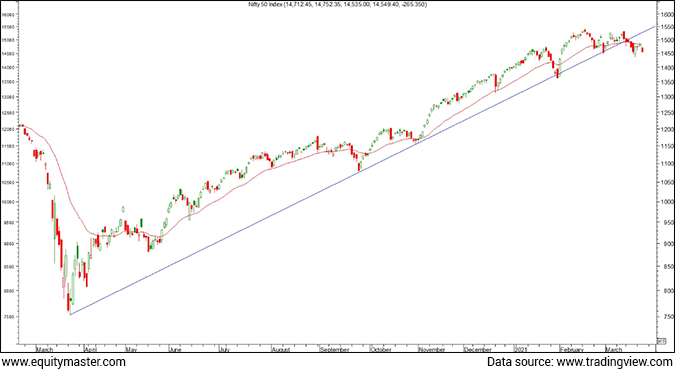 So there is a lot of scepticism at higher levels and sure enough, the high made on the Nifty, as you can see on this chart in the last week of February 2021 at the 15,000 plus levels is likely to be a near term top and unless the bulls take this resistance area out by pushing the markets higher from there, I think the markets will find it a little difficult to go up and might just continue to remain under pressure.
Now remember, and still maintaining that this is a correction and still not calling it a bubble because a correction can last up to 20% and a bubble bursting will basically start beyond that and believe me, as the history of the decline in 2008, when the bubble burst from 8th of January 2008 to 25th October 2008, even if you had sold the Nifty after it fell 20% you'd have still made money. So right now it's still in correction zone because anything up to 20% or less than 20% is still a technical correction.
So this time around, I think the bulls are a little more sceptical. So the oil factor is temporary. It will go away. The emerging markets renegotiation and difficulty in repaying their bonds. This is a longer term problem and I have been talking about bond yields and how inflation and bond yields can bring down equity prices.
The third factor is the retail guys, they announce sceptical. So the first factor is short term. It will go away. The 2nd and 3rd factor, which is bond defaults and retail caution, are probably more sticky issues. Unless that happens and the Nifty manages to pierce, its high of late February 2021, I would say you should not be hunting for bargains. You should not be bottom fishing. You should not be averaging your long positions and definitely avoid leveraged long trades.
I have often talked about the Jensen's measure. Risk versus reward, where you take one additional unit of risk in order to earn a minimum of two units of reward. Now the Jensen's measure is absolutely hostile towards fresh long positions. So hold your long positions existing ones if you want with a stop loss but don't add on to your problems.
On this sombre note, bid I goodbye to you, not before reminding you to click like on this video if you liked what you saw. Subscribe to my YouTube channel if you haven't already done so. Click on the bell icon to receive alerts about fresh videos being put up out here.
In the comments section, do let me know what you think of this video and all kinds of feedback are welcome as usual. Help me reach out to fellow like-minded traders by referring my video to your family and friends.
Have a very, very profitable day ahead. Vijay Bhambwani signing off for now. Thank you for watching.
Warm regards,

Vijay L Bhambwani
Editor, Fast Profits Daily
Equitymaster Agora Research Private Limited (Research Analyst
Recent Articles