My Stock Trading Strategy
Mar 31, 2021
Editor's note: Vijay Bhambwani will be live on YouTube talking about gold and why this is a great time to buy it. Join the live stream here.
---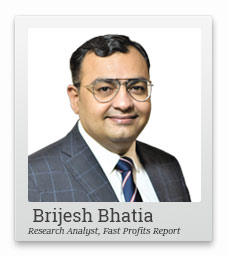 Many of you have written in asking me to describe my trading strategy.
So in this video, I'll tell you all about it.
You will learn the simple three step process I use to identify trades in the stock market.
After watching the video, I believe you will be equipped with the necessary knowledge to try out this strategy for yourself.
I'm eager to know how it will benefit your trading. Let me know in the comments.
Hi everyone. Welcome to the Fast Profits Daily video series. I'm Brijesh Bhatia. In this video, I'll be discussing how to select a stock for momentum based trading when markets trending bullish.
The markets from March 2020 to March 2021, it has gone by some 7500 to 15,000 levels, and I am sure that in the current trend the markets are taking a rally, a pause in the momentum or retracement and again taking a rally, you will definitely be looking for a momentum based trades and looking for the trades where you can get good, upside momentum's looking for good profit booking.
So I'll be discussing my strategy on how to do it.
Before a stand on the strategy I request you to click onto the subscribe button and bell icon so that you receive the notifications instantly as soon as we post videos. So let's start with the criteria.
EV Stocks: Make a Fortune from Automobile Sector's Colossal Disruption
So there are three criteria, which are there in my system. The first is the moving average I am using, which trigger my buy setups. So I have taken the 13 and 55 exponential moving averages (EMA). As soon as the 13 EMA crosses the 55 EMA it's a buy trigger for me. I'm looking for a long only, not a short set up. So this is the system I will be discussing for long only traders.
Second, as I got my buy trigger, I will look for momentum. Is the stock into the momentum, because the reason is I don't want to buy the stock and sit for a long time. So I take the five days high. So as the stocks cross the five day high, I am sure that the momentum is the stock.
After buy trigger and momentum, is the stock in a strong rally? Is there strength in the stock? I look at the RSI which is the relative strength index. I'm taking the period which is 14 days which is the default one. When the RSI is above 50 which means that it is in the bullish trend and I'm sure that the price momentum can catch up and it can take stocks to higher levels.
So these are my three categories. First, 13 EMA crosses above 55 EMA. Second the price should be above the five days high, and the third is the RSI 14 which should be above 50. So let's build the system over here and see how it has performed.
So the first criteria is the moving average. So let me take the average over here. The short and long. I'm taking two EMAs here 13 EMA and 55 EMA.
Second is the price should be above five days highs. So let's look at the price over here. Price should be an upward breakout. It should be about five days. I'll just add it out.
My third criteria is the RSI. So let's look at the RSI over here. 14 period. I should be about 50. So I am not looking at any crossover or anything. It should be basic above 50. Now look at the results. Okay, so we are on Friday 26 data. Let's look at the historic moves or the Friday's end of the day data.
So I've got three stocks over here. The first is Asian Paints. I got all these three parameters. Yes, yes, yes. I got three stocks, Asian Paints, Britannia, and OFSS. So this is for Friday. On Monday we had a holiday. So let's look at Tuesday and how it has performed.
So I'm just clicking on the chart over here. Asian Paints. It was up by 2.68%. Look at Britannia. It's up by 2.72%. OFSS? Amazing 10% move. So it has triggered a buy on Friday and up by around 10%. So though this is a rare case up by 10% but yes, you can get a good momentum.
I have the data since inception till 26 March 2021 if you want to look at the analysis. So your screen this is the Nifty 100 stocks which I have taken since last 20, 25 years since 1995. So this again the criteria are the same but as a back testing result, I have just added one criteria. My stop loss is 10% or if it has triggered a 25% upside. So the exit criteria is 10% or 25% whichever is higher, it will exit my positions.
So this is Nifty 100 stocks which have got Abbott India, 26 trades. 285% profits. 11% average returns per trade. ACC 2.36% average return per trade. Similarly look at Adani Green which we got 11%. Asian Paints which we got a buy trigger 26 March which is giving an average return 8.71%.
So this is the number and you can just go through this data in case anyone wants to look at the stocks, Check it out and in case anyone wants to share amongst this data, just post on the comments section. Post your e-mail id so that I can share this excel with you so that you know how this back testing result is performing.
I'm repeating, the same criteria I have used plus I have used 10% stop loss or 25% whichever comes first, it gets the exit triggered because I wanted to check the back testing data for quite long.
So this is the number again. Coal India showing negative numbers so you can avoid. DLF showing negative numbers so you can avoid. Hero Motors showing 3.78%. HDFC Life showing around 8%. So this is again I'm just looking at the momentum based trades and not looking for a day trade or two days trade. I'm looking for a two weeks, three weeks four weeks trade, and I'm getting good percentage.
So this is again buying the dips when generally the markets go down. I've taken trades below 30 days which is a short term time frame. Generally markets retraces, the prices go below those levels and you get a buy trigger. So this is the set up.
In case you want this excel, do type e-mail id in your comment and I will send this back tested data to you. So this is the is the system, which have been sharing for quite long now.
If you want to know more or gold, we are coming up with live YouTube Q&A session by our expert Vijay Bhambwani who is into the market for nearly 35 years and well known in the commodities market. So he will be answering your queries on gold, which is scheduled for 3 April at 11 am. The registration link is the comment section. Click on the link and register yourself.
As you know, gold right from 2000 dollars is back to 17 dollars. I think this is the biggest opportunity you should look at. In case you have any doubts on how to take advantage of this opportunity, do come on to this live session by Mr Vijay Bhambwani, and I am sure you will get all your queries being solved.
So just signing off. Again I would say click on the subscribe button of our YouTube channel and do register for this event, and I'm sure it will be very much helpful for you.
Thank you. Brijesh Bhatia.
Warm regards,

Brijesh Bhatia
Research Analyst, Fast Profit Report
Equitymaster Agora Research Private Limited (Research Analyst)
PS: Vijay Bhambwani will be live on YouTube talking about gold and why this is a great time to buy it. Join the live stream here.
Recent Articles