How to Protect Your Wealth in the Coronavirus Crisis
Apr 2, 2020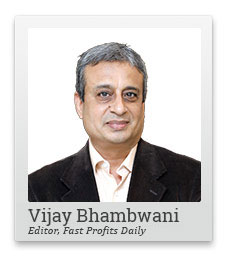 I hope you are staying safe at home dear reader. These are difficult times for both our health and wealth.
While we must do everything we can to guard against the Coronavirus, we must not ignore our money.
Is it safe in this crisis?
I hope it is but we need to be sure the value of your wealth does not erode.
In this video, I will share with you, a simple trade that can be very useful in the coming days and weeks.
Hi, this is Vijay Bhambwani and I'm recording this video for you from my residence. I hope you're staying indoors, staying safe and keeping your family safe as well.
Today I want to talk to you about a topic that should interest every man, woman and child in this country. I have often said that the stock market indices are not the most accurate barometers of the economy because they represent 30 or 50 stocks, depending on whether you're talking on the Sensex on the Nifty 50 and what I'm about to tell you may offer you one of the finest trading opportunities as well.
Day before yesterday, the erstwhile chairperson of SBI, India's largest bank, so large as a matter of fact that it represents two-thirds of the entire banking operations in the country, Arundhati Bhattacharya, the ex chairperson of the SBI, said that the government has no option but to print unbacked currency and flood that currency in the market so as to revive the sentiments after the Coronavirus pandemic hit the Indian economy.
What is this actually mean for you? How you can profit from it and how it will impact your day to day life?
I want to present this in a very simple case by case manner.
First of all, financial markets operate on the principles of demand and supply. If the Indian government was to print unbacked currency, by unbacked currency I mean currency, which is not backed by a reserve of gold, if the Indian government was to print unbacked currency, there would be a whole lot more supply at this point in time.
And that means the value of the Indian currency will fall, which means, the purchasing power of the rupee will fall.
So if yesterday you went to your friendly neighbourhood grocery shop and gave that person a Rs 100 note, and hypothetically, you could buy three bottles of Coca Cola, you will suddenly be able to buy only two bottles of Coca Cola with that same Rs 100 note. That means your purchasing power has reduced.
Secondly, inflation will go up because everybody has now got that free money and they will go out and buy essentials, thereby raising demand for essentials and pushing the price of these essentials.
On one hand, you have an oversupply of currency. On the other hand, with that currency, people are going to buy stuff that they actually need for a day to day living and therefore the price of those commodities will go up. This is called inflation.
Everything that India imports primarily energy, which is oil and gas, we actually have two-thirds of the entire import bill importing oil and gas, will also become expensive.
As you know, when oil and gas becomes expensive, your transport costs, your vegetables your fruits, your groceries, your wheat, and greens, etc all become expensive.
Economists call this imported inflation because whatever is imported into the country, whether it is your mobile phone hand set, the cell tower equipment, whether it is crude oil, natural gas, medicines, technology, etc, everything becomes expensive.
So when important inflation hits, it takes a little while for the economy to come back to its speed again.
All this might just make you feel a little nervous. Is there an opportunity here?
Yes. What you cannot do is stop the currency from being printed, if at all, if at all, the government decides to print the currency, but what you can do is to profit from it so that you can put food on the table for your family.
I would advise you to monitor the news very carefully. If it all, there are indications that the government announces plans to print unbacked currency, please go out there and try and buy some USDINR on the National Stock Exchange.
The USDINR is nothing but buying the United States dollar versus is the Indian national rupee, which means you're going long on the dollar and going short on the rupee at the same time in one simple trade. That my friends should be able to mitigate or offset some of the losses that you are going to make by way of higher food and essential prices that you're going to pay.
As a trader, as a householder and as a family man, it is my job, it is my responsibility to see to it that I have to provide for my family irrespective of times being good or bad. I suggest we all focus on grabbing any opportunity available to us with both hands rather than mourning, about the problems that are now confronting us.
As long as we come out without losing our capital or eroding our capital, we will have enough ammunition to invest in the markets.
On that note I will sign off from this video, but not before reminding you to click like on this video if you agree with what I say. If you're watching it on YouTube, in the comments section, please like me know what you think about this video.
Do not forget to share this video with your family and friends and join me on Equitymaster's Telegram channel with the handle Equitymaster official, wherein I put my views every day.
Do take very good care of your trades and investments and of your family. Stay indoors. Thank you.
Let me know what you think about this topic.
And stay safe!
Warm regards,

Vijay L Bhambwani
Editor, Fast Profits Daily
Equitymaster Agora Research Private Limited (Research Analyst)
Recent Articles