Will the Market Bounce Back or Fall Further?
Apr 3, 2020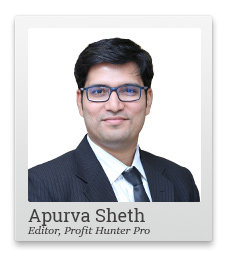 Has the market begun to fall again?
We had a massive rally with the indices going up about 20% in a few days.
Now it seems to be trending lower again.
Is there a way to be sure of the trend in this market?
Yes, there is and in the video today, I will show you how to identify it.
Hi I'm Apurva Sheth and I welcome you to this latest edition of Fast Profits Daily.
Now, today I want to talk about a common mistake that investors are making these days. A lot of investors are fearful. They are fearful of missing out on market rallies. So what is happening right now?
Markets have fallen drastically and markets the world over have fallen sharply. Our benchmark index Nifty and Sensex have fallen almost 40% from their all time highs.
So we have entered into a bear market territory. Now what happens when we're in a bear market? Markets bounce back sharply on the upside as well, so this is just like throwing a ball from a top of a 40 storey building.
Now the ball falls down sharply, but it also bounces back with equal force. This is exactly what happens in a bear market. The index or stocks drop swiftly and they even bounced back.
But that does not mean that they will recover almost whatever they had fallen. Chances are that after the first bounce, the index or stocks will again continue their down trend soon. Now this particular phenomenon is called a dead cat bounce or a sucker's rally.
So these bounce backs are traps for the bulls, and that's why they get this name. So let's see what has happened in the market so far.
Now, as you can see out here, the index was trading around levels of 12,400 in January. It dropped lower almost 40% and hit a low of 7,500. Now, from the bottom of 7,500 the index has bounced back to levels of about 9,000.
Now this is a rally of 20%. Now a 20% rally in just three sessions is absolutely phenomenal. I don't think that we have seen such kind of rallies in the past.
But that does not mean that the index could head higher immediately. As you can see out here immediately after this bonds back, the index gave up almost 50% of this gain.
So this is a classic example of our dead cat bounce for the bulls where in the index dropped swiftly, lower and after reaching an extreme level, it bounced back.
But this bounce back was hardly tradable, since most of the people would not have been able to enter and exit, enter at the bottom and exit at the top.
And we can see similar instances in the past as well. So if I scroll back to 2008 you will see that markets had gone lower. But they had also recovered again and in fact they had recovered almost 50%.
As you can see out here, the first fall in June 2008 markets had bounced back almost 50% of the previous fall. But the downtrend continues and same thing happened in the month of March as well, and later again in the month of July, where the markets bounce.
These bounce back rallies are swift and very sharp, so one should be careful and one should expect such kind of rallies going forward as well since the market's have fallen so sharply and the magnitude of the fall is also so big, one can expect the dead cat bounce or sucker's rally.
So what other things that one should look at to avoid such dead cat bounces? So I want to tell you three things that one can look out for. These are not the only three things. There are many other things that one can look at, but I believe that these are three main things or the three most important things that one could look at.
So first amongst them is the India Vix or volatility indicators. So the volatility indicator, or the fear index is currently trading at it's a lifetime highs, near its lifetime highs. It has cooled off in the last few days, however, it still remains at an elevated level and until this volatility index cools off substantially from current levels, so right now it's trading around 60 and I feel once it starts trading below the level of 40 that would be one of the indicators that the volatility is easing of, and it would be safe to take trades in either direction.
So India Vix is one indicator. Another thing that one can look at is an index forming consistent, higher highs and higher lows. Now what are these higher, higher and higher lows?
Now let me show you an illustration through the index should form series of rising peaks and rising bottoms. So you're, as you can see, if I can call this as a low, then this is a high. And then the subsequent low, was higher than the previous low. That's why it's forming a higher low.
Then again, the markets rise and here again in has formed a higher high, which was above the previous high. So this is a sequence of markets forming higher and higher, lows.
Now I know that this can be slightly complicated if you are new to charts, but once you get a hang of it, this will be very simple. And for those who haven't yet seen charts at all, there is one very simple indicator which one can use that is moving average.
So one could use a short term, moving average on the index or stocks like the 50 day moving average or the 100 day moving average. If you want to identify trends from a long term perspective then the 200 DMA or 200 day moving average is also useful.
So once the index starts consistently trading above any of these are moving averages, one could say that the bear market is over and the index could probably be heading higher.
Like all the other indicators, none of these indicators offer a fool proof system. They should be used in conjunction with each other and with multiple other indicators. If you could do that, then you could avoid dead cat bounces or bull traps.
So that's all from me for today. I hope you enjoyed watching this video, and in case you did, then please do like it, share it, share it with your friends and family and subscribe to our YouTube channel.
Also, don't miss signing up to our telegram channel. It's absolutely free and both I and Vijay post interesting stuff regularly about the markets. So you could enhance your learning and stay up to date with the markets. So that's all from me for today. Thanks a lot and have a nice day.
Let me know your thoughts on this video in the comments.
And watch out for Vijay's video on Monday.
Stay safe and have a great weekend!
Warm regards,



Apurva Sheth
Analyst, Fast Profits Report
Equitymaster Agora Research Private Limited (Research Analyst)
PS: Amid this panic sell off, here's one quality stock now trading at multi year lows. I hope you will make the most of this incredibly rare opportunity. Click here for your crorepati stock recommendation.
Recent Articles