An Update on My High Conviction Trade of 2020
Apr 9, 2020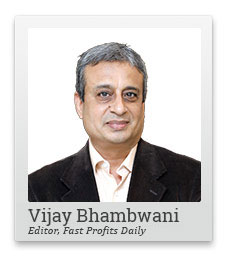 The COVID-19 crisis has changed the world. Once the dust settles down on this crisis, traders in the market will have to go back to their livelihoods.
But they will be facing a more challenging environment than before.
Is there a trade that you can rely on from before the crisis?
Yes, there is. My high conviction trade from 2019 is still my favourite.
Today I want to share an update on it. Watch out for more recommendations.
Hi, this is Vijay Bhambwani and I'm recording this video from my residence staying safe indoors. I hope you also are following the lock down instructions and keeping yourself and your family safe.
In this video I would like to talk about updating you about the most high conviction trade that I have been talking about in the commodities space since November of 2019. Yes, I am talking of natural gas.
Natural gas and crude oil have been the backbone of the industry leading profits that the weekly cash alert service has generated in financial year 19-20 and I have been very open about the fact that crude oil and natural gas would be the trades of our choice and I also in the fast profits daily videos have shared my secret sauce with you.
Since the times are changing, and these are extremely challenging times indeed, I think an update would be in order. So here goes.
The recent trading sessions have seen a pullback rally in crude oil and natural gas as Russia and Saudi Arabia send out feelers to the global markets as well as to each other, clamouring for peace and a cessation or stopping the price war.
This is along my expectations, which I had shared with you in my video dated 16th March, when I called it a street fight between two bullies who would not want to kill each other or die in the bargain. Nor do they want to go bankrupt.
Both these bullies do not want to die, kill each other or go bankrupt. This is nothing but posturing. And like my video about calling the bluff of the Indonesian government over the ban on a nickel exports in 2019, I have called the bluff collectively of the Russian and the Saudi oil price war.
Now, since the market's have realised that, they are bidding up the price of oil and natural gas. My video this specific video is about whether natural gas is likely to sustain the up trust that it has seen and what you do now as conservative or an interested a party in the natural gas on the commodities game.
Let us recap as to what has happened since the last time we talked about natural gas. I talked about the vernal equinox or the official beginning of spring in India. You can call it some from 20 21st of March 2020 onwards and how the summer period is actually bearish for prices of natural gas. So I do expect natural gas prices to remain under pressure, and therefore the up trust is something I do not expect to sustain.
Number two. The Saudis have discovered a huge reserves of natural gas in an oil field and a place called Jayapura in the deserts in Saudi Arabia. The find is so big that the Saudis are actually they have announced at least going ahead with investments of $110 billion to develop that natural gas.
The Dubai and the Abu Dhabi governments have announced finding natural gas along their borders, which basically kind of reduces their dependency on Qatar who they have embargoed since June 2017 and they are likely to kind of import less and less gas. And if it all reserves justified, they might even export that natural gas that is the Middle East, North Africa, the Gulf region.
Let's come back to Europe. Norway has a giant oil well Yohan Svedrup. Now Yohan Svedrup. has basically struck oil and is likely to pump up to half a 1,000,000 barrels of oil along with a little bit of natural gas is also likely. Inn addition to which oilwell has been found. Let's call it the goodrun while can because it's found near the goodrun oil well, and since it was unnamed.
The last time I checked, the oil community is calling it the goodrun wild cat. Here again, certain amount of natural gas is expected to be found with crude oil.
Iran itself is under severe stress, both from the Corona virus as well as sanctions from the U. S Iran, as you know, is a swing producer and exporter of natural gas and that two of extremely high quality. Since it is pressurised to raise resources, especially cash, to a fight the Corona virus, and to lend economic stimulus to its citizens so as to beat the economic sanctions imposed on it by the U. S and its allies. So I expect countries like Iran to resort to distress sales of natural gas so as to raise money.
So has my viewpoint on natural gas changed? I would say not. Remain on the short side of the natural gas trade. Where exactly do I feel natural gas is poised? I am still monitoring the prices and I assure my weekly cash alert subscribers, you will receive an alert that day.
I feel the fruit is ripe for the picking. This still remains my high conviction trade even for calendar year 2020 and we are likely to weave in and out of natural gas and crude oil trades in the calendar year 2020 a couple of times, at least.
I am looking forward to creating a good deal of trading profits in my record that I have established in financial year 19-20 thereby placing the returns of the weekly cash alert service in the top 5% of the global hedge fund industry that is commodity and currency specific.
Before I sign off from this video, let me remind you to click like on this video if you're watching this on YouTube. In the comments section, do let me know what you think about this video and what else you would want me to record from my future videos.
Do not forget to share this video with your family and friends. Do take very good care of your health. Keep your family safe and do take very good care of your trades and investments as well. Join me on Equitymaster's Telegram channel with the handle Equitymaster official where I put in my updates at least thrice a day. See you there soon. Till then, take care. Bye. Thank you.
Stay safe and have a profitable trading day!
Warm regards,

Vijay L Bhambwani
Editor, Fast Profits Daily
Equitymaster Agora Research Private Limited (Research Analyst)
Recent Articles