A Unique Sector for Short-Term Profits
Apr 12, 2021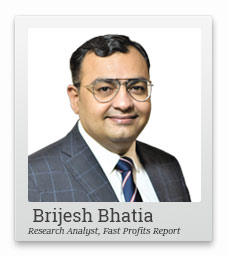 Welcome to the weekly Momentum Moves video series in the Fast Profits Daily.
Let's take a look at the week gone by in the market in detail as well as what you can expect the market to do this week.
The sentiment of smallcap and midcap bulls this week is very positive. The smallcap index hit a new 52-week high last week while the midcap index was just shy of a new all-time high.
On the other hand, the benchmark index Nifty was neutral for the week.
The Nifty was largely dragged down by banking stocks as the Bank Nifty lost 4.16% last week.
In last week's edition we highlighted metals can roar and sure enough, it was one of the best performing sectorial indices gaining 6.64%.
What's Next?
In this edition, we will be highlighting the Gas Distribution index (GDI). This is an index we have created. It tells us, the gas distribution stocks should be there in your portfolio for the next few weeks.
--- Advertisement ---
One Stock for Potentially Life-changing Gains

This stock comes from a high-growth industry.

An industry which is growing exponentially.

Our co-head of research, Tanushree Banerjee, believes...

This growth is likely to continue for many years and perhaps even decades.

Tanushree's past recommendations from such high-growth industries have offered triple and even quadruple digit gains in just a few years.
(* Past performance in no guarantee of future results)

And the stock which Tanushree has discovered now could potentially offer such gains.

This is Tanushree's #1 stock pick right now.

She will reveal details of this stock at a special online event she is holding on May 17.

Since there are limited free seats. we would recommend you to sign-up at the earliest.

Click here to sign-up. It's free.
------------------------------
The Week Ahead
The Nifty traders might be frustrated by the recent momentum as it's hovering in the range of 14,300-15,000 for a few weeks.
Derivatives traders who short options might be on top of the world as premium decay is multiplying their P&L statements.
In today's video, we will look at what you can expect.
Nifty - Likely to Move Out of the Range
The index is trading in a range of 14,300-15,000 for nearly 22 days now.
The technical structure is bullish from medium to long term perspective. The short-term trend will confirm this once it breaks above the 15,000 mark.
Nifty Daily Chart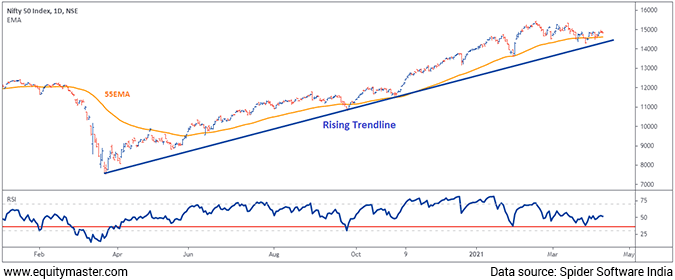 The 12 months rising trendline (blue) in the above chart indicates the Nifty is still in a bullish trend as it's forming higher high - higher low structure as per the Dow Theory.
The index is hovering around 55 DEMA (Daily Exponential Moving Average). This is a good sign for the bulls as it is taking support around the medium term average.
RSI (Relative Strength Index) in the below panel has turned northwards from the demand zone indicating the bulls are in control.
Learn: How to Potentially Accumulate Rs 7 Crore in Wealth Over the Long-term
For short term traders, we recommend waiting for the breakout above 15,000.
Medium to long term investors can focus on smallcaps and midcaps where there are plenty of real money-making opportunities.
Gas Distribution Stocks - Ready to Take Off
We have created an equal weighted index of gas distribution companies listed on the NSE (National Stock Exchange) with a market cap above Rs 100 bn.
The stocks which are components of our gas distribution index are Adani Total Gas Ltd, GAIL, Gujarat Gas Ltd, Indraprastha Gas Ltd and Mahanagar Gas Ltd.
Gas Distribution Index (GDI)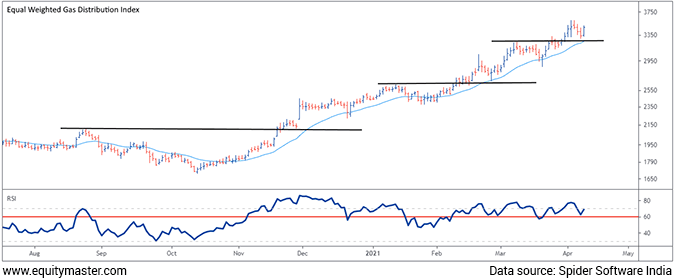 The daily chart above shows smooth sailing for the bulls. It has an identically repeating way of trending bullish - rally, consolidate, breakout, re-test the breakout, and rally again.
Last week's dip has re-tested the breakout level and Friday's bullish move confirms the start of a new rally.
--- Advertisement ---
How to Earn a Fortune in Gold, the Smart Way

Gold is on 'the verge of a decadal run' says Vijay Bhambwani, India's #1 Trader and Editor of Fast Profits Daily at Equitymaster.

He says gold has the potential to generate staggering gains in the coming years...And those who are betting on gold right now will hit the jackpot.

But wait.

While gold is an attractive investment destination, there's a very specific way to play this opportunity...

A way that ensures you rake in maximum profit and perhaps hit the jackpot...while minimizing potential pitfalls. Thankfully, Vijay - India's #1 Trader - can guide you step-by-step in the upcoming gold rush and help hit the jackpot just at the right time.

Sure, you don't want to be an average trader. That's not how you make a fortune.

Here's how you can get Vijay's guidance...
------------------------------
The index is also trading above the short-term moving average of 21 days. The slope of RSI turning northwards from 60. This is a convincing sign for the bulls.
The GDI is in a strong bullish trend and to compare its strength, we compared it with benchmark index, Nifty.
Gas Distribution Index vs Nifty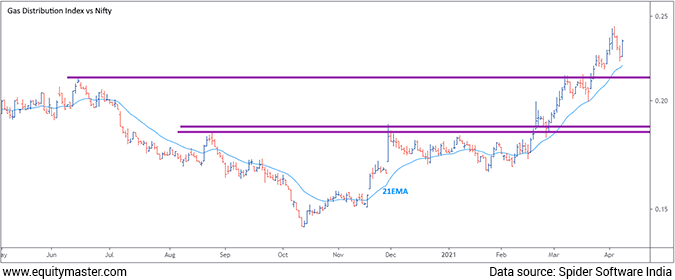 The ratio chart above is trending bullish. This means the GDI is outperforming the Nifty.
Since its breakout in mid-February, we can see the GDI is outperforming the Nifty. The recent breakout in March, has been retested and the bullish trend has resumed. This confirms its outperformance over Nifty.
Gas distribution stocks can outperform for rest of the April.
Traders and Investors should keep on their watchlist for 8-10% returns.
Conclusion
Nifty is trending bullish from a medium to long term perspective while short term traders should wait for the breakout above 15,000 levels.
Metals and IT have rallied last week and you might be wondering, what's next?
Our Gas Distribution Index (GDI) indicates gas distribution stocks can be in favour for the next couple of weeks.
Traders and investors should definitely have gas distribution stocks in their portfolios for the short-term.
Warm regards,

Brijesh Bhatia
Research Analyst, Fast Profit Report
Equitymaster Agora Research Private Limited (Research Analyst)
Recent Articles