Why Did the Market Crash on Monday?
Apr 12, 2021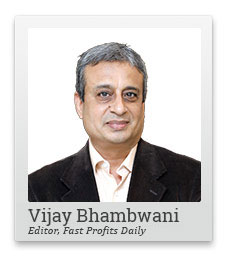 I have been warning you to be cautious about the market.
The market was showing signs of weakness since February and now we are seeing the weakness reflecting in stock prices.
So why did the market crash?
In this video, I'll tell you the real reason behind it and also tell you how to react to it.
Watch the video and let me know what you think about the crash. How are you handling it?
Hello friends. How are you doing out there? I hope the markets are treating you right, and you've taken cognizance of my warnings in the last few videos that I have been warning about the market decline.
This is Vijay Bhambwani and in this video, I want to dissect why the markets fell the way they did on Monday and whether this was expected or this should have surprised you.
As I record this video on a Monday morning at roughly 10:30 am, I notice on my screen that the Nifty is down over 430 points. The reason why I am recording this video on Monday and it will be uploaded on Tuesday is that the editorial team requires time to edit it and put their logos etcetera and get the post production job done.
So how the market will end today is something I do not know. It is approximately 10:30 am on Monday, but the selling is palpable.
The three things that I see noteworthy on my screen is that the declines are big. Many of the stocks have come down with gaps and many round numbers have been taken out.
Must Read: Nifty Scales 20K Again... Some of Our Top Picks are...
Now this is a fatal combination. This is not exactly good news for the bulls, and this is something that have was warning you about and believe me, this is not an I told you so video. I'm not hitting back and people who were passing unkind comments in the comments section. You're free to exercise your right to flame or troll or whatever. I love every feedback that you give me but former for the serious minded people who want to learn how to think, I feel I am duty bound to explain why the markets fell.
If you were to read any old tome, any old classic technical analysis manual, you will realise that there is a greater probability of a panic bottom being made with a V-shaped recovery but tops mostly are very lazy, time consuming, and they are a rounding top, like an inverted saucer.
So high that was made in the middle of February both on the Nifty and the Bank Nifty was not being surpassed. For seven weeks in a row, I noticed that the indices were not able to go up above the February peaks.
The Bank Nifty was taking it on the chin and relatively underperforming the Nifty 50. Now, when you of banking sector is taking a hit if you see the relatives strength comparative, banking stocks lead the rally up and banking stocks invariably financials and banking, I stand corrected, financials and banking normally lead the market down in advance also.
So that decline after the peaks were made in the middle of February was led by banks and this was what was prompting me to record videos, even though I know I was getting unpopular amongst a select few people who were basically treating me as public enemy number one because they thought I was going to damage their portfolios. Listen guys, one guy's opinion cannot change the market and I'm to irrelevant to really cause a decline. So, comical as your fears are, remain assured no one person can really impact prices, neither up nor down.
Since tops are formed with element of time, remember that the last 13 months the bulls are the ones who have made a lot of money, and they were unlikely to yield or surrender in a hurry, and the bears, who are so beaten down that they were incapable of hammering prices with a great degree of force, which is why the declines were not coming rapidly.
Many of you might argue that it is the covid based locked down and the horrifying news in some of the frontline newspapers, giving out details how there was a waiting list in crematoriums to dispose of the bodies of the dead, the covid patients etcetera, etcetera. I don't think the markets have fallen only because of that.
This was a trigger that was waiting to happen. The markets would have found some other excuse to go up. Remember how the markets bottomed out in March 2020 and jumped up and at that point in time also, a lot of us could not understand the bizarre scenario. When you stepped out of your house, there were no cars, no human beings, no shops that were visibly open on the roads but the markets were jumping up. So the markets were looking for a reason, and covid just happened to be a reason.
In a video that I'm releasing after this video, I will also get into the nitty gritty of what spooked the market particularly but remain assured that the market that falls like this, with many round numbers being taken out, I'm not saying that the market will not recover. They will recover, but it will be a laborious recovery because many round numbers have been violated.
The main thing is that since the market has fallen down with a gap, even if people wanted to enforce some stop losses, I can understand the frustration of long positions where the markets have opened below your stop level. So you can't even exit now. That is when hope turns to fear.
Now this is the biggest of a reason for the decline. Frustrated hope is now giving way to fear and where hope was overly optimistic, overly exuberant, now fear, I am afraid, will become overly dominant. People will get more fearful than they should and therefore lead the decline lower than where it should go.
This is the nature of the markets. It is an invariable, unavoidable, and irreversible aspect of human behaviour to swing from one extreme to the other. From absolute happiness to absolute depression and sadness. This is what will happen in the markets. Which is why I was telling you that you should run to the safety of gold.
I have been making videos about how interest rates are something that you should monitor and lock in rates as far as you're getting interest and the present rates, because sooner rather than later, I do expect fixed income interest rates to fall further.
I think if you're holding your long term a portfolio full of blue chip shares and especially FMCG, pharma, etcetera, I've made a lot of videos saying which sectors to invest if the market takes a hit. Recently, I also make a video saying, if the market falls, I will do this. I talked about index ETFs.
I stand by my words and I would still repeat my words because I am not one of those who changes their minds day to day with the market. I stand behind what I said, I think, given further declines, getting into index ETFs especially the Nifty 50 ETF would make sense but on further declines, this is too small a decline to start getting aggressive.
It is the aggression of the bulls so far that has brought in the market to correct this deep. There is no point in fuelling further aggression to counter the previous aggression. So let's take it easy. Play the market game like a game of chess. Make one lazy move after the other. You're allowed 45 minutes time frame between one move and the other. Play it lazily. Consider each and every move. Contemplate, plan, and ideate before putting your money. Don't be in a hurry to deploy cash.
On this cautious note, I would bid goodbye to you in this video not before reminding you to click like on this video if you agree with what you saw. Subscribe to my YouTube channel if you haven't already done so. In the comments section, do let me know what you think about this video. Good, bad, ugly, angry, love hate, I welcome everything. Help me reach out to like-minded traders by referring my video to your family and friends. This is Vijay Bhambwani signing off for now. I wish you have a very, very profitable time ahead. Thank you for watching me. Take care. Bye.
Warm regards,

Vijay L Bhambwani
Editor, Fast Profits Daily
Equitymaster Agora Research Private Limited (Research Analyst
PS: On Thursday, 15 April, Tanushree Banerjee, our expert on safe stock investing, will reveal potentially the greatest wealth-building event for your net worth. Join Tanushree at the India Revival Summit.
Recent Articles