A Timely Warning About Gold
Apr 13, 2020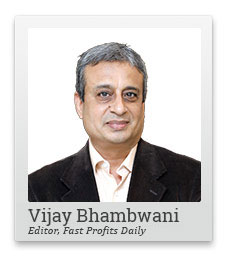 We all like to think of gold as a safe asset. Something that will hold its value in times of crisis.
This is true for the most part. However, that doesn't mean you can make easy money trading gold.
The bull market in gold might just get bumpy. In the video today, I will tell you why.
Hi, this is Vijay Bhambwani here, and I am recording this video for you from the safety of my house. I hope you're staying indoors and obeying the lock down instructions and keeping yourself and your family safe.
I'm recording this video for you with an express topic that should interest almost all Indians out there. You're hearing a lot about how gold is a store of value, is a safe heaven and also an excellent means of appreciating capital, especially in times of economic distress, high inflation and uncertainty in paper assets.
I completely agree with the virtues of gold as an investment. But let me play the devil's advocate so that you don't assume that trading or investing is as smooth as a tile of marble.
Let us progress from gold for a moment here and see the drama that unfolded between OPEC and a few non OPEC members, which is what the organisation has become now. It's being called OPEC plus.
The Russians and the Saudis have announced coming to an understanding of output cuts which have been mutually agreed and at a virtual conference. Did you really notice what happened down there?
Petroleos, Mexicanos or Pemex, has refused initially to adhere to the OPEC output cut. The Iranians have said they are not bound by OPEC output cuts and therefore they are free to produce as much oil as they want and sell it in the international export market. A few other countries, like Qatar and Yemen, etc, are following suit.
Let me draw your attention to my video on 16th of March, which I had recorded, and in that I said the Saudis and the Russians are two big bullies who are having a street fight, and none of them wants to die or kill the other guy, nor do they want to go bankrupt. So at some point in time and I said within 6 to 8 weeks they would reach an understanding. The understanding has come within 4 to 4 weeks of that video itself.
But I would still say that the price of crude and natural gas, I recorded a video recently saying, I want to update you about my most high conviction trade of 2020 which is natural gas short. I said, I maintain my view that natural gas is a short. Now, why am I saying that in spite of this output cut between OPEC and some non OPEC countries, which we are now calling OPEC plus, why they have only bought time for themselves and why prices will come down?
Look at the case of Iran, highly distressed financially, both on account of a virus as well as the economic sanctions imposed by the US. Mexico itself is a distressed country. I have been warning you about problems in Latin America, Middle East and North Africa, Asia Pacific, and Southeast Asia, which was the home to the Southeast Asian currency crisis of 1997-1998. All these countries are substantial exporters of natural resources, including gold. And the reason why Mexico does not want to adhere to oil output cards is because it is desperate for revenues. It is willing to sell oil even at some $20 a barrel, because it needs money.
So this is the state of the universe, especially where the hard assets of commodities are concerned. Now let's get back to gold. Let's check out, which are the top 10 exporting countries of gold in the world. Russia, Mexico, Indonesia, South Africa, Ghana. All these countries are economically distressed.
The Russians have had a very expensive and a bloody nosed fight with the Saudis, where the price war of oil is concerned. Putin needs to keep the crowds away from the supermarkets and not wanting to make them panic. For that, he needs money. The Russians have said recently allowed that the Russian Central Bank will not buy any more gold from the national mines, which means they are clearing the way and paving the way for exporting more gold.
The South Africans are distressed country. They need money desperately. What makes you think they will not distress sell gold when they need to raise money?
The US itself is a hoarder of gold, and let's see what's happened in the US. They are issuing a stimulus after stimulus, and the words that they use is we will do what it takes. This stimulus, I would not be surprised if it crossed 3.5 to maybe even 4 trillion dollars. That means the US will either print cash or will raise cash. Raising cash would come by way of issuing bonds or selling gold.
Therefore, my friends do not assume that the ride in gold is going to be a smooth one. Am I saying that you should sell the gold that you already have? No. By all means, please continue to hold your gold. All I'm saying is that there will be intermittent events which will tell you that some country or the other is breaking ranks and selling gold maybe slightly cheaper than the market price. Whenever that happens, the price of gold might fall more and sentiments might be hit for a very brief period of time.
So next time the graph of gold might just continue to go up, but it's not going to go up in a straight line. It's rather going to be a very bumpy ride. Get ready for a bumpy ride because the investment and trading world is not supposed to give you easy money.
There is a saying trading profits are the most difficult easy money profits you will ever take home. I think the year 2020 will see bullion witnessing that old Wall Street saying in real time.
Before I sign off from this video, let me remind you to click like on this video if you're watching this on YouTube. In the comments section, do let me know what you think about this video and what else you would want me to record in my future videos. Do not forget to share this video with your family and friends.
Do join us on telegram where Equitymaster's account is denoted by the handle Equitymaster officials. I put up a couple of my reports every day Monday to Friday. I love you to join me there.
Till we meet again in my next video do take very good care of yourself and your family and your trades and your investments. Thank you.
Let me know in the comments section below what you thought about the video.
Stay safe and have a profitable trading day.
Warm regards,

Vijay L Bhambwani
Editor, Fast Profits Daily
Equitymaster Agora Research Private Limited (Research Analyst)
Recent Articles