How Did We Fare in FY 2020-21?
Apr 14, 2021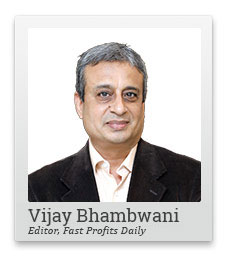 It's that time of year again when we look back at the last financial year and take stock of the performance of my recommendations.
We do this exercise every year in April and it's time to dive into the numbers again.
FY 21 was an unprecedented year for the financial markets and for my subscribers too.
In this context did I do well?
Did we make profits or losses? How much?
Will we do better this year?
I have all the answers in this video.
Hello friends. This is Vijay Bhambwani and we are back in this lock down phase all over again. I remember a year ago when I started recording videos from my residence, I would tell you I'm recording these videos from the safety of my home and I hope you're keeping yourself safe again.
It's that time of the year be safe all over again and also at the end of financial year 2020-21, it is also time to basically stand up to scrutiny, stand up to see how the year fared for my subscribers in the Weekly Cash Alert service and what we can expect going forward. That's more important, what we can expect going forward in the coming year.
Must See: Next 10 Yrs Belong to this Sector
So as you are, all of their friends of April 2020 when the financial year began, already had the lock down imposed all across the country, and the unfortunate part was that even the multi commodity exchange timings were restricted to five pm initially.
Now, when that happens, do understand that as a commodity specific trader, life or movement in price actually comes when the US market opens well past 7:30 PM so that is when the prices really start buzzing and a trader who is seeking active movement in prices to make money out of it was denied the opportunity of participating in that price action.
So for some months we had actually no choice. The exchanges was open only between nine am five pm, which is why we lost out on a lot of opportunities. The second aspect, which was absolutely noteworthy for Weekly Cash Alert subscribers, was that the expiry of the April futures series and crude oil saw the price of crude oil actually hit negative for the first time in the history of Indian commodities. It obviously hit negative in a lot of overseas trades also.
But the direct fallout in this April expiry of 2020 was that the matter went subjudice. It was laid in front of the Honourable High Court in Mumbai and trades were stopped in crude oil for a couple of quarters. The exchanges ramped up margin over 100% and brokers refused to entertain trades in crude oil for the fear of another repeat of the April 2020 fiasco.
So as your avail There are no more than 11 or 12 highly traded counters in the commodity space, crude oil, natural gas, gold, and silver, and five base metals. So actually you have nine counters which are actively traded.
Metal counters were suffering from their own readjustment because they went into delivery settlement mode after July 2019 contract sizes were raised. For example, nickel, which was 250 kg, became six times bigger. Copper, which was 1,000 kg contract, again became a few times bigger and therefore base metals went into some kind of hibernation.
Gold and silver is something that I have been bullish on Equitymaster's platform ever since I associated myself and you've been hearing that in my videos. That was the one bright spot in FY 2019, 2020, and 2021. We took delivery of silver in which we doubled our money and in gold also we got a good whopping profit, part of which Weekly Cash Alert subscribers to the extent of 20% may have booked profits to the extent of 20% of their holdings in August through a special advisory.
Now that leaves out energy, crude oil and natural gas. I would feel a no hesitation in saying that I'm most comfortable with natural gas and crude oil. Natural gas, which is supposed to be the trickiest counter to trade, we have had a near 100% success rate ever since the service began in 2019.
Crude oil also the gods of the markets have been kind to me and facilitated a lot of profits to subscribers of the Weekly Cash Alert service, but this was denied to like I said, the matter was with the Honourable High Court.
So this is what happened in the financial year 2020-21. We had seven trades total, five out of which were profitable, and two were loss making.
In the month of June, we short sold natural gas. We earned 10.42% return.
In July, we shorted natural gas again. We had 6.76% return.
In September, we sold natural gas. We got 16.8% return.
October be shorted natural gas, we lost 13.10% capital.
December we sold natural gas, we lost 5.25% in capital.
February we shorted natural gas, which yielded a whopping 65.89% in gains.
And in the month of March, we shorted crude oil, which was by and for the quickest trade, which we made money in or turned around in after the matter had gone to the high court. So this was the first and only trade that we entered into crude oil in this year, which fortunately returned 9.37% on our capitol deployed, including of course, the mark to market, which is the maximum drawdown, if any.
Now my subscribers would have seen my hour long podcast with Rahul and Sarit, where I have said that due to the changing tenure and texture of the markets, due to the rampant unbacked currency printing, I think it is safer to assume that trades in which the trader takes a slightly longer nuanced view, by longer, I don't mean a couple of years.
I'm just saying that as compared to what you were used to getting from me, in 2019, you entered trades and probably in a couple of hours, three for five hours of use to exit the trade. At the most, the trades lasted one or two trading sessions at best. Instead of that, we are now trying to focus on trades where we have to dig a heels in, pitch our tents in, wait for a little while and earn superior returns.
Case in point is the short sell in natural gas which we initiated in February. Even though we waited till March, this this trade took almost six weeks to fructify but it was well worth the wait because it gave us 65.89% returns.
So, friends, I'm gonna focus more on trades which are going to yield a higher profit on the total capital deployed and by the way, we at Equitymaster believe in computing profits, not just on the span margin paid but computing profits on the span margin plus the maximum mark to market paid also. So this is a realistic and more honest picture of the return on investments that you're getting as compared to elsewhere, where only the gross picture is shown to you. We take all payments mark to market, plus the span margins etcetera.
What can you expect in FY 21-22?
Natural gas and crude oil both at available to us for trade now. So we have two counters. Silver and gold is some are counters we've already pitched our tents and taken positions in. We will not hesitate to a dig our teeth into even some more bites of, if at all, the price fall significantly to levels where I'm comfortable and metals are now coming back to life.
So if it all the scenario is conducive, we will get back into metals after a year-long hiatus. So we have more instruments available to us for trade, and my favourite crude oil is back with us for trade and that's what I am looking forward to.
So if you have been satisfied with the percentage return, the number of trades may have been fewer, but the percentage return was definitely better and if you've noticed the performance compared to the previous year FY 19-20 where the first half of the year was loss making and the second half of the year was superlative profit making, which covered up for the loss of the first half. Compared to that 2021 has been more steady, more stable, and it's been more predictable where profitability is concerned.
We will try to maintain that kind of a record where we are giving you a lot more mature, lot more thoughtful, well cared and well planned for trades, so that volatility in profits is reduced.
On this promising and cheerful note, I'll bid goodbye to you not before reminding you to click like on this video if you're watching this on YouTube. Subscribe to my YouTube channel. Click on the bell icon to receive instant alerts about fresh videos being put up out here. In the comment section, do let me know what you think of this video and what you want me to record next. Help me reach out to fellow like-minded individuals by referring my videos to your family and friends.
I wish you have a very profitable day ahead. Thank you for watching my video. Vijay Bhambwani signing off for now. Take care. Bye.
Warm regards,

Vijay L Bhambwani
Editor, Fast Profits Daily
Equitymaster Agora Research Private Limited (Research Analyst
PS: Join Tanushree Banerjee this evening at 5 pm for the India's Revival Summit. Tanushree will talk about the top wealth creating stocks to buy for this decade. Join the summit for free here.
Recent Articles