India's QE and the Stock Market
Apr 14, 2021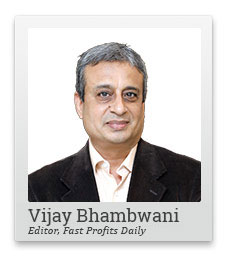 Recently the Reserve Bank of India announced a major bond buyback program, its version of quantitative easing.
The rupee promptly fell sharply against the dollar.
But how does it impact the stock market?
In this video I'll dig into this topic and share my view.
I'll tell you how your wallet will be impacted by this decision and what I plan to do with my portfolio.
Let me know your thoughts in the comments. I love to hear from you.
Hello friends. how are you doing out there? This is Vijay Bhambwani and in this video I want to discuss the quantitative easing that has been announced by the RBI recently after the Monetary Policy Committee met and kept interest rates constant.
I'm quite aware of the fact that a lot of my viewers, a lot of my viewers, consider equity markets to be the be all and end all of their area of interest. I think that is a mistake. There are four markets in financial markets.
Bonds, which is the fountainhead of all money. This is where the market get gets its source of finance. So it's very critical for the discerning and the thoughtful individual to know whether the money is coming or going out. You don't know that, then you're at an absolute and immediate disadvantage.
Currency markets which determined how trades are going to be settled and paid for and definitely the largest market in the world, 100 to 150 times bigger than equities.
Revealing Tomorrow: The Great Indian Wealth Project
Then commodity markets, which form the raw material for corporate India and raw material prices, are going to go up, profits are going to fall because the companies may not be able to pass on all the expenses to the consumer. Commodities and bond markets are anything between 25 to 50 times, not percent, times bigger than equity markets and the equity markets are the smallest market in the world, worldwide.
Here we are. We have a lot of people who are wise guys, who tell you that you are wasting my time by talking about bond yields, by talking about forex levels, and talking about commodity prices. In my videos where I talked about if there is a super cycle in base metals, I also warned you that before you start clapping in glee that base metal prices are going up, do remember about the WPI or the wholesale price inflation.
This is something I also repeated in my live Q&A session in the Saturday before last. I think it was a third of August, it was an hour and 23 minute long Q&A session live. It is still there on the YouTube channel, where I said that commodity prices rising may be good news for some traders who are maybe making a couple of 1,000 trading profits intraday but do remember that you're pushing up the raw material cost of industry and stock markets will fall because of this, and there you have it. This is one more reason.
What we are here to discuss about is why things happen and to put together various pieces of jigsaw puzzle to my those select friends who believe in knowing to read the tea leaves of the market and want to know the cause and effect theory and want to understand how to think better. If you're a serious minded investor or trader, please continue watching this video.
Now the G-SAP, the government securities acquisition programme by the RBI announced that in April itself, the RBI will resort to G-SAPs of Rs 1 trillion which is one lakh crores. Now, before you start getting befuddled hey what is G-SAP? It's nothing but a jargonised and deliberately complicated term, which is nothing but a bond buyback by the RBI from the banks.
Now, when the banks surrender their bonds to the RBI, the RBI will pay them money and the G-SAP or the government securities acquisition programme is of a total value of one lakh crores or Rs 1 trillion.
Now does this mean that this is going to be a quarterly affair? Clarity is missing here, but it looks like it will be a quarterly affair and therefore you could expect up to Rs 4 trillion in G-SAP's in the financial year 2021-2022. That's four lakh crores worth of bonds that the RBI will buy back from the banks.
As compared to the US bond purchases, the RBI's bond purchases is as a percentage total less than half of what the US Federal Reserve's balance sheet was committed to bond buying. So to that extent we are fine.
But what really confused the markets was that in the budget, the honourable finance minister announced that the RBI on behalf of the government of India would mop up Rs 12 trillion or 12 lakh crores via bond issue. That means selling fresh bonds to the market.
On the one hand, the budget is talking about raising 12 lakh crores by issuing fresh bonds, and recently the RBI counters that by saying we will buy back bonds not issue buy back bonds every quarter worth Rs 1 trillion. This confused the currency market and the USDINR shot through the roof.
If you want to find out what really pushed the markets like I said in my recent video on why the markets fell on Monday, I promised you I would go into the reasons. Now this is the reason.
What happens when the RBI is buying one lakh crore worth of bonds which was not planned for in the budget and the budget said we will raise 12 lakh crores from the bond market? Does it now mean that the RBI will be told since you're buying four lakh crores of bonds now the borrowing has to go up to 16 lakh crores from 12 lakh crores?
I suspect that is what the currency market is scared off. Which is why they pushed the rupee down against the dollar and the rupee sank like a stone. This was one of the biggest single week declines of the USDINR in many years.
Now before you start overlooking the rupee because many of you don't even understand what the implication of the falling rupee is. India is a net importing nation for each and every financial year after independence, and two thirds of our imports are of fossil fuels, crude oil and natural gas.
When the rupee falls against the dollar, even if the price of oil and gas is constant in the overseas market, supposing the rupee falls 2%, the landed or the imported price of natural gas and fuel oil, crude oil becomes higher by 2% and when oil prices go up, everything from your taxi fares, auto, rickshaw affairs, fruits, vegetable milk, eggs, grains, spices, condiment, cereals, everything goes up everything. So inflation jumps.
Now this is something that I have recorded many videos on. This is something that many of my sceptics were trolling me in the comment section. You're always warning us that the market will fall. When is the market falling?
Here, guys, you've got your market. Buy everything has cheap as you want. Everything is available for a song. The only problem is that we don't know whether the song is going to get louder or not.
When it comes to making a mistake, I have a simple rule in life. I would rather err on the side of caution than err on the side of aggression. So if I have to make a mistake, I would rather be making a mistake on being more careful than being more aggressive. Being more careful would mean that deploying money in fixed income securities, especially sovereign debt.
Now many of you have asked me in my videos earlier what is sovereign debt? Does it actually mean only government guaranteed bonds? Not necessarily. A public provident fund, PPF or even EPF Employees Provident Fund is guaranteed by the government and therefore his sovereign debt.
Your deposits in the post office, MIS monthly income scheme, where you're getting a lovely 6.7% or 6.8% interest payable monthly is guaranteed by the central government far higher than the bank rate where the banks have not yet guaranteed anything more than Rs 5 lakh. The entire deposit PPF, in the post office, whether it is MIS or term deposit, which is fixed deposit, recurring deposit, Kisen Vikas Patra, they're all government guaranteed.
So I would basically lock in rates there because I suspect that small savings rates after the elections are held, and maybe after the Monetary Policy Committee meets in the month of June, if not June latest by August, I expect interest rates to come down. So I am planning to lock in some sovereign debt here and insulate my capital.
I have been extremely cautious. I have not been deploying money in the equity markets all along the time that I have been telling you in my videos that I expect the market to come down. Yes, as a day trader, I have been buying and selling, but that's trading.
Should you worry about your long term portfolio? I think not. I don't think your core portfolio, which you have bought with a view point of holding for 5, 7, 8 or 10 years you should be bothered about. These are swings in the markets that are regular in nature.
Whether the swing will last long or last, a very brief period of time, I will honestly admit I have no magic want to tell you whether it will be a quick correction, quick and dirty or a prolonged correction, a small bits of declines every month or every quarter, I don't know.
So the only thing that was in my control with my company's money, which trades and invest for a living, it's a 28 year old incorporated company, the only thing that I could do was keep my money safe, which I did, and I expect most of you who have been listening to my videos followed suit.
We are going to make a good deal of money in 2021-22. Keep watching my videos. My commitment to us that I will make a difference.
On this promising note I bid goodbye to you not before reminding you to click like on this video if you liked what you saw. Subscribe to my YouTube channel, if you haven't already done so. Click on the bell icon to receive instant alerts about fresh videos being put up in my playlist. In the comments section, give me anything you want, love hate, good, bad, ugly, all comments are welcome.
Help me each out to like-minded individuals by referring my video to your family and friends. I wish you have a very, very profitable day ahead. Vijay Bhambwani signing off for now. Thank you for watching. Take care. Bye.
Warm regards,

Vijay L Bhambwani
Editor, Fast Profits Daily
Equitymaster Agora Research Private Limited (Research Analyst
Recent Articles