A Trade to Profit from the Extended Lockdown
Apr 15, 2020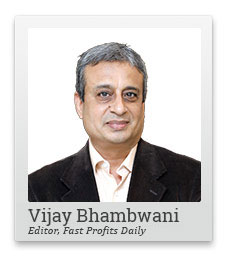 Prime Minister Modi has extended the lockdown till 3rd May.
I believe this move could lead to a trading opportunity.
And it's not in stocks.
Rather, I think you have a good trade in front of you in the currency market.
You should make the most of it while the opportunity lasts.
In today's video, I will tell you what it is.
Hi, this is Vijay Bhambwani and I'm recording this video from the safety and comfort of my residence. I'm obeying the lock down instructions and keeping myself and my family safe. I hope you are also adhering to the lock down requests and keeping yourself safe inside, indoors.
I recorded this video specifically to bring you a very profitable opportunity, of course contingent and based on certain events if they transpire, I am talking to the opportunity provided by the lock down or rather the possibility of an extended lock down in India.
I read the news that the Chief Minister's of various states, especially the bigger ones, have requested the honourable Prime Minister to extend the lock down in the country in order to be able to fight the war against Corona a lot more effectively. I completely agree.
But then this extended lock down will bring with it some own unique challenges that will possibly create certain ripples in the financial markets. Now, these are likely to be some hardships that we, as a nation collectively will need to put up with.
But also remember, in addition to everything else, we are also householders. We as traders, have the responsibility to put food on the table for three or four times a day for our families. So we constantly seek opportunities to able to generate some trading profits wherever possible, with controlled levels of risk and, if possible, in the shortest period of time.
Now, what really happens if the lock down is extended? It very simply means that economic activity falls slightly further. Lot more stimulus will be required on the part of the government to keep the economy going. More social welfare spending will result so that migrant labour, the poor below poverty line card holders are provided with food and as per prudential accounting norms on double entry system of account, keeping every debit must be met with an equal credit. Otherwise, the balance sheet of the particular organisation will not balance.
So if it all some more welfare spending is required, that will create a little more deficit and therefore pressure on the USDINR. Now, in my video of September 2019, I had mentioned that India would have to fight a three front war.
one reduction in taxes, which the honourable Finance Minister Nirmala Sitharaman has done for corporate India. Second was to reduce interest rates, which the RBI in various tranches has done and the third was to basically devalue the currency, let it find its own sweet level and therefore push exports.
At that point in time, the problem of Corona did not exist. But the hypothesis is still valid. I stand by that. As a matter of fact, I followed it up with a follow up video on fourth of April 2020, when I said that the erstwhile chairman of SBI, Arundhati Bhattacharya, has recommended to the government of India that they print more unbacked currency and flood the market with money so as to alleviate poverty and malnutrition and save many people from sure shot starvation.
All this points towards a weaker rupee in the coming quarters. Let us also not forget that the government might give a moratorium to the industry in terms of payment of taxes, payment of EMIs, payment of interest, along with everything else.
We as a nation, both in terms of sovereign and in terms of corporate India have external debt also. And when the rupee rises against the dollar, repayment of debt and even servicing by servicing I mean interest on that debt becomes a little more expansive.
As it gets a little more expensive, it exerts a little more downward pressure on rupee versus the global currency basket, which becomes a very real possibility. So unfortunate as it may sound an extended lock down is likely to make the rupee weaker against the dollar.
We have no way of circumventing this possibility unfortunately. Like I said, it will be because every Indian man, woman and child is concerned about the buying power of the rupee. Maybe five, maybe 6% of the people are worried about what happened to the headline Indices in equity markets, because they are directly or indirectly through direct and investments on indirectly through mutual funds invested in the stock market. Just 6% max.
But 100% of the Indian population, man, woman and child has a direct exposure to the rupee, and it's buying power that unfortunately might just erode a little.
Now we can either lament or grab the opportunity to earn some profits and mitigate or to that extent, blunt the pain of the falling rupee versus the dollar by making some trading gains. This, my dear friends, is my trading strategy. Now that the lock down is likely to be extended. The formal announcement will come soon. By the time you see this video, it would have in all probability, been announced as well. If announced and if my trading parameters, my trading screen, justifies doing so, I would recommend to my WCA subscribers in that event go long on the USDINR and mitigate some of the hardship provided by the extension of this lockdown.
I assure you, I will be looking out for other profitable opportunities similar in nature and there are many more updates to follow on this front.
Also, before I sign off from this video, may I request you to click like on this video if you're watching this on YouTube. Also in the comments section do let me know what you think about this video and what further topics you want me to cover in my forth coming videos.
Do not forget to share this video with your family and friends and help me spread the cult of knowledge based investments and trading. Also join me on Equitymaster's Telegram channel with the handle Equitymaster official, wherein Monday to Friday I post at least 3 to 4 updates every day, which will help you understand the markets better.
Till then. Take very good care of yourself, your trades and investments. Stay safe. Stay indoors. See you soon in my next video. Thank you very much.
Stay safe and have a profitable trading day!
Warm regards,

Vijay L Bhambwani
Editor, Fast Profits Daily
Equitymaster Agora Research Private Limited (Research Analyst)
Recent Articles