The Price of Gold Will Go Higher
Apr 20, 2020
Editor's note: It has come to our attention that the news article mentioned in this video is not from an official source. Therefore, we request you to not consider it of any importance while watching the contents of the video.
---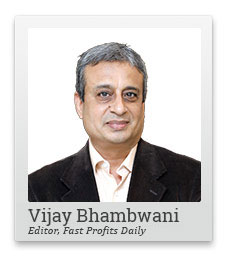 The price of gold is rising.
Everyone wants to know how high it can go and can the rally sustain?
I don't know the answer to the first question but I think the answer to the second is yes.
I have good reasons for saying so. The latest news regarding the global reaction to the Coronavirus is positive for bullion prices.
In this video, I tell you why...
Hi, This is Vijay Bhambwani and I'm recording this video from the safety of my house. I am staying indoors and obeying the lock down instruction. Still, I hope you're keeping yourself and your family safe by staying indoors and going along with the lock down also. A few days more and this too will be put behind us.
I am recording this video with absolute excitement, a little nervousness, perhaps, and what I have seen in the news in the last couple of hours has compelled me to record this video.
It's on a topic that we all love: gold. I read in the electronic media that the German government has presented a bill of damages to the Chinese government totalling US$130 billion for the chaos that the Chinese have caused a due to the Coronavirus.
Now this is the German government's point of view. Will the Germans actually go ahead and confiscate any Chinese money? Will this kind of raising of bills of damages on China become a widespread affair? Will more and more countries follow suit? These are questions that nobody really has quick answers to.
But let me tell you what happened in the past, when the event of an even bigger magnitude or has big magnitude, as the Coronavirus issue is had occurred and how did gold behave?
Remember, from the behavioural point of view, I believe in the theory that you must know the reason of what is happening and why, so that not only do you profit from it, but you also learn how to profit from it in the near future. I am talking about the World Trade Centre attacks on September 11 as the Americans call in 9/11.
Now what really happened was that the American government immediately clamped down on all free flow of remittances, both inwards and outwards. What this meant was, as you saw in the Hollywood thrillers of the villain demanding some extortion money and the hero punching in a few buttons on his computer, and the money would fly from the American Bank to some numbered bank account in Switzerland or Cayman Islands, the flow of money, once it was restricted, you needed to inform the IRS of the Internal Revenue Service as to why you were receiving money from overseas of why you wanted to send money overseas.
Now this was expected to curb the parallel economy, including the terrorists. Now, what are three big businesses in the parallel economy? One is flash trade, prostitution, the other is narcotics, and the third is illegal goods and services in the terror industry. So you shipping weapons, arms bombs, et cetera, or you are being a human beings to perform acts of terror.
Now, these are three primary reasons why money needs to change hands across the border in the parallel or the black market economy. Did this economy actually stop just because the US government restricted the free flow of money? No. What really happened was this parallel economy in these three industries simply switched their currency. They chose to make payments and settle their bills in gold.
This is something that I wrote about in my newspaper column in DNA money, which I used to, and business standard also, sorry, business standard rather than DNA money. This I wrote about in my business standard column and later on also supplemented it in the business money DNA money column that the price of gold has actually started flaring acceleratedly after 9/11 because the parallel economy has adopted gold as its de facto currency.
Now Gold has a couple of unique features. You know, when you take a large diamond and cut it into half, the two smaller halves will never fetch the kind of money that a large rock would fetch, which means, as a divisible currency, diamonds are not really a good idea.
However, if you split a bar of gold one kilo bar of gold into two equal bars of 500 grammes each, the holder of each 500 gram bar will get the same amount of money as he would have got on a pro rata basis if he was holding a kilo, which means gold is perfectly divisible, unlike diamonds and therefore gold commands respect, acceptability and in some places, even premium.
So gold is a precious metal, which is precious in all continents of the world, which makes it universal. So the terror network's the narcotics smugglers and the flesh traders adopted gold as their natural currency.
Why am I telling you this in such great detail? Because I am extremely curious to know what the Chinese will do if it all more and more countries started presenting bills of damages due to the Corona virus emanating from China. Is it possible that the Chinese shift their paper assets to more and more holdings of gold?
I think so. There is a very real possibility that the Chinese will hold more and more of their assets in bullion. If that happens I can assure you bullion is in for good time. So the Chinese are some of the biggest hoarders of US dollars, United States treasury bills and bonds, and also foreign exchange reserves of by the countries who they have trade and bilateral agreements with.
If it all the Chinese were to liquidate some or most of their paper assets and turn towards gold, I can assure you that their investment and gold will jump by a couple of trillion dollars. Yes, trillion dollars. What does that do to the price of gold? Hey, it's anybody's guess out there.
Which is why, since June 2019 have been predicting about gold and by extension, even on silver. So if it all history is any guide, and if 9/11 has taught me anything and whenever there are clampdowns or confiscation of paper assets which the governments in the world are threatening China with of confiscating their assets, then gold happens to be one of the biggest beneficiaries.
To all the people out there who have basically allocated a certain component of their wealth to bullion, especially gold, do hold down to your investments. There are better times ahead.
Does this mean that I negate my previous view that central bank selling of distressed countries, especially exporters of gold, might cap the rally of gold? No it does not. These are not two points that are cancelling each other out. They can co exist.
So a big exporter like South Africa, Mexico, even Russia, which might be distressed which wants to stimulate their economy, they might just resort to selling gold. In that case, there will be a few jagged peaks and troughs in the price of gold that have said in that other video as well. But net net, I remain of the opinion that gold is in for some more rallies by all means continue to hold on.
This is Vijay Bhambwani and I'm signing off from this video. But before I do say goodbye do click like on this video if you're watching it on YouTube. In the comment section, do tell me what you think about this video and what else you would want me to record in my future vigils. Also, do not forget to share this video with your family and friends and help me spread the cult of knowledge based investments and trades.
Do join us on our telegram channel with the handle Equitymaster official where I put in updates every day Monday to Friday and I would love you to go and read the news there and do take very good care of your investments and trades as also of yourself and your family. Goodbye till we meet again in my next video. Thank you.
Stay safe and have a great trading day!
Warm regards,

Vijay L Bhambwani
Editor, Fast Profits Daily
Equitymaster Agora Research Private Limited (Research Analyst)
Recent Articles