Top 3 Nifty ETFs to Buy Now
Apr 20, 2021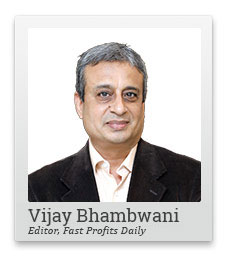 I've received many requests for this topic.
I decided to wait for a while before recoding this video because I wanted the market to fall a bit first.
The Nifty has now come down to a level where I am comfortable sharing the names of my top Nifty ETFs with you.
If you choose to invest, remember to spread out your investments over time. Also never forget your asset allocation while making specific investments.
Finally, always seek specific advice from your investment advisor.
Let me know your thoughts on this video. I love to hear from you.
Hello friends. This is Vijay Bhambwani. I'm back with you in this video. We are going to talk about fulfilling your request that has been long asked off me in the comment section from my dear viewers.
First of all, I hope you're staying safe indoors in this lethal wave of Corona and you've also managed to safeguard yourself from this precipitous decline that you're seen on the Nifty. As a record this video on a Monday morning, I am seeing that the Nifty is down approximately 350 points.
In the last two weeks I have been warning you about declines in the markets, about historical empirical science that have accompanied the markets before a market is about to sell off, and most of you have been very positive about the warnings that I have been sending you in advance.
Those of you who were sceptical about whatever saying do not that the Bank Nifty is almost kissing the 20% decline from the peak. So as per the Dow theory, whenever a traded instrument falls 20% from its top or more, it's supposed to be in a bear market.
Get Details: We are Bullish on These 3 Little-known Stocks
Now, my logic of why I was sending you so many warnings in these videos was that the banking segment, the banking and financial segment, is also fairly heavily weighted in the Nifty 50 and it was impossible for the Bank Nifty to fall and isolation and not drag the Nifty 50 with it and there you have it. Today, you're seeing a decline.
Now this is the ninth week the Nifty has declined or remained below its all-time high, and the 10th week the Bank Nifty has remained below its all-time high and relatively speaking, the Bank Nifty has fallen much more sharply as compared to the Nifty 50.
So being brave, being optimistic is one thing but then paying mark to market losses on your long positions, also paying rollover charges because the peak was made at middle of February, bulls would have paid rollover charges from February to March and March to April, and here you have it. One more expiry coming up in less than a fortnight. So another expense on the horizon.
Things might be looking bleak, but I promise you that if the markets fell, I would do something. The title of the video was, If the market falls, I will do this. In that video, I told you that my game plan was to invest money in the Nifty ETFs for the simple reason that approximately Rs 2.5 trillion or to 250,000 crores that was invested in the Nifty ETFs, majority of which are held by the EPF, which is the Employees Provident Fund, the PPF, the Public Provident Fund, pension funds, institutions, mutual funds and most of it is basically government employees money.
These are very savvy players who will not let their money go down the tubes and since that video has made have received a lot of feedback on my social media pages from my viewers of these videos, and they have been commenting how many of the Nifty ETFs are not falling in the same percentage terms as the headline index, which is the Nifty is falling in the cash and/or the derivative space.
There you have it. The falls are getting cushioned because number one, the Nifty is so constructed that the weightage of declining shares is reduced on a month on month basis and the weightage of rallying shares is increased in the Nifty.
Therefore, the Nifty does not fall as much as the broader market and secondly, the Nifty ETFs are held by some of the savviest, some of the strongest players in the market, which is government employees, institutions, mutual funds, and pension funds.
Only 8% of the assets under management of Nifty ETFs are held by retail investors. I want my viewers to be those savvy guys who constitute that 8% of smart individual investors who buy the Nifty 50 ETFs so that whenever there is a bounce back, the markets will give you above normal returns.
Now most of you have asked me, which are the best Nifty ETFs to invest in. I've done a lot of homework and arrived at a few candidates where you can invest.
Now, the reason why I was holding back this video was I wanted the market to fall deep enough before I could come out there and give you this advice, and I feel this would be a better time, than last week to have come out with this video.
So the following criteria have been taken into consideration before selecting the best Nifty ETF for you. Number one the asset under management. Quite simply, it's the float. It is the amount of money that is lying with the fund manager to invest. The higher is the asset under management, the more liquid that instrument will be when it is traded on the secondary market, either on the NSE or on the BSE.
Now, the one thing that savvy investors and traders will know is that as long as a counter is liquid, the difference between buy and the sell price is very small. So you can get in and get out without being too much by way of this spread, the jobbing spread.
So I've taken assets under management and liquidity of trading. I have taken the expense ratio as to how much of the money that is held in the ETF is spent as expense. Obviously, the smaller is your expense ratio the more money the investor makes.
Then I have also taken alpha. Alpha is the absolute profits that the Nifty ETF has generated. Now, the one thing that came clearly out of this research that have done on about a dozen ETFs is that their returns are more or less identical. If you were to ignore the second decimal point, I would say that almost 99.99% returns would be identical.
There are one or two outliers where the returns are slightly varying from the average mean of all of them but what we have seen that the competition is really intense in terms of generating returns from one scheme to the other.
Now the funds that I have a short listed from the big list and the big list is Nippon Nifty Bees, ABSL Aditya Birla Nifty ETF, Quantum Nifty ETF, ICICI Prudential Nifty ETF, LIC Mutual Fund Nifty ETF, Invesco Nifty ETF, Edelweiss Nifty ETF, IDFC Nifty ETF, SBI Nifty ETF, and HDFC Nifty ETF.
Now, this is the number of ETFs that I have analysed and I have selected three out of these which I feel are worthy of your investments. Now, first, let me tell you what the aggregate returns have been over a three months, six months, one year, two year, and three year period. I am giving you ballpark figures.
Over a three month period almost all these ETFs have returned between 1.4% to 1.5%. Do remember that both the Bank Nifty and the Nifty 50 have peaked out in the middle of February 2021. We are now in the middle of April 2021 therefore the return in the three month period will not be great. So three months returns on an average have been 1.4% to 1.5%.
The six month returned has been a lot better. It's between 24% to 25%. Most of them have given close to 25%.
The one year returns have been approximately 63% to 64% for the simple reason that the markets have jumped after hitting a panic bottom in March 2020 after the lockdowns were imposed.
So three month return 1.4% to 1.5%. Six month return 24% to 25%. One year return 63% to 64%. Two year returns have been between 12% to 13%. Three year returns have been close to 13% more or less across the board.
Now, what are the best ETFs that I have segregated and why?
So basically a chosen in the private sector the Nippon Nifty Bees, which was earlier, the benchmark Bees. Now this has the assets under management of Rs 3,263 crores as of April 2021 and the expense ratio has been fairly low and 0.5%. That is what I like. In spite of the size, the fund manager has kept the expense ratio fairly controlled. The alpha has been at 0.70 which is not bad.
Now the other two ETFs that I like are from the PSU space. Do remember that many of these PSU mutual funds have either given matching returns as compared to their private sector peers, or even beaten some of the private sector peers.
So please do not get biased venue see a PSU name. There are many PSU, including mutual funds, ETFs, etcetera and even stocks, I have been a great fan of trading PSU stocks in my videos. I have been telling you since October 2020 how PSU stocks have been giving good returns for traders.
So these two PSU Nifty ETFs are SBI and LIC mutual fund Nifty ETFs. Now we start with SBI. SBI is basically giving you an expense ratio, which is fairly small, and the alpha that it has given you is 0.7%, 0.70. So alpha is matching the Nippon ETF.
The LIC Nifty ETF is handling assets worth Rs 667 crores. It's, of course, the smallest among the three ETFs that I have mentioned and segregated. The expense ratio is marginally higher at 0.10% and the alpha is 0.71. So basically all these if you see, there is maybe one or two basis points difference in the alpha and the expense ratio has been kept fairly tight.
Among very small to medium sizes Nifty ETFs, the dark horse can be, it's too early now because the assets under management are only Rs 18 crores is IDFC Nifty ETF. Like I said, the AUM is Rs 18 crores and the expense ratio is marginally higher at 0.16% but the alpha is 0.71 which is in the upper end of the bracket of most of these ETFs which have been returning alpha or absolute gains.
So, my friends, what I have is number one Nippon Nifty Bees. Number two SBI Nifty ETF. Number three LIC mutual fund Nifty ETF and among the small ones a dark horse is IDFC Nifty ETF. I hope this solves your query about what are the good Nifty ETFs to invest your money in.
Now, when? How do space out your investments? I think you can take small bites at round numbers of every 1,000 point declines starting from 14,000 levels. Split your money in four parts that you need to invest in these ETFs and for every 1,000 point decline, you should basically invest one portion out of that four. This way, you will be able to achieve a better average cost of acquisition.
I am not saying that the index will fall 4,000 points. Please reserve your comments and think very rationally about what I'm saying. I'm not saying the Nifty will fall 4,000 points.
If it all it does not fall significantly and you need to buy the ETFs even at rising levels, I assure you a fresh video will come from my side to let you in on that strategy as well.
I hope I have done a good job of keeping you ahead, helping you protect your money by not getting too aggressive on the long side. In my videos of last week, some of you may have misconstrued that I'm an out and out bear but this is something that I wanted you to stay away from and now is a good time to start taking small bites out of the Nifty ETF investments.
I wish you have a very, very profitable day my friends. I'll bid goodbye to you not before reminding you to click like on this video if you agree with what you saw. Subscribe to my YouTube channel if you haven't already done so and click on the bell icon to receive instant alerts about fresh videos being put out here.
In the comments section do let me know what you think about this video and what you would want me to record next. I'm always available to help out my viewers on their queries.
Also, let me help reach out to fellow like-minded, knowledge based investors and traders who wish to stay ahead of the market, using a 360 degree worldview by referring my videos to your family and friends.
Thank you for having the patience watching my video. Take care. Bye. Stay safe.
Warm regards,

Vijay L Bhambwani
Editor, Fast Profits Daily
Equitymaster Agora Research Private Limited (Research Analyst
Recent Articles