Crude Oil Prices Have Crashed. What Does it Mean for India?
Apr 21, 2020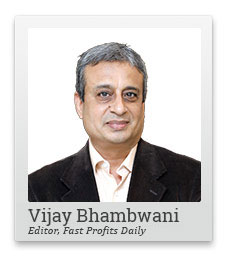 It was a historic day for the energy market.
Crude oil futures on the NYMEX crashed and briefly went negative.
This is the kind of event which sends shock waves around the financial world.
But what lies beneath the headlines? Should we be celebrating lower crude prices or should we be worried?
In today's video, I share my thoughts on this topic. Let me know what you think in the comments.
Hi, this is Vijay Bhambwani and I'm recording this video from the safety of my house, obeying the instructions for the lock down due to the Corona virus. I hope you are also staying safe, keeping your family safe by staying indoors and obeying the instructions for the lock down.
Now I am recording this video with the express intention of putting forth my thoughts on a very critical issue that I noticed in the market yesterday and it's something that I have been talking about for at least 3 to 4 quarters now in my videos on Equitymaster.
Yesterday, crude oil prices fell to a multi decade low. As a matter of fact, part of the futures market also went into negative. I have been bearish on crude. The only time I was bullish on crude was temporarily as a trading call before the Aramco IPO, betting on the fact that the Saudis would push up crude oil prices, by artificial means that is.
But after the Aramco IPO was done and dusted, I have been very clear about the fact that crude oil prices were headed lower. Well, now it's into negative territory is something that history is made off.
You see part of the reason why these crude oil futures are went into negative was these were futures that were due for expiry and being delivery settled you would actually have to take delivery and arrange storing space, which is now getting expensive because during its series now running out, what you need to look at is the next and next to next month's future series to see what is actually going on. Those futures are not half his bad as the expiring futures.
Secondly, what I want to convey through this video is should import dependent countries like India start to bring out the champagne just because crude oil prices have collapsed and our energy bill is likely to contract? What I am asking you, a simple question is, should you be popping the bubbly yet?
I think it's a little premature. My view is you see, no country is living in isolation. The entire world economy is like a global village where each country is dependent on the other guy for surviving and thriving. As of 2018-19 what I have seen is that India's a total dollar inflows, 40% of that comes from Middle East and North Africa. I'm talking of merchant exports, which means exports of goods and services and NRI remittances, which is salaries of working professionals there or profits of Indian NRIs who are setting up businesses there.
The fact remains that we are dependent on the MENA markets, which is Middle East, North Africa, and the typical aspect about these markets is that their revenues are dependent on oil prices and gas prices. For if you think that your trade partners revenues are going to fall this sharply, where the prices of they're selling products, which is crude oil falls to a multi decade low and they are going to continue to buy your goods and services. I think that is living in a irrational exuberance.
Also do remember all the Indians who are employed in Middle East countries like Qatar, Iraq, Iran, Saudi Arabia, etc. Remember, these countries need higher fuel prices to be able to sustain their budgets. In my video, which I recorded after Boris Johnson won the elections in the UK, I said this is the beginning of a phase where globalisation will be replaced by localisation. People will, especially politicians, will want to look inwards rather than think of the economy as a global entity. They would want jobs for their locals. They would want work for their resident domestic factories rather than outsource from outside even if it is cheaper, which is what you will now see in the Middle East and North African markets. I'm afraid it's not really good news.
Yes, crude oil will be cheaper and there are some messages which I received on WhatsApp yesterday saying crude oil is now actually cheaper than bottled water or crude oil is actually cheaper than a cup of coffee. All that may be true. Fine, but does it really help us? What if we can buy crude cheap, but we can't export? Remember, since independence, India is and net importer, not a net exporter. If your neighbour is not doing too well, I don't see how the neighbourhood can be good pick.
For example, yesterday's very curious development of the rumour emanating from North Korea about Kim Jong Un's mysterious illness after he is supposed to have reportedly received some coronary treatment. There was a news item that he is a very, very unwell, probably not able to take executive decisions of running the country. The South Korean Won fell 1%. Many stocks on the Seoul stock exchange simply crumbled by more than 5 to 7%. Remember, these are neighbouring countries, but they don't exactly have the best of relationships. But instability in the region actually percolated down across the border from North Korean markets to South Korean markets.
What I am basically telling you is if you think that your neighbours not going to do well and you are going to do well, I think that's in the global financial markets definitely a little premature. It is welcome news that our import bill will go lower, but it is a little premature to bring out the bubbly. Yet there are implications that need to be studied before celebrations are in order.
On that sombre note, I would bid good bye from this video till we meet in my next video. Stay indoors, stay safe and if you're watching this video on YouTube, please do not forget to click like on this video. Subscribe to my YouTube channel. In the comments section, do let me know what you think about this video and what you would want me to record in the next video. Join us on telegram with the handle Equitymaster official where a I post my updates Monday to Friday. Take very good care of your investments and trades and stay indoors and stay safe. This is Vijay Bhambwani signing off for now. Thank you.
Stay safe!
Warm regards,

Vijay L Bhambwani
Editor, Fast Profits Daily
Equitymaster Agora Research Private Limited (Research Analyst)
PS: It's our anniversary and we have a surprise for you! Find out more here...
Recent Articles