Make More Profits Trading Commodities
Apr 21, 2021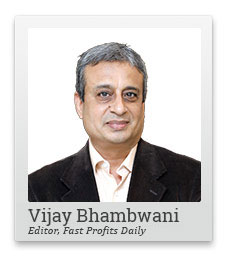 The commodity market in India doesn't get the attention from traders that it deserves.
The bias is towards equities and that is understandable.
However, in this globalised and interconnected, financial world it is a mistake to ignore this market.
I strongly believe, participating in the commodities market will make you a better trader who makes more profits.
In this video, I'll tell you why.
Let me know your thoughts in the comments. I love to hear from you.
Hello, friends. This is Vijay Bhambwani here. I hope you're staying safe, staying indoors, protecting yourself and your family members, and enjoying what the market has to show us in terms of volatility, the lessons that we are learning and in the bargain becoming better traders every day.
As lessons are learned and takeaways are being imbibed into our subconscious mind, you would now have learned to decipher the markets from professional traders perspective.
In this video, I want to talk about which market is actually better as a trader to watch and as a participant, to trade. I would say that I am biased, marginally biased in favour of commodity markets for the reasons that I am going to explain to you in the next couple of minutes.
Equity markets are great, there is no denying the fact because commodity markets in India have just started after 2003 and we all had only equities to trade before that.
EXPOSED: The Shocking Truth Behind Today's Hottest Investment Opportunity
But do not that internationally the currency market is the biggest, the size being 100 times bigger than equities. Then comes the bond and commodity markets, which vie, with each other for a close 2nd and 3rd position, depending on the news flow and data that's coming, it is one which is above the other and vice versa.
So commodities and bond markets are anything between 25 to 30, 25 to 50 times bigger than equities. The smallest market is the equity market, and we, unfortunately tend to focus almost all our energy to this asset class at the expense of neglecting the other asset classes.
Now, why should you watch commodities and why I feel commodity markets are relatively better as compared to equities?
Number one. Commodity markets are all about raw material prices. So, hey, if you were looking at stock prices of a company, if you ignore, what the raw material price is going to be after 3, 6 or 9 months, believe me, you will be in for nasty shocks.
So if it all, there's a company called TTK Prestige, which makes pressure cookers and home appliances with their raw materials being a stainless steel and aluminium and if you don't know where aluminium prices are going on the commodity exchanges, you have a severe disadvantage in trying to see where TTK Prestige share price is going to go.
For that matter where rubber prices are going to go vis-a-vis tyre companies. The list is long and distinguished.
The other aspect that I love about commodity markets vis-a-vis equities is that they are internationally arbitraged. Price discovery comes from overseas markets, typically US markets somewhat from the European markets, while the US is still not open.
Therefore, it is difficult to influence commodity prices. You've heard a lot of words like operators et cetera. Now that's not possible as easily in commodities, because for you to manipulate prices of crude natural gas, copper, aluminium, steel, gold, silver, etcetera, you will have to fudge the prices in the COMEX. Is that possible? I'm afraid not. Therefore, these markets tend to be relatively more honest as compared to equities.
The third and large factor that convinces me that commodities are better for traders. Where your knowledge, once you have garnered enough knowledge and become a savvy trader, will put you far ahead of the others is that markets actually derive prices from forces of demand and supply.
Now, here in the equity markets, there is one handicap. The supply of shares, which is the paid up capital of a company, does not change day today. As a matter of fact, securities law in the country says that SEBI will not allow you to fool around or increase your paid up capital unless you take permission from SEBI and it is no more frequent than once in 24 months or so. Which means the quantity of shares available for sale at any given point in time is limited or constrained.
Now we all know how demand can be stimulated for a particular share. You start a whisper campaign or you even go out there officially on mainstream media and start talking positive things about a stock and there you go. Share prices flare up.
There was a curious and hilarious example recently about a company called Bombay Oxygen. The stock price went up by 2.5 times, from approximately Rs 10,000 per share to Rs 25,000 per share because people thought it's a company that that produces oxygen and oxygen is in short supply because of covid and therefore people bid up the price. The hilarious part about the company's share price was that it rose up on the assumption that it's an oxygen producer, whereas it's a non-banking financial company or an NBFC.
Why did the price go up 2.5 times? It's because the number of shares available is always limited. Just because the demand increases, it does not mean the paid up capital of the company also increases. Now, since the demand is higher but the supply is remaining constant, the price doubled and tripled.
Can you imagine the prices of gold, silver, aluminium, crude, copper, doubling and tripling in a matter of a few days just because people think they're gonna be short supply? It doesn't happen.
The demand and supply the commodity space are both completely elastic. So even if aluminium nickel, steel, if prices are going up sharply, the mining companies will simply dig deeper into the ground, dig harder, longer, take out more natural resources from under the ground and sell them in the market and book profits. That limits the price of commodities. Which means that these extraneous factors, price influencers, etcetera, cannot fool around in the commodity markets.
So if you know what to look at, and this is where our 360 degree worldview comes in, we keep years to the ground, look at factors both technical, fundamental, geopolitical, supply and demand, side constraints, etcetera and you've all heard a from me, in my past videos as to what all we look at like statements of people who are significant enough to influence commodity prices.
So we look at a whole lot of perspectives we call it the 360 degree worldview or boots on the ground but eyes in the sky. So we look both at the ground and in the sky so that we can get ideas that are far more superior than equities in our commodity service.
So since the talented or a knowledgeable person knowing what to look for, who knows how to get the market right will not experience as many interferences from outsiders in the price discovery process, I feel the commodities tend to be a lot more honest to the trader or even an investor, which is why I am slightly biased towards commodities.
This is not to say that equities are bad. I'm not saying that at all. Please reserve your comments before you actually think with a quiet and calm mind. I'm not saying that. I'm not running down equities. I'm just saying that there is a relative but distinct advantage in commodities over equities.
If you aren't looking at commodity markets, please start doing so. Even if you don't want to participate in the commodity markets. Knowing the prices of these natural resources to look at the raw material cost of the company whose shares that you're buying will help you ultimately.
So whether you're a participant or not in the commodity markets is beside the point. At least learn what the market signals are pointing towards. I assure you that you will become a far better trader and investor in the equities market once you start watching the commodity markets. So expand your horizons and become a better and more profitable investor and trader.
On this cheerful note my friends, I'll bid goodbye to you not before reminding you to click like on this video if you agreed with what you saw. Click on the bell icon to receive instant alerts about fresh videos being put out here. In the comments action good, bad, ugly, let me hear what you have to say about this video and what you would want me to record in my next.
Help me reach out to fellow like-minded investors and traders who believe in knowledge based investing and trading by referring my video to your family and friends. Thank you for your patience. I wish you have a very profitable day ahead my friends.
Thank you for watching. Take care. Bye.
Warm regards,

Vijay L Bhambwani
Editor, Fast Profits Daily
Equitymaster Agora Research Private Limited (Research Analyst
Recent Articles