Stay at Home Stocks to Buy
Apr 23, 2020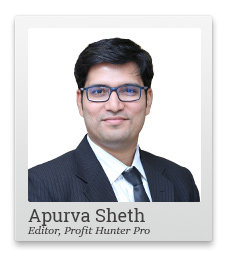 The Indian stock market has bounced back strongly from the lows seen last month.
However, many stocks are yet to recover. Everyone wants to know what are the best stocks to buy in this crisis.
In today's video, I will provide my take on this. I have identified six sectors most likely to benefit from this crisis.
I recommend you choose stocks for trading from within these sectors.
Enjoy the video and let me know what you think...
Hi, I am Apurva Sheth and I welcome you to this latest edition of Fast Profits Daily. The lockdown has got extended to the third of May. This lockdown has been having unintended consequences on the economy and the way people have been staying at home and using limited goods and services.
This has led to lack of demand for many industries and sectors and for many products as well. So this is an unprecedented crisis that we are facing right now, both in terms of health as well as economy. However, despite this problem, there have been companies which are benefiting from this crisis and today I like to highlight these companies and speak about these companies to you.
I call these companies as stay at home stocks, these other companies which are benefiting from people staying at home. So today I talk about two companies which are listed in the overseas market and are doing phenomenally well. And then I'll talk about the Indian companies.
So the first example of the company which is listed overseas is Zoom. Now, Zoom video is a video conferencing provider. I am sure most of you must have been aware of it, and probably many of you must have also used at Zoom. It has become popular these days, not only among professionals would also among family members as well. People have been using zooms app for video conferencing on a large scale.
So the stock price of Zoom has quite literally zoomed. In the year 2020 at the start of the year, it was trading around US$ 68 whereas the last few days it has run up and is almost doubled and is currently placed anywhere between levels of 150 per share.
Now this is just one example. The second example is Netflix. I'm sure most of you are aware about Netflix. It is an over the top platform of which produces its own content for its audience. Now people have been staying at home and with nothing has to do they're on a binge watching spree. And Netflix is among one of the beneficiaries.
The stock price of Netflix has been heading to all time highs recently. So these companies are examples of stocks which are benefiting from people staying at home. Now I'd like to talk about Indian companies.
I want to share my own list of stay at home stocks, which are likely to benefit from it. Now before it talk about these stocks I'd like to tell that all of them are not necessarily seeing a surge in demand for their products like Zoom or Netflix. But their demand is likely to remain relatively stable in times of crisis.
Most of these companies provide services or goods, which have relatively an elastic demand, so people would consume their services and goods even in the times of crisis, as they would do in normal times.
Now there are six sectors within which there are these various industries, and within these industries there are these stay at home stocks. So today I'll talk about the sectors and industries within which you can find these stay at home stocks, which are likely to do well or which will be least affected amongst the other companies. So let's begin.
First on the list is healthcare. Now I am sure you know that health care is an absolute essential in times like these. So healthcare as a sector is on the top of my list, and the industries within this sector are hospitals, medical equipment and pharma companies.
You know that hospitals are treating these patients. Both public and private hospitals are treating these patients and are likely to see a surge in demand. Medical equipment manufacturers are also likely to see rising demand, and pharma companies are in the news.
I have spoken about pharma companies in my telegram posts, as well as in my articles. So health care is a sector is likely to see increase in demand.
Next in the list is FMCG. Now FMCG sector has industries like ready to eat food manufacturers, toothpaste cos, biscuit manufacturers, dairy products, soaps, detergents, sanitizer, etcetera. So all these industries and companies which are there in this industries are likely to see relatively stable demand even in times of crisis. And apart from these companies, supermarkets, which sell these kind of products, are also likely to see relatively stable demand.
Next in line are the utility companies, so utilities like gas, telecom and power generation and distribution companies fall under essential services, and their demand is likely to remain stable. So piped gas distribution companies are likely to see stable demand or probably in some cases, it might even go up as people stay at home and would obviously use gas to cook food.
Telecom is likely to be a major beneficiary because people will be consuming lot of content when they are at home. So content as well as the voice calls would likely go up during times like these. And power, in some sense, would take a hit. As many industries are shut and these are one of the major consumers of power. However, some portion of this electricity will be set off as people will be consuming electricity even like they are at home. So power generation and distribution companies would be affected. But their demand would still be there.
Financial services like stock exchanges, depositories, brokers as well as the asset management companies. Now stock exchanges are open. There was initially a lot of demand for shutting them down, but they have remained open. Obviously, the time has reduced for commodity and currency exchanges. The stock exchange is open as normal. Depositories are also working as usual. Brokers have been have taken a hit, but still the volumes have not suffered to a great extent. So brokers are also likely to be business as usual and I have seen phenomenal inflow of sip money in the month of March. So it's business as usual for them as well.
Now another sector which is likely to benefit from this is media and news channels. Consumption of news has gone up drastically. People are glued to television sets, and they have been consuming news not only on television but also on digital platforms like mobile and websites. Apart from this, platforms over the top of platforms like Netflix, although there are limited companies which are in the OTT space. But there are many content providers who sell content to these platforms, and they could be beneficiaries of people staying at home.
And finally, the last sector is education. Even in times like these, education is a basic necessity, and lot of schools have started conducting their classes on video conferencing and apps like Zoom and Google Meet. So schools and coaching classes will shift to online platforms and they will be least affected. Apart from that, there are even vocational training providers who would be benefiting as people will stay at home and will also want to learn something or the other on the internet online to improve their skills. So such training providers will also be benefiting from people staying at home.
So these six sectors and industries within these sectors are likely to be one of the biggest beneficiaries of people staying at home. And that's why I like to call them the stay at home stocks which fall under these categories. These sectors and industries have stay at home stocks.
Now the stay at home economy, if you can call them, is likely to be the biggest beneficiary of Corona virus crisis. As people stay home, they would be consuming equal amount of goods and services among these sectors or in some cases. As I already told you there could be a spike in demand for their production of their goods and services. So keep these sectors and industries in mind, and then you could use these sectors to pick your stocks of choice. And that's how you can find opportunity in times of crisis like these.
So that's all from me for today. I hope you enjoyed watching this radio and in case you did, then please like this video. Share it with your friends and family, subscribe to our YouTube channel and also subscribe to our telegram channel, where I post share market insights daily. So don't miss them out. So that's all from me for today. Thanks a lot and have a nice day.
Stay safe!
Warm regards,



Apurva Sheth
Analyst, Fast Profits Report
Equitymaster Agora Research Private Limited (Research Analyst)
Recent Articles