What the Franklin Templeton Fiasco Means for Traders
Apr 24, 2020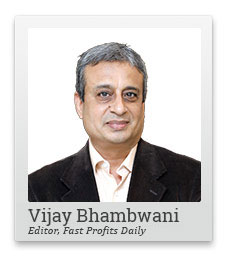 Today's news about Franklin Templeton has come as a shock.
It is a large well respected fund house and many investors trusted them.
Now, their debt fund investors don't know if or when they will get their money back.
In today's video, I share my analysis of the situation and my recommendation for debt fund investors.
I hope you will find this video useful...
Hi, this is Vijay Bhambwani and I'm recording this video from the safety of my house. I'm staying indoors and I am obeying the lock down instructions. I hope you are looking after yourself and your family and keeping safe and staying indoors.
Now this video is something that came to my mind after I read some news in the media about the Franklin Templeton Debt Fund issue. If you remember, I have been talking a lot about the debt market, about investing in bonds and how rich traders do not allocate all their money into equity schemes but also keep a significant asset allocation to bonds.
Do remember the words that I use out there. Sovereign bonds. Now sovereign if you open the dictionary would tell you is the name for the king or the government. Now in India, taking about sovereign bonds were talking about bonds that are issued and guaranteed by the government of the day.
Now I am sure a lot of my video viewers would be sort of concerned about the fact that Franklin Templeton, a very respected name in the mutual fund business, has announced the sudden closure of six of their debt fund schemes, and these are schemes of various maturity size and their charter. The charter would mean the memorandum and article of association of a fund as to what it will do, where it will invest money and what does with the money provided by the unit holder.
So these are six dissimilar but not very, very different fund schemes with an asset under management, which is AUM the mutual fund parlance of approximately 28,000 crores. This is not exactly loose change. So I can understand that there are concerns among investors as to what will happen next.
Please do remember, as I told you in the beginning of this video, that as a mutual fund of the size of Franklin Templeton, I think it is very natural for the fund manager to split the money into various type of bonds and various type of debt schemes, which means the money is not just in government bonds, but there is also a whole lot of private and corporate paper. There would possibly be also some moneys lent out to corporates also. This is where the crux of the problem lies.
Corporate debt, corporate bond, corporate paper, call it what you may, different names, same meaning so same difference. Call it what you may but this is not guaranteed paper. It is payable when able. So it is obviously yielding higher rates of interest because the risk element in this investment is higher, and therefore the fund manager needs to be rewarded for taking the higher element of risk, which is why the payoff tends to be a little higher.
This is where the problem lies now in the investment industry, and I'm taking of investments and not trading, do make a note of this please, in the investment industry, an investor needs to take care of two primary things. Return of capital, which means your principal amount. In Hindi, it is called muldhan, which means the principal, the principal must be safe, and you must get it back when you want it back or it is due to be paid back to you. So return of capital should never be under doubt.
Then the second element is return on capital. It is the profit, the interest or the yield, call it by different names, same meaning. In Hindi you call it byaaj. The return on capital is a secondary issue. You should first focus on protecting or safeguarding, ring fencing your capital first. Your capital is your holy cow, which can never to be sacrificed.
Which is why a lot of investors who succumbed to the temptation of looking at return on investment or return on their capital, which is higher interest, are likely to come to grief because there might be potentially cascading effect, as there is a run on other mutual funds as well.
There is something called herd mentality in the market. In Hindi, it is called bhed chaal. Bhed would mean a herd of goats. So bhed chaal means just as a herd of goats or sheep tend to crowd around in the same direction.
So is there a possibility of other funds also facing redemption requests? Yes, I think so, which means that even if a debt fund is not into as much of a problem, sentiments are likely to turn negative and what would then happen to sovereign bonds?
There would be a flight of capital out from private bonds and into sovereign bonds, which means private bond prices will come down. Their yields will go up. The return will go up because Rs 100 bond hypothetically, if it comes to Rs 50 the interest of 10% on the Rs 100 would still be payable to you. So your yield which was earlier 10% would now become 20% because the bond price has become half. The private bond market, prices come down and yields go up.
On the other hand, sovereign bonds would witness an inflow. People would pull money out of corporate bonds and invest in the sovereign bonds, and their prices will go up. The sovereign bond prices go up. The yield will go down.
If you check the yield on sovereign bonds yesterday, it's now come down sharply by 20 basis points, no less. Which means that my hypothesis of sticking to quality paper and sovereign debt, which is guaranteed by the President of India, which is the central government of India and sovereign also by the way, means state government guaranteed debt, these are bonds issued by the RBI. You are as good as giving money to the government of India or government of the state where you reside. This money is still safe.
By now you know thanks to the white hair on my head, I'm 54 years old, by the way, I have been in this market since 1986. I depend more on safety of my principal than the return on investment. I have learned the hard way through our knocks in life that I must protect my capital first and now, in times of corona, protection of life becomes primary.
So stay indoors obey the lock down instruction. Stay safe. Stick to sovereign debt. Do take very good care of your investments, your trades and your health. This is Vijay Bhambwani, before I sign off for now, I request you to click like on this video if you're watching it on YouTube. In the comments section, do let me know what you think about this video and what you want me to record in my future videos. Do not forget to share these videos with your family and friends and spread the cult of knowledge based investments.
Also join me on Equitymaster's Telegram channel with the handle Equitymaster official. I post a couple of updates every day, Monday to Friday and I would love you to read my posts.
Thank you. Stay safe.
Stay safe!
Warm regards,

Vijay L Bhambwani
Editor, Fast Profits Daily
Equitymaster Agora Research Private Limited (Research Analyst)
PS: Unlock your special anniversary bonuses here...
Recent Articles