My Recommendation for Traders in this Market
Apr 27, 2020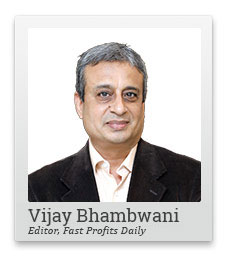 Traders are a stressed lot these days.
Almost on a daily basis, there is something new to worry about.
It could be stocks, bonds, crude oil, the rupee, you name it. It's getting harder to trade an increasingly globalised financial market without taking more risk.
So should you take more risk? What it the best approach in this situation?
In today's video, I share my thoughts on this issue. I hope you find it useful.
Let me know what you think in the comments.
This is Vijay Bhambwani here, and I am recording this video as usual from the safety of my house obeying the lock down instructions, keeping myself and my family safe by staying indoors. I hope you are following suit.
Also, I'm recording this video because I am reminded of a story that I heard in school or college maybe, of two teenagers who are riding their bicycles downhill on a steep slope. Now wanting to basically have fun and impress each other, one guy lets go of the handlebars and takes his hands off, and he says, Look Sam, no hands, no hands!
The other guy in order to outdo his friend takes his hands and feet of off the handle bars and the pedals and says, Look, no hands, no legs, no arms, no legs. Both of them tried to outdo each other with similar stands, letting go of the control of their bicycle.
And guess what? After a few seconds, they're telling each other, Look, no teeth! Look, no teeth! So what basically happened was they took on risk more than they should have and wound up getting their teeth knocked out.
Looking at the state of the market at this point in time, India specific, and events that are transpiring in the markets around me, as I as I see the markets from my own point of view, I see that the risk has far exceeded the levels that I feel comfortable with.
Let's take a case by case study of what's really happened in different asset classes. I have opened talked about bonds. Now there are two issues here with bonds actually. First of all, India's sovereign yield, which is the 10 year government of India, guaranteed bond, the yield on which is now within a kissing distance of 6%. Now this is a decade and half low. A 15 year low.
This tells you that there is a lot of buying interest in the Indian sovereign paper, which is another way of the market telling me, hey, we are too scared to hold on to any kind of risky investment and therefore we want to buy the safety of government guaranteed bonds. SoSo what if the returns are only 6%?
Mind you, a year and half ago it was as high as it to 8.5%. After having seen a peak of 9% just 2 years ago. So even though the yields are smaller, lesser people are still flocking to the safety of points that tells you that risk appetite has shrunk in the market.
Number two, in the market itself, you have seen Franklin Templeton winding up six schemes of the credit risk bond scheme. These are debt schemes, actually. And guess what? People normally thought debt schemes were relatively safer because there was no equity and to their utter horror, assets under management of approximately Rs 28,000 crores are now clamped down.
Over the weekend, we started hearing rumblings about what kind of bond funds have exposures to what kind of risky assets, especially real estate developers and distressed companies like Dewan Housing, which is DHFL and other real estate companies. Also, they would obviously be a lot of conjecturing. And whenever there is this kind of conjecturing, there will also be redemptions.
People will want to pull money out of mutual fund schemes, which they think, I'm using the word think, it maybe not be so, but they think there is going to be an element of risk, a threat perception and they'll start to pre-empt by pulling money out.
This is not exactly great news for the markets. Then let's go to the commodity markets. Thanks to the negative closing of the April futures of crude oil Western Texas intermediate grade crude oil, the commodity market sentiments are broken. In India, the MCX has basically been under tremendous amount of pressure as over Rs 400 crores of trader money has gone down the drain. There are many brokers, including two of my own brokers who sent me communication saying they will not allow any fresh trades in crude oil. I am also hearing stories about how many brokers are not only not allowing trading in crude oil, but they are also targeting natural gas, just to play safe. No more trades in energy counters.
So this basically tells you that the turnover on the Multi Commodity Exchange and the National Commodities and Derivatives Exchange or NCDEX might just shrink further.
So that leaves us with the last remaining asset class. We have talked about bonds. We talked about debt funds. We have talked about commodities. Now we essentially come to equities and what I am seeing in the equity space is the Securities and Exchange Board of India, SEBI, the market regulator in India for equities, has clamped down and extended the trading restrictions that it had put in place after there was a Corona virus lock down and extending those trading restrictions to 28th of May.
Now, this is possibly what was required to be done under the circumstances. But what has really happened is that you cannot short sell the market. Margins are raised exponentially, the kick off from where additional margins called exposure of concentration margins has been tightened. And even if you were to sell for delivery, if you were to sell your own shares under some circumstances, for example, you do not have your shares lying in the full account with your broker through whom you going to sell the shares, you will have to pay 30% margin, which is value of those shares as deposit, before you can actually sell your own stuff! You heard me right. So there is a lot of restriction around asset classes.
Bond yields are falling, which means you'll have to invest a whole lot more money into sovereign guaranteed bonds to be able to earn the same kind of interests that you were receiving barely two years ago. Which means fixed income investors are distressed. Commodity traders are distressed thanks to crude oil.
And to add to all the confusion, Donald, Trump has now threatened blowing up Iranian warships if they were to interfere with the US Navy. Donald Trump has also sent his ships in the South China seas basically sabre-rattling, and it kind of raises the level of rhetoric with China. That's likely to make crude oil prices fairly edgy.
Now coming to currencies. We have seen how the USDINR briefly but convincing crossed over 77 before a kind of easing back to 76 quarter 76 and a half. That means that we are now importing inflation. Everything that is imported will now become a lot more costly and remember, after independence, India has always been a net importer.
So all four asset classes are basically giving you little choice or little room and leeway for trade. If you are going to try and get too aggressive and too innovative in trying to snatch money from the market, which is in no mood to give you easy profits you're trying to do something similar, like trying to yank meat out of the jaws of a hungry lion. It's not going to be easy.
What am I suggesting you do? Scale back. Cut back. Reduce your exposure footprint in the market, especially the trading markets for now. Believe me, there are times when not doing anything is also a plan. And there are a whole lot of times when discretion is better than valour. I believe we are there right now.
Play safe, sit in a foetal position, conserve cash, conserve your capital, focus on staying alive financially and physically.
Before I sign off from this video, let me remind you to like this video if you're watching this on YouTube. In the comments section, do let me know what you think about this video and what else you would want me to record in my future videos.
Do not forget to recommend this video to your family and friends and help me spread the cult of knowledge based investments and trading and join me on Equitymaster's Telegram channel with the Handle Equitymaster official. I post 2 to 3 times every day, Monday to Friday and under love you to read them.
Do take very good care of your trades and investments. Stay indoors. Stay safe. Vijay Bhambwani signing off for now.
Thank you.
Stay safe!
Warm regards,

Vijay L Bhambwani
Editor, Fast Profits Daily
Equitymaster Agora Research Private Limited (Research Analyst)
PS: Today's the last day to claim the special Equitymaster anniversary bonus. Get it here.
Recent Articles