The Best Asset to Preserve Your Wealth
Apr 28, 2020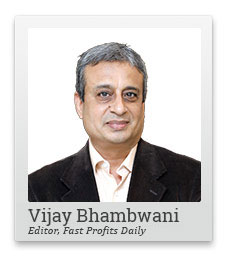 I have received many questions on my social media about a number of topics recently. Please keep them coming.
I will do my best to answer as many as I can. In fact, I would like to answer one of them today.
I have recorded this video on the most common question I am asked on social media - Should I buy gold now?
I hope you not only get the answer to this question in this video but also get a broad perspective on why I am so bullish on the yellow metal.
Let's dive in...
Hi, this is Vijay Bhambwani and I am recording this video still from my residence, which explains the very informal and kind of down to earth look of the background. The lock down continues, and we are all interned at home.
But we continue to watch the markets and guess what? I am really enjoying messages, the queries, the comments that my wonderful friends and subscribers of Equitymaster have started sending out to me on my social media account and other accounts, direct messaging on Facebook, etc. Guys keep them coming, and I will answer your queries to the best of my abilities. And, of course, you have requested for many more videos on diverse topics like silver, like the sovereign gold bonds, sovereign debt bonds and your other bullion holdings.
I assure you, I will try and fulfil as many requests as I can. I will continue to record videos Monday to Friday five videos a week, week after week, and try and attempt to answer as many questions as far as possible. But the one question that I am constantly facing is a little surprising, and it's a little disheartening. It's a question about, should I really be buying some bullion as a store of value? Is it a good time to buy bullion now?
My response is, What? You haven't already?
Internationally, it is a known fact that the key to investment success or even trading success for that matter, is asset allocation. You cannot keep all your eggs in one basket. You must diversify your wealth in different, different portfolios. To that extent, hard assets.
Hard assets would mean commodities, not necessarily only gold. So if your copper for delivery, that's a hard asset. If you're buying real estate, that's a hard asset too. You must spread your money across various asset classes. Sure, you should buy gold.
Should you only be equity centric? Should you only have 100% equities or, for that matter, paper assets like bonds or fixed deposits only in your portfolio? Hey, that's a bad idea. Let's talk about the difference between equities and gold.
The pricing of any asset is determined by demand and supply. I think everybody will agree with this aspect. Now, here in equities, this supply is constant. The paid up capital of a company never changes, or it does only after government approval. In the case of India, the Securities and Exchange Board of India does not ordinarily allow you to tweak around with the paid up capital any more than once in 12 months, which means the supply of paper, the paid up capital of a company, remains constant.
Now all you need to do is stimulate demand. A lot of newspapers, a lot of social media accounts of a whole lot of social media influencers, start talking about, look at how good this stock is, and it's going to double, triple and what not and the stock starts flaring up
But what happens when that stimulated demand backs off? Back down again?
Let's talk about fungibility. Fungiblity is the value of an asset across geographies, across borders. So I have a lot of newfound friends on the YouTube channel of Equitymaster from Australia. What if my Australian friends were to get their Perth Mint coins to India? When they're outside say they run out of cash and they want to encash those coins? Is it possible to get that kind of liquidity with these Perth mint coins in India?
Yes, of course. You get a good value, almost of equal to maybe even a slightly higher if there's a premium being commanded on physical bullion here in the jewellery markets.
Will my South African friends be able to liquidate their Krugerrand? Will my American friends, be able to liquidate their American bald eagle coins? Yes, yes, definitely at the same price.
Maybe a little here and there may be higher for all you know, but try liquidating your Apple, Microsoft, Sun Microsystem, Cisco shares in the Mumbai stock exchange when you need some cash. Can you really do that? I am afraid you can't.
Gold is a fungible investment which is valued all over the world and is completely divisible. So you split a one kilo of gold into two equal 500 gms bars, both of them will get the same value unlike a diamond. If you were to split a big rock in two, the price of these two rocks put together will never be able to give you the price that the big rock would have commanded. So it's equally divisible if it does not diminish its value.
By all means, do allocate a little bit of your assets in gold as a store of value, because when the fiat currencies, the paper currency, start to lose value, I am talking about losing value, you asked me why, the answer lies in this word called stimulus.
Stimulus is nothing but pump priming the economy by easy money. Flooding the money, flooding the market with money probably printed un backed by any other asset. Now the laws of demand and supply tells you, when there is an excess supply of money, the purchasing power of that money tends to erode. So with the same Rs100 note, which you used to buy three bottles of Coke a day before yesterday, you will realise tomorrow you will be able to buy only two bottles of Coke.
Now there are two ways of looking at it. Some people would say Coke has become expensive. I would say the currency has lost for chasing purchasing power. It's not the same. It's not the same.
Look around you. Look at the world around you. Is the fear factor increasing? I think it is. 9/11 changed the world internationally. 26/11/2008 and changed the Indian mindset. The attacks on these three hotels, are you able to go to a seaside installation and click pictures as easily as you used to?
I was taking a journalist friend out to ferry wharf. It's a place where, during the British colonial days, small passenger ships used to go from Mumbai to Goa but today it's a fishing down. So if you want to buy fresh fish, if you want to see luxury yachts of the super rich being docked there for repairs, ferry wharf or Bhaucha Dhakka as it's known in the local parlance is the place to go.
A lot of my foreign friends asked me where ferry wharf is because I put up pictures on my Facebook or Twitter accounts and they want to see. But guess what? You can go there but you can't click pictures because after the Mumbai 26/11 attacks, it's a seaside installation. Cops will come out and confiscate your cameras.
We are now living in fear and what does that fear do to the price of gold? It jacks it up. So when there's fear in the market when their suspicion about paper assets, when you want your money to be encashed in any part of the world, you need a fungible investment. I think bullion fulfils that investment.
I hope of convinced you that bullion over a period of time is a very good hedge against inflation, erosion and fiat currencies, and yes, to that extent, if you're thinking extremely long term, even now is a good time to probably allocate a little bit of your wealth to bullion.
You have requested for videos on the sovereign gold bonds, on the sovereign debt bonds, you have requested videos about long term portfolio planning. Believe me, they are in the works. I will bring them to you in the near future.
Till then, stay safe. Stay indoors. Take very good care of your health, your investments and trades. Before I sign off from this video, let me remind you to click like on this video if you're watching it on YouTube. In the comments section, do let me know what you think about this video and what else you would want me to record for you in my next video.
Do not forget to share this video with your family and friends and help me spread the cult of knowledge based investments and trading. Also, Equitymaster has a telegram channel with the handle Equitymaster official. Do join that channel. I put up a couple of updates every day Monday to Friday and I love you to read those.
Thank you for now. Till we meet again in my next video, Vijay Bhambwani signing off.
Stay safe!
Warm regards,

Vijay L Bhambwani
Editor, Fast Profits Daily
Equitymaster Agora Research Private Limited (Research Analyst)
Recent Articles