A High Conviction Trade Could Be Around the Corner
Apr 30, 2020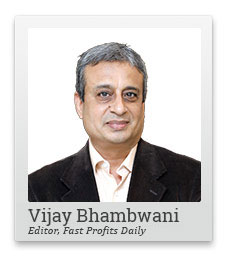 Regular viewers of the Fast Profits Daily would be aware of my most high conviction trade of 2020...going short on Natural Gas futures.
Well I have an update for you and it's good news. We could have another trade soon, if things go as I'm anticipating.
In today's video, I'll tell you all about this potentially profitable trade...
This is Vijay Bhambwani and I am recording my video still from my residence because the lock down still persists. I am forced to stay indoors, but I continue to watch the markets. I do not want my head to get emptied of any ideas. I want to stay in touch and glean the pulse of the market all the time and here is what I have observed in the markets.
If you have been watching my videos on Equitymaster, you would remember that my most high conviction trade in November and December of 2019, for the calendar year 2020, was going short on natural gas around Christmas of 2019 and squaring up that short sale around the vernal equinox or the onset of spring around 21st of March 2020.
Although I had recommended that trade in November 2019, it worked out beautifully by the time it was 21st March 2020. I hope you've taken home a substantial amount of profits. That's what I'm here for...to earn money for you.
Here's what I have observed in the recent times. Traders all across the world, especially on the multi commodity exchanges in India, have noticed what happened to crude oil on expiry date on 20th of April. Was it all actually unpredictable? Did the markets give you any kind of an indication that such an event was going to come to pass? And if the markets are leaving a digital footprint in the sands of electronic time, can these digital footprints be read again? Should this event occur either on natural gas or on crude oil or any other commodity, currency or equity index?
The answer is yes. The history of the markets need not rhyme perfectly, but it definitely jingles almost the same. I had advocated in my newsletter to the Weekly Cash Alert subscribers and the Fast Income Alert subscribers that crude oil was witnessing a cost of carry.
Now cost of carry is the rollover cost. If you are holding long positions, which means you have bought crude oil in the month of April, you do not seem to have a profit on your hands. In the month of April itself, you desire to hold your long positions for one more month, and therefore to transfer or roll over your long positions from April to May, you need to pay a certain charge. Now this charge is called cost of carry because you're carrying a trade from April to May.
Guess what was the cost of carry for crude oil from April to May? 35%. Yes, 35%. Now before you think it's too high, let me clarify. It was 35% monthly that is a whopping 420% annualised. Which businessman, I wonder, can pay an interest cost of 420% per annum and still afford to remain solvent?
I as a trader, a player in the financial markets consider myself to be a businessman. I am here to make money and therefore each and every cost that I incur, whether it is cost of carry, whether it is brokerage that I pay to the broker with it as a GST on the brokerage, whether it is the or securities transaction tax or commodities transaction tax, whether it is the stamp duty, exchange turnover tax or SEBI tax, I add all of these costs to my costing sheet. I need to be profitable after paying all these costs.
Ask yourself this question. Could you have actually made money going long on crude after paying only interest costs of 420% and very safely, another 7.5 to 10% in brokerage execution costs, taxes and other expenses? And you would see that for 130% is what crude oil would have had to go to go higher by before you could even break even. Hey, that's a that's a very long shot. It ain't happening.
What about the present? I have noticed that natural gas, it simply does not go out of my mind, I can't get it out of my system. I love crude oil. I love natural gas. I noticed that natural gas futures have a cost of carry of 12 to 12.5%. The current futures are the month of May because natural gas expires on 26th. So the April futures expired on 26th April. So if you were to roll over on your transaction from the month of May to the month of June, you would have to pay a cost of carry anything between 12 to 12.5% yes per month.
That's 145% per annum. Ask yourself this question. Can the bulls actually hope to make money by paying financing cost of 145% per annum and still take home some money after paying this huge cost to be able to put food on the table for their families? I think it's a losing battle.
If you were to roll over your trade further from June to July, the cost of carry is even more. What do you think is leading up to the trade in natural gas? I have a feeling that big money is stuck on long positions in their long term contracts. They are now extracting a huge cost of carry so that they can exit from their long positions and saddle it onto the retail unsuspecting guys who would pay this huge cost of carry and never be able to get out.
What am I suggesting? I would suggest if National Gas was to go up another 5, 7, maybe 8% higher, start sharpening your knives. It's time for a kill.
Natural gas, typically, as per the market cycles, rises before the winter because it's used for heating purposes. If it is rising so much purely on interest cost alone, there would be a mean revelation, which would mean that if you were too short, the extremely far month futures, especially the ones where the cost of carry is in excess of 140, 150, 180% per annum, I think the margin of error is very slim. Here is your next trade from me to you.
Before I sign off from this video, let me remind you to click like on this video if you're watching it on YouTube. In the comments section, do let me know what you think of this video and what else you would want me to record in my future videos. Your wish is my command. I will attempt to fulfil as many as I can.
Also do not forget to share this video with your family and friends and help spread the cult of knowledge based trading and investments to make people become thoughtful traders and also join me on Equitymaster's Telegram channel with the Handle Equitymaster official, wherein I post at least 2 to 3 updates every day Monday through Friday. And I would love it if you could read them. Stay safe, stay indoors and most importantly, stay profitable.
This is Vijay Bhambwani signing off from now till we meet again in my next video. Thank you.
Stay safe!
Warm regards,

Vijay L Bhambwani
Editor, Fast Profits Daily
Equitymaster Agora Research Private Limited (Research Analyst)
PS: Join Equitymaster's founder, Ajit Dayal, live at 5pm sharp on Monday, 4th May, at a free online web summit - Debt Funds or DEATH Funds? - on the Franklin Templeton debt fund crisis. Ajit will tell you what you can do protect your wealth from scandals in the future. Register for free here...
Recent Articles