The Safest Investment in the Market Today
May 4, 2020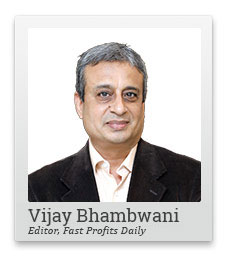 Risk is a four-letter word these days, both literally and figuratively.
Indian fund managers don't want it in their portfolios.
They are dumping any asset they perceive to be risky.
Should you be worried? What is a good safe investment in these times?
Find out in today's video...
Hi, this is Vijay Bhambwani and I am recording this video still from my residence. I'm staying indoors because of the lockdown. I hope you're staying indoors and keeping yourself in your family safe as well.
Now, in this video, I want to talk to you about an issue that has come to my knowledge over the weekend and have done some digging and I want to present a few facts, which I'm sure you would have read in the public domain.
Some of you might be a tad worried about what's happening to your investments in the fixed income space. I am a big fan of the fixed income space. I think rich traders and I've recorded a video on this in the past, rich traders allocate a fair bit of money in their investable portfolio to fixed income securities, so that should things go a little topsy turvy in be trading revenue side, you do not really get impacted in your lifestyle. Your home and hearth still runs on the returns from the fixed income
Now, what I read about over the weekend was the debt fund managers in India were dumping AT1 bonds. These are tier one bonds of banks, which constitute their capital. The bonds were dumped so aggressively that the yields on these bonds have jumped.
You see, when the price of the bond falls, the return increases because the rate of interest is payable on the face value and not on the market price. So these bond yields have actually started jumping.
What are tier one bonds? Do they concern you? Should you really be worried? And what is the way forward? Allow me over the next couple of minutes to explain myself.
Banks require a certain portion of their loan book as their own net owned funds, or they're paid up capital. This is called the capital adequacy ratio. See, as we stand now, the minimum that a bank should have its own capital is 8%. Of course, it can be higher. Actually, the higher the better, which makes the bank safer.
Now this 8% of its money need not all be in cash. It could be part cash and part tier one bonds, which it issues to investors to raise money, which is constituted and taken as their capital.
Now these tier one bonds yield interest. The interest is higher than the sovereign guaranteed bonds because these are not sovereign guaranteed bonds and therefore there is a certain element of risk.
What is the element of risk in these tier one bonds? Should the bank suffer a liquidity issue, it can ask for a moratorium or freeze on payments of moneys, both interest and principal, to the bond holders. This was experienced recently in the Yes bank case when the bank went under a moratorium.
Now, under normal circumstances, no fund manager would have imagined or dreamt in their wildest dreams that there will come a time when banks in India would sense a threat perception about repayment capabilities by the Franklin Templeton issue, which basically froze six of its debt fund schemes, has given nightmares to the debt fund managers.
Now they do not want to hold anything which can be remotely associated with risk in their investment portfolio. The question that you will ask is, why did they invest in these tier one bonds in the first place? The answer is alpha. Alpha is absolute profits.
You see, if debt fund managers were to invest in sovereign guaranteed bonds, everybody's yield would be exactly the same as the next guy. There would be no difference in one debt fund schemes from the other. You would not have a choice as to see which fund manager was outperforming the other guys. How do they go about doing this? How do they go about achieving a higher alpha?
They basically invest in whole lot of diverse debt instruments, including corporate bonds, which remember, are not sovereign guaranteed. They also invest in other debt instruments in deposits of corporates. They also lend money in private financing deals to corporates.
And this is the way the fund manager takes that little bit of an extra risk to earn that extra return for you now all as well, as long as the principal and the interest that you're supposed to receive is safe.
The problem starts when there's a threat perception and Franklin Templeton's six schemes are being shuttered for now, has raised the hackles of many investors and fund managers alike. So they are dumping all these tier one bonds, which are basically of banks, which can ask for a moratorium on repayment should push come to shove.
Why would banks do that now? Anybody who's seen my TV shows and read my interviews and articles on in the public domain over the last couple of years, especially a decade, would know that I've always been warning you about banks for the simple reason that the net interest margins, at 3% your profit margin for running a bank is 3%.
And in some cases of banks which are in prompt corrective action by the RBI, the NPA's have crossed 20%. You got me right. They have crossed 20%. So when you're earning 3% and you're losing 20% now, that's a big, gaping hole in your balance sheet.
Which is why there is consolidation, mergers and acquisitions between these banks. You have recently seen 10 public sector banks being merged and three entities created. SBI has merged its subsidiary banks with itself in 2017. This is all a function of trying to strengthen the balance sheet after they've eaten into their strengths.
Now that these fund managers are dumping the tier one bonds, should that rattle your psyche? Should you worry? Hey, I don't think so.
All I have ever recommended is sovereign guaranteed bonds which are guaranteed by the government of India. I have deliberately recommended these bounds to you, knowing that the year, interest would be somewhat lower.
But your capital and your interest will be guaranteed by the government of India. Is there 100% certainty that this money will always remain safe? There is no such thing as 100% certainty. At the end of it all, all good things in life, including life itself, must someday come to an end.
But I would bet my money and I bet a good deal of my money in sovereign guaranteed bonds for myself, my corporate entity, and my family. I am not worried. I think 99.99% my money is safe in sovereign guarantee ponds. Why my saying 99.99%? It's because 100% is not something that I can live with. Although I would like to believe that sovereign guaranteed bonds 100% safe.
So if you have gone by my videos and invested in sovereign guaranteed bonds. Sleep easy. You have nothing to lose, not for now. And what if, over a period of time, the interest rates are cut on these sovereign guaranteed bonds? Remember, the interest rates can be cut on future issues. If you're holding a 2018 series, if you're holding a 2020 series, which were issued at the interest rate back then, those interest rates would still be available to you. It is the new issues that will have a lower rate of interest.
But in that case, the price of the existing bonds would go up because the market would bid the price higher. So existing bondholders would get a capital appreciation on the bond prices going up. And they would still have locked in that interest rate, which was negotiated at the time of purchasing bonds.
Sleep easy all as well, and stay with quality paper. Do not succumb to the temptation of earning higher yields in order to basically keep your lifestyle going. I have warned you in the beginning of this calendar year that 2020 is a challenging year for fixed income investors.
Your yields are going to fall. You learn to live with that, but do not sacrifice your capital in order to earn a higher return on capital. Your return off capital, which is your principal muscle, never be compromised.
Stay safe. Look after your health and your family's health. Look after your investments and trades.
With that, I bid adieu to you, not before reminding you to like this video if you're watching this on YouTube. In the comments section, do let me know what you think about this video and what you would want me to record in my next video for you.
Do not forget to share this video with your family and friends and help me spread the cult of knowledge based investments. Also join Equitymaster and myself on telegram on Equitymaster's Telegram channel with the Handle Equitymaster official, wherein I post at least 2 to 3 updates every day, Monday to Friday. I would love you to read them.
Vijay Bhambwani Signing off for now. Thank you.
Stay safe!
Warm regards,

Vijay L Bhambwani
Editor, Fast Profits Daily
Equitymaster Agora Research Private Limited (Research Analyst)
Recent Articles