A Trade to Profit from the Negative News Around Us
May 6, 2020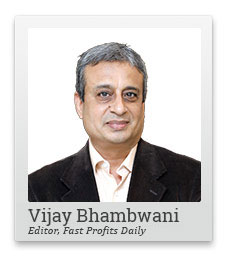 I have been bullish on the USDINR currency pair for a while now and I have been proven right.
The rupee has depreciated considerably against the US dollar.
Unfortunately, the pain may not be over just yet.
In today's video, I tell you why I remain bullish on the dollar and how you can profit from it.
Hi, this is Vijay Bhambwani and I am recording this video as usual from my residence till the lock down is lifted because of the Coronavirus. I hope you're staying indoors, keeping yourself safe, occupied, and watching the markets keenly for any kind of changes in the undertone and keeping yourself sharp.
Now I am recording this video with a specific purpose of updating you about what I have seen in the media in the last couple of hours and how it basically validates my hypothesis, which I have been talking very often in my videos on Equitymaster.
I have been saying that in the coming future, there will be elevated amounts of stress unlocking of financial, fiscal stress in Middle East, North Africa or MENA markets apart from Asia Pacific, Southeast Asia, and Latin America. Of course, Europe remains stressed as it is.
So in a recent write up on Bloomberg, a report about how the three large economies in the Middle East are now officially under duress. We are talking about Egypt, a fairly large country. We are talking about United Arab Emirates and we are talking Saudi Arabia.
The PMI has gone below 50 which would mean contraction of the economy. Now, typically, the reason why I have been talking about the Middle East, North African countries remaining under stress is because most of them are dependent on revenues from oil and natural gas.
So if prices of oil are falling and not just the prices, even the off take the consumption of oil is falling drastically. They have nowhere to sell. And if they are able to sell their receiving less
per barrel of oil that they used to receive barely a quarter ago.
So obviously their revenues are cut off. Now before you term this video as something of a downer or a discouragement, it is as actually a masked opportunity. I am bringing forward to you an idea which can actually mitigate this misery or feeling of doom and gloom from the news that I'm giving you to putting a smile on your face.
You see, we traders, we do not have the luxury of giving exclusives. We are not in the business of staying relevant. We are in the business of staying profitable, so whether the market is up or the market is down, we need to put food on the table for the family 3 to 4 times a day.
So here is the deal. Now these Middle East North African countries and I am betting that Latin Southeast Asia, Asia Pacific countries will also start to show financial distress, how long will it take? I think the April, May, June quarter results.
When they start trickling in from July onwards, you will see that these economies are basically disclosing more and more stress. So when this stress comes in, India will also start feeling the impact. You cannot really avoid it because we are one large, integrated global economy. The whole world is now a global village. 18% of our dollar inflows come from NRI remittances from Middle East, North Africa. We are not talking about merchant exports. We are not talking about goods that we actually sell to them.
I'm talking of sweat money. If these economies are likely to shrink, are they expected to retain the same number of Indians in their employment? I do not think so. If you're up to date with the news, you will realise that the Ministry of External Affairs is now talking about evacuating quarter of a million Indians stranded abroad. Some of them tourists, but many of them actually employed abroad and they want to come back.
So when an foreign employee, the Indian comes back, remember his dollar revenue inflow or remittances also stops, which means that this is going to put a pressure on the Indian rupee versus the dollar and India is an import dependent economy. I kept on saying that once the rupee weakens against the dollar, we will start to import inflation and when you start importing inflation, you're a national currency weakens further. Which would mean that the USDINR, which is the United States dollar pegged against the Indian national rupee, that dollar will move up and the rupee will come down.
So the USDINR, which is the currency pair, will start to rise on the National Stock Exchange currency derivative segment.
I am too small and too insignificant to actually reverse this negative news flow from Middle East North Africa. I still need to feed my family. So what do I do? I, of course, feel sad about my brother and sister, Indians who are going to lose their jobs and come home.
But rather than sit on a table and behave like a weeping widow, I choose an opportune moment when my charts indicate buy on the USDINR and intent to profit from it.
I do not have the luxury of holding my head in my hands and saying, my God, what a miserable life. I need to make money.
So this is my game plan. I am depending on the USDINR futures on the National Stock Exchange currency derivative segment to medicate some of this misery. I assure you I will keep you updated on this in the future.
Till then, do take very good care of yourself, your investments, your trades, and your health. Stay indoors.
Before I sign off from this video, let me remind you to click like on this video if you're watching it on YouTube. In the comments section, do let me know what you want me to record in my future videos. And do not forget to informal my videos to your family and friends and help me spread the cult of knowledge based in investments and trades.
Also join me on Equitymaster's Telegram Channel wherein I put in at least three updates every day Monday to Friday and I would love you to read them. The handle is equity master official. See you out there.
Vijay Bhambwani signing off for now till we meet again in my next video. Thank you.
Stay safe!
Warm regards,

Vijay L Bhambwani
Editor, Fast Profits Daily
Equitymaster Agora Research Private Limited (Research Analyst)
PS: For details of the #1 stock to buy now... click here.
Recent Articles