The Market Situation is Not as Bad as It Seems
May 7, 2020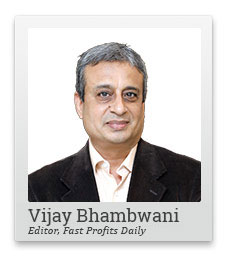 I've received many requests for a video about all the bad news about the economy.
The data is certainly bad. So, should you worry?
I don't think so.
In today's video I'll tell you why I think the situation is not as bad as seems.
Hi, this is Vijay Bhambwani and I'm recording this video from my residence. As you can see from the background, I am staying indoors and obeying the lock down instructions during these times, and I hope you are also staying indoors, keeping yourself and your family safe.
I wanted to record this video because of a few news triggers that I observed in the public domain today, and also because of the kind of messages that I have been receiving from my friends, family members, and viewers of my videos and online social media family.
The mood seems to be a little down and not surprising because of 1.5 months of internment at home. People are downbeat about their businesses, anxious to get back to work and a little concerned about the future.
And I've four data points out of which three were downright worrying and there were a lot of calls to me, people requesting information. So I thought this video would be absolutely contextual, looking at the scenario prevalent.
So the first data point was the PMI data fell 5.4% this is the lowest ever level and probably the lowest around. I remember watching a movie called Top Gun in my college days, and there was a very famous dialogue. Maverick crashed and burned.
So when I looked at the Bloomberg terminal chart of the PMI data, it seemed to simply go down hill like a waterfall. That's not surprising, nor should you think that this is going to be a permanent affair.
The Indian lockdown is the most stringent around and one of the most voluntarily obeyed lockdown that I have seen. I talk to my friends on video chat all over the world and believe me, I've friends all over the place, and it is generally agreed that the compliance of an average Indian has been far above the average compliance anywhere.
So obviously, the PMI data was bound to fall because people have simply stopped manufacturing, producing, and commercial activity all of a sudden.
I assure you, this is not permanent, and at some point in time, when manufacturing activity or the economy picks up, the PMI later will, of course, bounce back.
The second was the additional levies on fossil fuels. India now has the highest taxes, at 69.3% on fossil fuels Now, here again, people were suddenly very anxious that higher fuel prices would naturally result in inflation.
But these are taxes which are being raised at the canalising agency level, which is the importing agency which buys the fuel from abroad and supplies it to the refineries here. Now, the canalising agencies were able to buy fuel cheaper because of falling fuel prices in the overseas markets. Instead of reducing prices at the pump, the government has simply raised taxes on these fuels so that the price of the pump remains constant.
But the government gets additional revenue. This is understandable because the government is now losing revenue from taxes from your other direct and indirect taxes, customs duties, etcetera. So it was starved for revenue and therefore the additional burden was levied. I am not getting into the right or wrong here. I am merely allaying your fears here.
We are merely talking about what happened to these four data points and how you should react. So here again, there is also the concept of economies of large scale consumption and production in the month of April, I would be surprised if the consumption of fuel did not fall by a minimum and talking of minimum 75%. If you step down on the roads anywhere, you would see that they're almost devoid of vehicles, right? So fuel consumption has gone down.
As a stock trader, I can tell you there are only two ways I can think of, of making Rs 5,000. Buy 5,000 shares, wait for a buck and sell or by 500 shares, wait for 10 bucks. I make five again now that the patrol consumption or the diesel consumption has fallen off the cliff, the government's tax kitty as shrunk.
So to be able to garner the same amount of money they have resorted to increasing taxes on fossil fuels. Here again, I am pretty sure as and when consumption picks up, taxes will fall again. So this is the concept of helical or telescopic taxes. Remember in the good old days, we used to have transistor radios with collapsible antenna. You could you could extend them in and out. So during times like these, I believe the government is resorting to a telescopic taxes, raising taxes when the consumption has fallen and as economies of scale kick back in, the possibility of taxes going down is fairly high.
The third data point was unemployment reaching 27.1%. Yes, that's worrying. But then, like I said, the compliance to the lockout is so stringent, and it is so voluntarily above average world over that unemployment data was bound to be high. The worrying part agree, there is a worrying aspect here. Unemployment in urban areas has risen far sharply as compared to rural areas and guess where the manufacturing bases are? They tend to be either in or around the urban areas, which means manufacturing activity has taken at it and possibly the slowdown might continue even after the lock down is lifted. So that is a concern. Here again, 27.1% unemployment is not something that is permanent in nature as soon as the lock down is lifted, I do expect some kind of a relief here.
The fourth data point, and which basically gives me some hope that all is not lost is the M3 money supply. Now the M3 money supply is a broad gauge of availability of money in the system in the economy. So it includes the cash by way of currency notes, coins, bank balances, both savings currents, fixed deposits, recurring deposits, money in transit, which is amount receivable by way of negotiable instruments, businesses outstanding receivables. It's a very broad gauge of money floating around or circulating around in the economy that has actually gone up 50 basis points from 10.2% to 10.7%.
So it means that there is ample liquidity in the system, that concern is whether the banks will lend that once the lockdown has lifted. Now, that is something that a call that the banks will have to take. But I can tell you one thing. I think if your credit history is good and if you're a businessman, if you are owner of a SME or MSME if you are asking for a business loan without a default history and a perfectly good credit score, I think money will be forthcoming. Maybe a tad late, but it will be forthcoming.
Don't expect normalcy to return as if nothing happened after the lock down is lifted. The system is in a shock. You know, if you're playing football and you take a massive kick in the dark, you fall on the ground. You pick yourself up. It takes you a couple of seconds to get your breath back. You'll have to give the economy a couple of months to get its breath back. It's not going to be over night.
So the money is there in the system. It's just the bankers who have to take a call whether they will actually be disbursing loans. But people with good credit scores, businesses with sound revenue streams, I don't think should worry. Yes, there will be problems for a while. Nobody is denying that but with a little bit of heave and ho, a little bit of a collective effort, I think the situation is not that bad and you know me as a behavioural science based trader, behavioural finance buff, behavioural finance student for life college. Let me assure you that as per behavioural science, approximately 77% of our fears do not come true. We tend to worry more than what we should, which is but natural. People with families, we have responsibilities. We need to put food on the table. We need to worry about future. All fair. But believe me, 77% of your worst fears were not true.
With that happy note, I'll sign off from this video, not before reminding you to like this video if you're watching it on YouTube. In the comments section, do like me know what you think about this video in what next would you want to record?
Do not forget to refer this video to your family and friends and help me spread the cult of knowledge based investments and trading. I hope you are aware that Equitymaster is on Telegram with the handle Equitymaster official, wherein I put 2 to 3 posts every day, Monday to Friday.
Do take very good care of your investments and trades, yourself and your family. With that Vijay Bhambwani signing off for now till we meet again in my next video. Take care. Thank you.
Stay safe!
Warm regards,

Vijay L Bhambwani
Editor, Fast Profits Daily
Equitymaster Agora Research Private Limited (Research Analyst)
PS: For details of the #1 stock to buy now... click here.
Recent Articles