My Secret to Find Breakthrough Stocks
May 7, 2021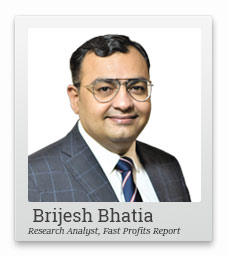 In this video, I'll share a little trading secret with you.
The secret of the golden cross and death cross.
These technical analysis tools are actually well known but most traders don't use them or they don't use them often.
I'll show you how to use these tools in your trading strategy. I'll also show you how effective this strategy can be with back tested historical data.
Watch the video and let me know your thoughts.
It's a perception that technical analysis is only for traders. Well, I disagree with those lines. It's been used only by traders.
And investors? Well, I know some of the investors which are following technical analysis as in good entry and exit points when they have a bullish bias on a stock fundamentally.
In this video, I'll will all be discussing one system which is defined based on technicals and it is a well-known approach but being utilised by 20-30% of the people, or lesser than that.
Watch: Predict Stock's Next Move Using Volumes
Before I start the video, click the subscribe button and do like our videos in case you think it's been helping out and comment. Myself Brijesh Bhatia and welcome to the Fast Profits Daily video series.
So this is a system which is well known since centuries, the Golden Cross and the Death Cross.
Basically, golden cross is when your 50 days average crosses above the 200 days average. It's known as golden cross and vice versa, when your 50 days average crosses downwards below the 200 days average, which means 50 days averages below 200 days average. The golden cross and death cross.
So I have defined one system which I have been using for quite long and when you are a budding technical analyst, learning technicals for the first time, it's a simple term. Moving average is being taught at an early stage of your technical analysis learning.
Well, it's human tendency. When we are in kindergarten, we will teach our kids as well, A is for apple. How many of you have taught A for Astronaut? None of them because generally moving averages are simpler, when you start technical analysis, and people tend to use 50, people tend to use 200, just to look at and support and assistance, right?
I am using this as a system. So my system says that when the golden cross happens, I will take a long position, when the death cross happens, I will exit that position.
Say, for example, Reliance. On first of April, it's giving me a buy signal around a golden cross at Rs 1,400 and probably by October, by November, it rallies to around Rs 2,000 and gives a death cross set up somewhere around Rs 1,850.
So I will take a long at 1,400 and exit at 1,850. I know I have lost from 2000 back to Rs 1,850 and exiting those positions, but yes, it's part of the system.
What if it has gone to around Rs 2,300? My averages might have one up. What if Rs 1,850 is being negated and it goes down back to Rs 1,600? At some point of time, I have to do a trailing system, capitalise my amount, capitalise my profits.
So I've used the system, long on golden cross and exit on death cross. I have been using this for quite long because when you use such approaches, you might have learned this averages when you are in your early part of your technical analysis or trading but then you haven't used it.
I would request you to try this out on the stocks. So I have a back tested results for Nifty, Nifty 500, all the stocks of the Nifty 500 and the Small Cap 250 and in case you want those back tested results, there is a link below, click on this link, fill your details and download the excel files or the pdf files of the back tested results.
So let me show some of the stocks which I have been doing this for quite long.
So have just taken a table, which is the stock name trades, which is the number of trades which has been given and this is the back tested trades right from 1990 to April 2021, 30 April was the last date.
Total percentage which it has made in the back tested data. Average return per trade. Strike rate or you can say the success rate and the expectancy.
So it will look at Axis Bank, 14 trades since inception. 582% return. 41% is the average return out of that. So sometimes it might have happened that it might do a golden cross, after a few days, it gives a death cross or sometime it rallies.
This has basically been the results which have seen for quite long. If you look at the number of trades, they're very less in last 25-30 years, but the percentage returns matters.
Bajaj Auto, 10 trades. 300% returns. 30% average return. Success ratio is 50%. If you look at the risk to reward, it's 1:5. For Axis Bank it's 1:9.
Bajaj Finance, 7 trades. 325% returns. Average returns is around 94%. So every time it gives a golden cross, it double your money, nearly doubles your money, 94%.
HDFC Bank, 15 trades. 57% average returns. If you look at the strike rate, Bajaj Finance 72%, HDFC Bank 67% though it's a slow mover, I would say compared to Bajaj Finance but yes, slower the better.
So these are some of the stocks. Maruti, 11 trades. 255% returns. 23% average returns. Strike rate is slightly lower at 36%.
Reliance, 18 trades 757% returns. 42% average returns. Strike rate is around 45%. 1:8 is the risk reward which is again a good number.
SBI, 21 trades. 80% returns. Average is somewhere around 3%. So if you look at SBI, it was largely, for quite a few years, trading in a range but still I have included it in this back test, just to show that sometimes in these back tested results, when the stock is in a range, it can give you positive returns.
It depends on your stock selection. I have included all the Nifty 50 stocks, Nifty 500 stock results, small cap 250 stock results, which will really help you out to filter down the stocks.
This is the back tested results from the software called trade point from define edge. There could be somewhere that their data can be less or missing. So you have to filter out some stocks out of that.
Again, I am using here the death cross as an exit point, because at some point of time you have to cap your profits. So that is the reason.
I hope you will follow the system and it will be really, really helping you on the investing side.
So before signing off, I request you to click on the like button and do comment on how you think these videos are helping you.
In case you want the back tested results, click on this link and download the files.
Thank you.
Warm regards,

Brijesh Bhatia
Research Analyst, Fast Profit Report
Equitymaster Agora Research Private Limited (Research Analyst)
Recent Articles