The Time to Buy Gold Has Arrived
May 8, 2020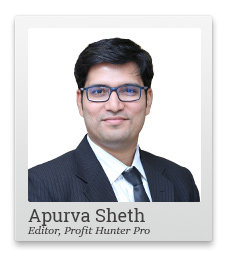 Everyone is talking about gold these days. The yellow metal is clearly in a bull market.
How high can it go? Well, that's anyone's guess.
But more importantly, how do we know the bull market is real? Do we have a reliable signal which tells us that with conviction?
Yes, we do!
In today's video, I'll tell you what it is.
Hi, I am Apurva Sheth And I welcome you to this latest edition of Fast Profits Daily.
Today, I want to talk about a unique profit signal. This profit signal occurs rarely, but whenever it does. It presents huge profit-making opportunity to anyone whose tracking it.
So, what is this unique profit signal and how is it generated?
Have a look at this chart...
The biggest central bank in the world - the US Federal Reserve, generates this signal.
How does it generate this signal and what should you do?
When the Fed starts to aid the economy, that's your signal to buy gold.
Before the Fed started pumping money directly into the financial system - it relied on cutting the federal-funds rate to stimulate the economy. The federal-funds rate is simply what banks charge one another to borrow money.
Cutting interest rates changes the behavior of borrowers and lenders, but it can be slow to influence the economy. Some say it's like pushing with a string.
Nonetheless, it was enough to make a difference during the dot-com bubble.
The Fed began cutting rates in January 2001. That was the first signal to buy gold.
Here's the chart....
Fed cut interest rates from 6.5% to 6% in January 2001. Gold was trading at US$ 267/ounce. The Fed brought down the rates closer to 1% in less than a year. Gold's rally had just begun and the best was yet to come.
Three years later gold rallied to a high of US$ 402/ounce. That's a gain of 51%.
The next Fed-driven gold bull market began during the 2008 financial crash...
Now let's take a closer look...
The Fed continually slashed rates during the crisis in 2008. But it also did something unusual as the traditional method of cutting rates wasn't moving the needle much.
The US Fed started pumping money directly into the banking and financial systems by "printing money" to buy bonds.
The Fed began cutting rates from September 2007. That was the signal to buy gold. Gold was trading at US$ 743/ounce. Within a year's time, rates were down to 0.25% and stayed there for a long time. Gold had rallied up to US$ 1,308/ounce in three years from the day fed started cutting rates. That's a gain of 76%.
The first round of QE began on November 25, 2008. The Fed did four rounds of Quantitative Easing over the next few years. Gold moved even higher over the next one year. It reached US$ 1,746/ounce by November 2011. This was a total gain of 135% since the day Fed began cutting rates.
Now here's the most recent signal...
The Fed started raising rates once the economy stabilized in 2016. The rates peaked out at 2.5% in December 2018.
But last year, the Fed started cutting rates once again. And on March 15, 2020 - when the coronavirus pandemic was spreading - it cut the rates to 0.25%, effectively zero once again. Gold was around US$ 1,426/ounce when the Fed started cutting rates.
A week later, Fed Chair Jerome Powell said the central bank would "do whatever it takes" to support the economy. This means unlimited QE. On April 9, the Fed announced biggest ever bond buying program of US$ 2.3 trillion.
Now this is your signal to buy gold. If the past signals are anything to go buy then gold could see a phenomenal rally over the next 2-3 years.
History may not repeat exactly but it certainly rhymes. The way coronavirus and the lockdown is affecting business and economies, the 2008 recession may be nothing compared to what we may have to witness.
So, gold could be the best way to protect yourselves.
So that's all from me for today. I hope you enjoyed watching this video. Please do like it. Share it with your friends and family. Don't forget to join our telegram channel as well.
Thank you.
Stay safe!
Warm regards,



Apurva Sheth
Analyst, Fast Profits Report
Equitymaster Agora Research Private Limited (Research Analyst)
PS: For details of the #1 stock to buy now... click here.
Recent Articles