Crypto Crash Destroys US$ 830 bn
May 11, 2022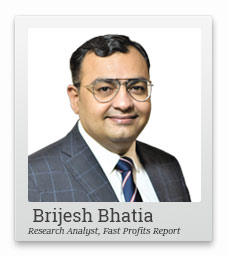 You may have noticed that cryptos have crashed over the last one week.
Bitcoin is down 40% and still falling.
How much lower can it go? What do the charts say?
And is there a crypto you can consider buying?
Find out in this video...
Hello viewers. Welcome to the Fast Profits Daily. Myself, Brijesh Bhatia.
Equity markets are tumbling or correcting, I would say. Dow Jones testing 32,000 in yesterday's session. Nifty approaching 16,000 levels from around 18,000 levels in a quick time.
Important: A Big Prediction of Our Senior Analyst
But in this video, I am not going to discuss about equities but the crypto crash, which we had in last four-five trading sessions.
If I look at the market crash which has happened in cryptos, which was very fast and furious, if I look at the recent fall in the last six weeks, it fell around 40%.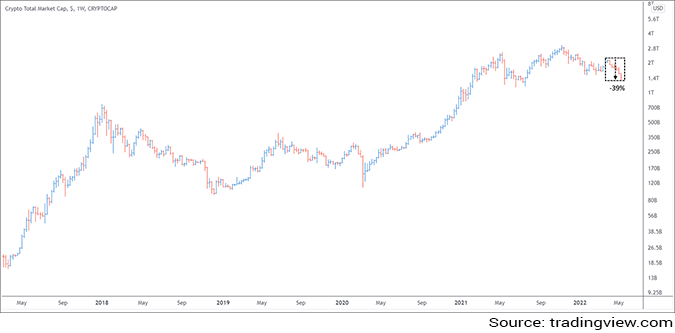 So if you look at the screen over here, this is a total marketcap of the crypto currencies of all the crypto currencies and if we look at the total marketcap, it fell around 39-40% which eroded the wealth of US$ 830 bn which is a huge number.
Now again, US$ 830 bn to gain is not a small number, but it is not the first time which cryptos currencies have done this.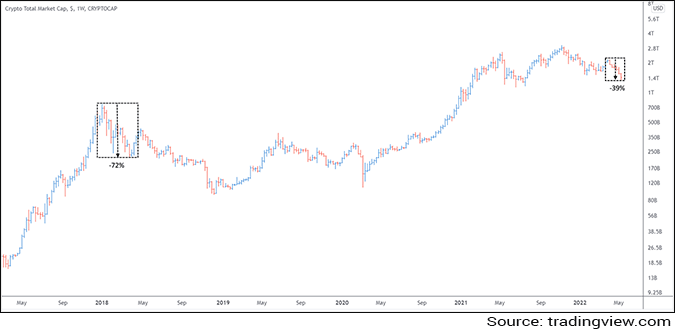 If you look at it right from 2018, if you look at the screen over here, right between 2018, it fell by around 72%.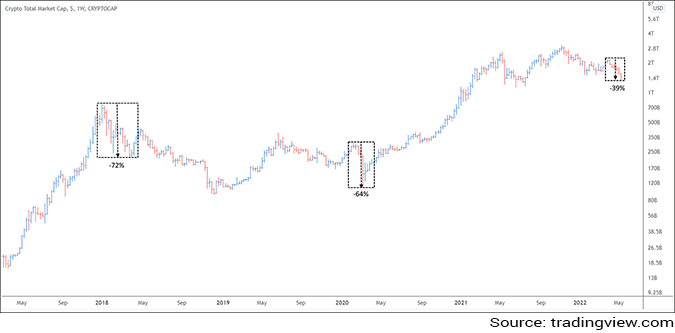 Again, this is a total of the marketcaps of all cryptocurrencies registered at that point in time and stayed in at the current point in time.
So we are taking a cumulative of all the cryptocurrencies and as you know more and more cryptocurrencies are launched on a daily basis. But this is a total marketcap of the 2018 cryptocurrencies, which were there.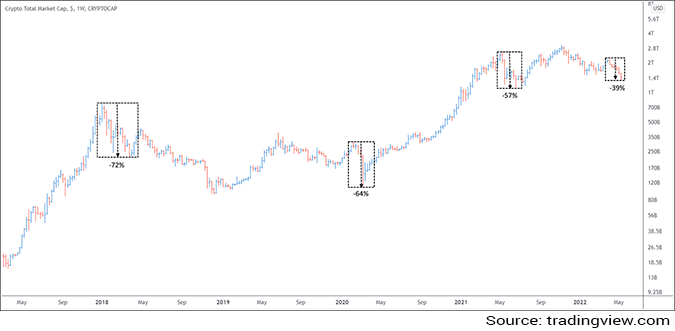 Again, back in 2020, during the pandemic, it fell around 64%, followed by 2021 where we saw around 57%, and if I look at the previous move, apart from 39%, it fell around 51% right in to the last quarter of 2021, which continued 2022 January.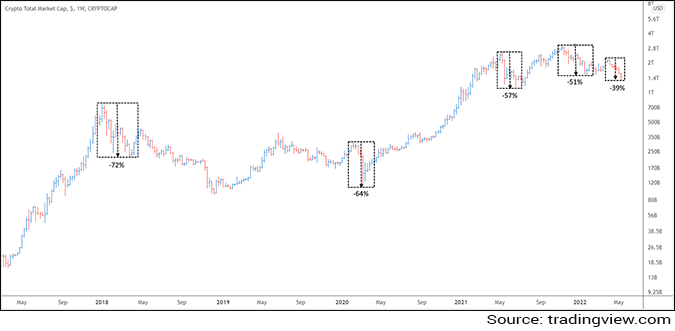 Again, US$ 830 billion wealth destruction is a big number. If I look at the 57% fall previously, it lost around US$ 1 trillion. What is next for cryptocurrencies?
Well, if I look at the one important chart which I think should be a watch for every crypto trader or every crypto investor is the total crypto marketcap where it has broken, for the first time after 2020, the 100 weekly exponential moving average.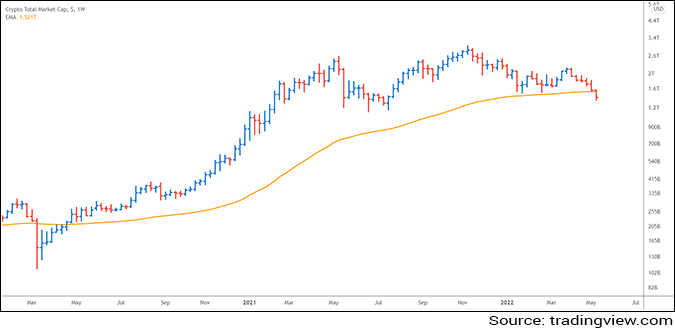 The 100 weekly exponential moving average is termed long term. Being a volatile asset class, still it's breaking and convincingly trading below 100 weekly exponential moving average.
Well for cryptos, a V-shaped recovery is not a rare thing, but it is a very, very frequent where cryptos see a V-shaped recovery, but still the 100 weekly exponential moving average is a long term average and plays a key important role.
What could lead it higher or lead it on the downside? Well, the Bitcoin, which constituents around 42-43% of total marketcap of the crypto currencies, let's look at that chart.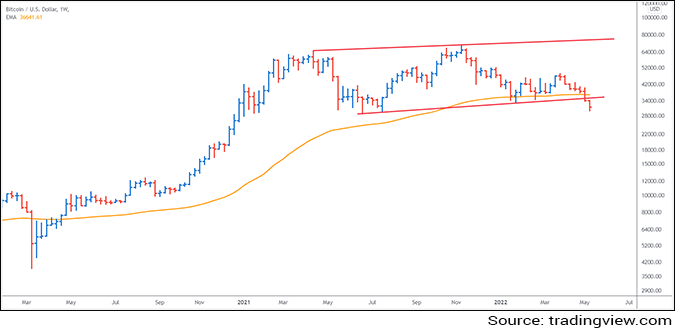 If you look at the Bitcoin chart over here on the screen, it has broken the rising channel structure. Now again, it is bearish in nature. Previous swing lows have been broken out, which was somewhere around US$ 33,000-34,000. It is now trading below those levels convincingly.
Plus, if you look at the 100 weekly exponential moving average which I told is a long term average, the Bitcoin is trading below that averages as of now.
So the structure is very, very bearish as of now for the Bitcoin and again as I said, 43% of the total marketcap of cryptocurrencies, if that leads onto the downside, no cryptocurrencies can be left out and the momentum in the total marketcap chart which we saw will continue to move down side.
Second, look at the structure over here. If, as I said, the V-shaped recovery is very, very fast in the crypto world. Now, only if it closes about the 100 weekly exponential moving average around 36,641, considering a slightly plus or minus, I'm considering 37,000, till Bitcoin doesn't close above 37,000, I think the bearish momentum could continue.
Any rise towards 34,000-35,000 levels on Bitcoin could be a good shorting opportunity because that could be the re-test of the falling channel breakdown and again the re-tests are basically the good risk reward trades on the short or the long side.
In this case, it broke on the downside, so a short opportunity at around US$ 34000,-35,000 mark would be a good opportunity for a Bitcoin short traders considering possible downside targets.
Again, as I said, 37,000 level could be very, very crucial for trend change in case the V-shaped recovery takes place.
On to the marketcap Ethereum is the second highest, which constitutes around 20% of the marketcap. Now look at the chart over here.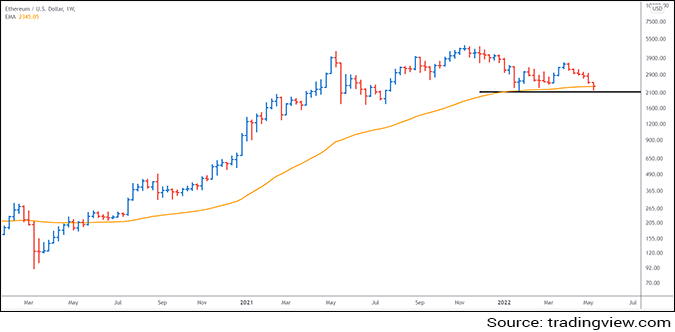 The most important is where we saw the breakdown in the Bitcoin, the previous swing low was taken down. In this case it is still holding on the previous swing low. So yes, the lower-low structure is still intact for Ethereum.
In case the lower-low is not breached down which was around 2,159-2,160 levels, if that level is not taken out, I think Ethereum could outperform over Bitcoin or other cryptos. 20% marketcap of a total crypto world is not a small number. So it will play a key important role.
Also the weekly exponential moving average is placed around the same level. So till 2,100 nor broken, I think Ethereum could outperform against the other cryptocurrencies.
In case you are an investor in the crypto world look for Ethereum as a buying opportunity rather than others. The 20% marketcap still gives you good confidence that the Ethereum would not be like the other cryptocurrencies with the fear of delisting or going 70%, 80%, 90% down. So Ethereum still has a good unfortunately over here, considering Bitcoin is still on to the downside.
Ethereum, till 2,100 is not breached, I think it could hold the total marketcap. As I said, cryptos have a tendency of a V-shaped recovery. The momentum could be very fast and period on the bullish side in case the momentum starts. This is one of the most volatile asset class if I compare with the equities, commodities, bonds or any other asset class.
So cryptos play out very, very volatile. So if it trading or if you are investing, keep a strict stop loss where you can afford it, your pocket can afford it, and don't get into the high leverage instruments in to the cryptos.
Signing off, Brijesh Bhatia.
Warm regards,

Brijesh Bhatia
Research Analyst, Fast Profit Report
Equitymaster Agora Research Private Limited (Research Analyst)
Recent Articles