How I Use My 360 Degree World View for Trading
May 12, 2020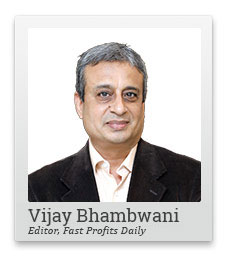 Do you have a very focused approach to trading? Do you go through a fixed trading checklist and then shut your mind to any other information?
Well that's not the best way to go about it.
You need to broaden your horizons and take in a lot more information if you want to be an expert trader.
In today's video, I'll give you a real-world example of how I do this. Let me what you think...
Hi there. This is Vijay Bhambwani and I'm recording this video from my residence as usual, still staying indoors and obeying the lock down instructions.
Now this video for me is of paramount importance. When you watch this video, you will not only possibly get a handle on what's happening in the market but you will also learn how to think using behavioural financial signals using the technique that I have so often said, I have called it the 360 degree worldview. Boots on the ground, eyes in the sky. Call it what you will.
In 2017 a Middle East country, Qatar, was militarily embargoed by the Saudis, the Kuwaitis, and Egypt. In 2019, which is last year I wrote an article on Equitymaster saying how Qatar was rearing cows, and it was good news for India. Before you jump to the conclusion that I am commenting on a political event here, please do not hold that thought. As a matter of fact, banish the thought.
The reason I was rejoicing in that article, saying Qatar was rearing cows was because Qatar was militarily embargoed by these four countries and they basically cut all aircraft traffic. Land, and sea access to Qatar was made very difficult. So Qatar started basically cultivating its own dairy kind of farming so that milk, meat etc was kind of in house kind of arranged.
Why is Qatar so important? Number one, Qatar has the highest per capita income in the world. In terms of rupees, it will be between 97 lakh to one crore and three lakh per annum. Wow, that's a country I would like to live in, wouldn't I, so long as the monetary aspect is concerned.
The second aspect the Qatar's sovereign wealth fund or the investment fund is one of the richest in the world. As a matter of fact, the surplus is so big that Qatar is a very big investor in India.
We have a variety of tie ups with Qatar. We share online and military security pacts. Qatar has been employing at its peak seven lakh Indians in various job profiles and remember, the Qataris are one of the top most pay masters in the world. So the Indian NRIs who at their peak were totalling seven lakh in Qatar were sending millions of dollars to India as NRI remittances.
After the 2017 military embargo of June, Qataris over a period of time have been withdrawing from the Middle Eastern kind of partnerships. So Qatar is out of OPEC now, and slowly but surely, Qatar is even rejigging it's fossil fuels, which is natural gas primarily, and crude oil, which is a secondary export of Qatar. And it's basically changing the entire product mix. It will focus more on natural gas and then crude oil.
The news that triggered me to make this video was that the Qataris have set the official selling price, or SP of crude oil, whatever little crude oil they do export as compared to natural gas, which they are a humongous exporter of, whatever little crude oil they do export, the official selling price of that has been set to, hold your breath, the lows of 1999.
So Qatar is back 21 years in time and is willing to sell its crude at a steep, steep discount, which is bad news for Qatar and bad news for India. Fewer jobs for Indian NRIs in Qatar. Fewer amount of dollars to come back home as NRI remittances.
If you think you can invest in the markets without keeping an eye in your neighbourhood and see what's happening out there, I assure you, you won't really go too far. Qatar, by the way, is also a confirmed investor, a sizable investor in the Bharat Mala pan India road project, the Qatar Sovereign Investment Fund has invested a huge amount of money in the Indian stock market.
If Qatar is basically pulling money out or feeling a cash crunch by selling its fossil fuels cheaper, I dread the time when somebody like Qatar Sovereign Investment Fund, God forbid, is pressurised to sell their assets in India. It's not happened yet, but my job is to keep you forewarned.
This is by 360 degree worldview. This is my boots on the ground and eyes in the sky kind of pattern of investing. My canvas of looking at the market is somewhat expansive as compared to the others. I tend to look at a lot of things before I take any investment or trading decision.
If you go back in time say October between October and November 2017, you will realise that there was a whole deal of volatility in a telecom stock and a natural gas stock. Not surprising, Qatar had a huge stake in the telecom company. They tried to pull money out and the stock crashed. Qatar, also through its official canalising exporting agency, RasGas, has a long term supply contract of CNG to India, the company through which India imported that CNG, the stock price got the jitters.
This is what can happen if you ignore these signals, which are right in front of your eyes. I want my viewers to broaden their horizon, to have a larger world view of what's happening in the world around them, so that they can be well prepared for any kind of adversity that might come from any direction and hit you bang in the stomach.
The idea is to stay sharp and stay alert. More on this later but right now I am pretty worried about Qatar, and the news that I do have is that quite a few Indians from Qatar are finding their way back home to India, which means fewer NRI remittances.
Let's keep an eye on Qatar, I assure you, more videos coming from me in the near future this will have a direct bearing on the USDINR. This will have a direct bearing on the investments in our roadways projects and possibly, I'm using the word possibly, even the supply contracts of CNG with India.
Before a sign off from this video, let me remind you to click like on this video, if you're watching it on YouTube. In the comments section, do let me know what you think about my video and what other videos you would want me to record in the future. Do not forget to share this video with your family and friends and help me spread the cult of knowledge based investments and trading.
Also do join Equitymaster on telegram with the handle Equitymaster official wherein I post at least 2 to 3 updates every day, Monday to Friday. I would love it if you would read those posts.
Vijay Bhambwani signing off from this video to meet again in my next video. Take very good care of yourself, your investments and your trades. Thank you.
Stay safe!
Warm regards,

Vijay L Bhambwani
Editor, Fast Profits Daily
Equitymaster Agora Research Private Limited (Research Analyst)
Recent Articles