My View on Crypto Trading
May 12, 2021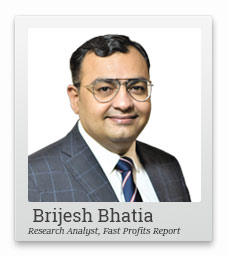 Crypto trading has exploded.
Almost every trader has some interest in this new asset class. Many are either trading it already or are interested in doing so.
How should you trade cryptos? What should you keep in mind as a trader? Which cryptos are the best to trade?
In this video, I'll share my views on crypto trading.
Watch the video and let me know what you think.
Hello viewers. Welcome to the Fast Profits Daily video series. Myself Brijesh Bhatia, senior research analyst and editor at Equitymaster.
So in this video, I'll be discussing what I have learned in 2008, 2009, to 2011. So cryptos has been one of the ongoing hypes as a new asset class in the trading community, investing community and we are witnessing that a huge number of accounts has been opened during this lock down period.
FREE REPLAY: Discover What Richa Revealed in Her Smallcaps Summit
Well, still being an unregulated market every day new cryptocurrencies are coming up. It reminds me of an experience which I had in 2009, 2010, 2011.
People were very much positive, very much bullish. Everywhere you heard that people were talking about gold and silver. Equities tumbling in 2008-2009. We had seen global financial crisis coming up, and gold and silver was one a commodity where it was the talk of the town like the cryptos right now.
We had seen silver prices right in 2009 at around 16,000-16,500 rally towards 72,000-73,000 in 2011. In the time of 2-2.5 years it had gone 4.5x. Being a commodity, having a history of more than a century, a largely globally traded commodity and we are witnessing4.5x in a span of 2-2.5 years.
So everyone was talking about gold and silver. Everyone wanted to buy that and didn't want to miss that rally.
What happened in 2021?
It made a top around 72,000-73,000 and in a few weeks, we're back to around 40,000-45,000. I am not discouraging you from the cryptos as of now. I am not very much bearish also on cryptos. In case you have seen my previous videos, I have recommended bitcoin with a target of more than one lakh.
In case you haven't watched that video, do watch it. I have explained why technically, I believe that bitcoin can see a huge rally.
So I am not discouraging your or changing my views on cryptos.
But everyday we have new cryptos being launched. We have seen Dogecoins from US$ 0.23 went to around US$ 0.6 back toward US$ 0.37.
So the volatility at the current point of time makes it a slightly risky asset for me. That you should always keep in mind. Less number of data and being unregulated asset class.
Anywhere in the world you go, any country, if there is any hacking happening in your account, and you complain to anyone of the central banks or governments, they will not entertain you because that's still an unregulated market.
In case there is a fraud in your bank account and you report it to the RBI, the RBI might take some action depending on how what was the case.
But in this case, there is no regulation and looking at the volatility, it's been a slight concerned for me. So look at the cryptos where you think there is a large chunk of volumes happening. Don't have a herd mentality. Someone was Tweeting and the cryptos are running up!
So being just a speculation with 20-30% volatility, I would strictly put a cautious sign on such cryptos where you don't find liquidity, where you don't find the volumes, with exits and entries being very slow.
So in case you want to trade cryptos, I would stick to bitcoin and ethereum and avoid some of these newbie cryptos which are coming that the market, but overall I'm not bearish. This video is not to discourage the cryptos but to be a sign of caution for you all and I am still very bullish on bitcoin.
So in case you are trading looking at an investment avenue, looking from a trading avenue, keep a watch that you manage your risk properly. We have also done risk management videos on how to do training for living. In case you haven't watched it, do watch this playlist. It will really help you out on how to manage your risk.
Signing off. Brijesh Bhatia. Thank you.
Warm regards,

Brijesh Bhatia
Research Analyst, Fast Profit Report
Equitymaster Agora Research Private Limited (Research Analyst)
Recent Articles