How to Profit from a Rising US Dollar
May 12, 2022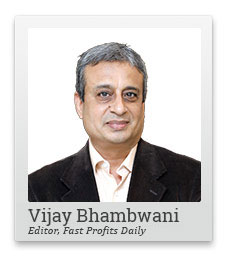 Currently the burning topic that is worrying a lot of traders is the rise in the US dollar.
The dollar's strength is hurting our stock market. But is there a way to profit from it?
Yes, there is.
Find out how in this video.
Hello, friends, This is Vijay Bhambwani.
I hope my videos are helping you basically navigate the markets better, understand the subtle nuances of the market better, and helping you become a better trader and investor.
I'm here to share the experiences that I have had in this market since I have been trading since 1986. That's 32 years. And currently the burning topic that is worrying a lot of traders is the rise in the US dollar.
As a matter of fact, the US dollar index has scaled its highest after December of 2002. That's almost a two decade high. What does that actually mean? And more importantly, how do you profit from it?
Revealed: Alert: Discover Richa's Top 3 Stock Picks for 2023...
You see, the market is known to give you challenges thrown at you ever so often. But you and me, as traders, are supposed to find solutions and profitable opportunities in those adverse times.
Now, why is the dollar rising? If you've been hearing and watching my videos for long enough, you know that I've split the year into 12 compartments each of a respective month and I tell you that so and so commodity, so and so equity, so and so asset, is best traded in this time of the year.
I have also split the decade into years, into favourable and unfavourable times. For example, the US presidential election cycle since it occurs every four years.
In 2020 for example, we had the general elections in the US. The dollar was pumped higher, gold prices were pushed lower, and inflation was brought under control. This is the standard operating procedure.
Similarly, every two years there is a mid-term election cycle. We have a midterm election now on 8th November 2022 because of which the US is pushing the dollar price higher.
Gold and silver prices are likely to come down because the dollar is the invoicing currency. So when the dollar becomes higher, gold and silver come down. And now, after 8th of November, when the dollar stands coming now gold and silver will start going up.
Why is the US interested in pushing the dollar higher? Because the US is the world's largest debtor nation and it has to repay a lot of loans and service those loans which is pay interest in dollars.
So if the local currency the US dollar is strong, number one, all imported goods become cheaper. So that kills imported inflation. Number two, repayment and servicing of loans become cheaper because the local currency is able to buy a lot more of the counter country's currency.
So if the US is curbing imported inflation, what happens to its trade partners? To them, the US exports inflation.
So we are therefore importing inflation as an emerging market, which is a net importer since independence, India will find the landed cost of goods and services more expensive, even though the price doesn't change in the overseas market. But if the dollar becomes strong, rupee weakens. We will have to pay more rupees to be able to buy those goods. So to that extent we come at a disadvantage.
Is there a way to make money from this? The answer is yes.
If there are problems in the market, there are also solutions and I am here to provide solutions to my viewers. Which kind of companies are likely to feel the heat and which kind of companies are expected to gain?
You see, popular perception is that technology stocks on net exporters will make a lot of money because they are going to make money in dollars. I would humbly beg to differ.
I come from a business owner's family, a generations-old business owning family. And I can tell you that the days are over when India's goods importers overseas used to accept whatever contract that we used to give them without a readjustment clause.
Nowadays, the foreign buyers are smart. They tell you we will allow you to profit from the currency fluctuation, but only to this extent. If the rupee weakens against the dollar by more than that percentage, the entire prices re-negotiated.
So the exporters are not really making milk and honey if the rupee collapses against the dollar. That conception is mislaid. It's a misconception. So it is better to find those stocks which are likely to come under pressure when the US dollar becomes stronger versus the rupee and attempt to short sell them.
I agree that selling short is not easy and it does not come naturally to everyone. But then, if you want to survive in this market, you will have to adapt. This market is like a chess board and our money is like chess pieces that we have to keep shuffling on the board and move as many steps as we can so that it is to our advantage.
Now which companies, which sectors, which stocks will come under pressure?
Number one, all those companies that are dependent on raw material which is imported.
Obviously, since we are importing and the rupee is weakening against the dollar, the landed price of those raw materials is going to go up. So the input cost of the company's going up and profitability is going to come down.
Now are all importers going to suffer uniformly? Not necessarily.
Those companies who are importing raw material, putting it as work in progress, and exporting that as finished products will not suffer as much as companies which are importing that raw material and selling locally.
It's because you import in dollars, you add value to the product as a raw material, you make it into finished goods, and sell it in rupees, your cost is escalated and you want to pass on your cost of the consumer. He resists buying. So your sales fall. These companies will lose the most.
Then companies that have a lot of foreign exchange loans, particularly US dollar denominated. In any case, dollar denominated loans in foreign debt is the most common.
Now why is it that those companies who have taken loans in foreign exchange, especially in US dollars, are likely to suffer?
Say, for example, they borrowed money when the USD was 65. So when they got US$ 1 in the country, they were Rs 65 for it.
Now they have to pay interest in dollars and if the dollar has become 75, hypothetically, they have to pay Rs 75 to buy each dollar to pay interest. And when they want to repay this money, if the dollar is hypothetically at Rs 80 they will have to spend Rs 80 to buy US$ 1 to repay the debt.
So number one, there is an interest loss and as the dollar becomes stronger, you're paying out more and more in rupee terms by way of interests. Number two, there is a principal loss, and you're paying more and more by way of a dollar denominated debt redemption.
In my video two weeks ago, I told you about NBFCs, where the money is a raw material and finished products. Many of these NBFCs may also have exposure to dollar denominated loans and do note how many prominent NBFC shares are now tumbling like dominoes.
Similarly, because of the dollar currency peg you will have many such companies in the sectors that I just discussed, who's shares will come down. Be savvy enough to trade or short sell, either on an intraday basis or on a swing basis.
Any other sectors, and are likely to fall? Yes.
Companies that are in the oil based paints business. Oil based paints are made from petrochemicals, and they are important. Plastics and polymers are also derived from petrochemicals, and they are also important, and the landed price of those raw material costs are high.
So these are sectors where you have prime candidates for selling short and making money, either on an intraday basis or on a swing trading basis.
I admit that everybody is not comfortable selling, but then those who can, will have the dance with the prom queen, and that's what winning is all about.
On this cheerful note, my friends, I bid goodbye to you not before reminding you to click like on this video if you liked what you saw.
Subscribe to my YouTube channel if you haven't already done so. Good, bad, or ugly, I'd love to have your feedback in the comments section And please refer my video to your family and friends so that I reach out to a wider audience and help them take more informed trading and investment decisions.
Thank you for your patience in sticking around in this video. Till we meet again in my next, this is Vijay Ambani Bhambwani off. For now. Take care. Have a very profitable day. Bye.
Warm regards,

Vijay L Bhambwani
Editor, Fast Profits Daily
Equitymaster Agora Research Private Limited (Research Analyst)
Recent Articles