You Will Get a Chance to Short Crude Oil Once Again
May 13, 2020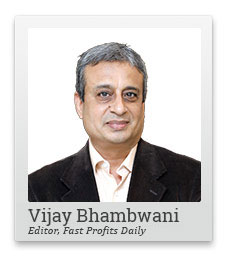 The Saudis are struggling with low crude oil prices and the Coronavirus has made matters worse for them.
I believe they cannot hold on to a stable level of crude oil for much longer. They signs are there for us to see.
In this video, I'll tell you why I'm expecting to recommend a short sell trade on crude oil to my subscribers.
Let me know what you think about the video.
Hello, friends. This is Vijay Bhambwani back again recording videos from my residence, still staying indoors due to the lock down. I hope you're staying indoors to keeping yourself safe, but at the same time watching the markets, keeping in touch with the pulse of the market, so you don't miss out on all the action whenever a trade presents itself.
This video is specifically recorded to update you with a very critical news item that I read in the international domain about Saudi Aramco. Throughout 2019, I have been obsessing about oil and gas. This has been the backbone of all our trades in the Weekly Cash Alert service.
I can't get enough of fossil fuels because I think that's where the money will lie. For traders, I talked about bullishness include only because the Saudi Aramco public issue was to hit the markets. It was quite simply expected to be the largest public issue known to mankind. It was a record setting, trend setting public issue. And the only way this IPO or the initial public offering could have succeeded was to push up the price of oil because that is what will determine the profitability of Aramco.
That said, I have been bearish thereafter and in one of my videos of a couple of months ago, I talked about how the proceeds of a little over US$ 25 billion will not help Saudi Aramco.
Remember all through 2017 and 18 conjecturing and target setting by Saudi palace was talking about upwards of US$ 200 billion required by Saudi Aramco to basically give flight to the long term plans called Vision 2030 of Prince Mohammed bin Salman or MBS.
Collecting US$ 25 billion instead of 200 plus billion is not really going to solve problems. In my earlier video, I had talked about how the Saudis needed to redeem their short term bonds that they had issued upwards of US$ 27 billion. So, typically speaking, the entire money collected by the Saudi Aramco through its IPO. More than that, actually, slightly more than that is required to repay.
Now, because of falling crude oil prices, Saudi Aramco has declared a decline in their profitability by a whopping 25%. There was a dividend assurance built into the IPO document itself the Saudis have expressed intent of honouring that commitment.
But remember, when your profitability goes down, you're going to eat your capital. So to that extent, that dividend are not entirely advisable with then, if they go back on their development commitment, I think the stock price will take a hammering.
The Saudis know that, and this dividend is basically to shore up the stock. Which means the Saudis are increasing amount of pressure to generate revenues to stabilise oil prices and keep their social security spending going. The Corona virus is not helping matters at all. Economic activity, even in Saudi Arabia, has taken a massive it. What does it, actually mean for traders who are looking for opportunities of putting food on the table for a family relentlessly, whether the markets go up or down?
It simply means that the current OPEC plus endeavours or efforts to basically shore oil prices higher, will be a temporary affair. Now I have deliberately used the word temporary instead of short, medium or long, because the time frame is something I'm not clear about. I will be watching. I'll be keeping my years to the ground, my boots on the ground, eye in the sky kind of trading.
I've been talking with friends all over the world who are fellow like minded traders and who keep their years to the ground like me and of course, we will be watching charts and statistical analysis of the market, etc, so that we know when it is time to sharpen our knives for the kill.
Do I maintain my bearish view on oil? Yes. All through 2020 I will be seeking opportunities to short sell oil and natural gas at opportune levels.
Do I think the opportunity has got our little more rosier? Yes, I think so. Oil, of course, will not see the cost of carry that it saw in April. Cost of carry has sobered down, and traders have basically gotten wiser.
But natural gas? It's still records. It's still showing me a cost of carry from the month of April, the month of May, to the month of June of Rs 920. That's a whopping cost of carry upwards of 18% about 180% per annum for on a pro rata annualised basis.
Can you actually sustain a business after interest charges of 180% per annum? I don't think so. The businessman inside me tells me that it's not possible. So come what may prices are going to take a knock and I have talked about this in my videos very often, as traders there are two ways you can make Rs 5,000.
One is buy 5,000 shares. Wait for a buck. Cash out. You made 5,000. The second is buy 500 shares. Wait for 10 bucks. You get 5,000.
Prima facie to the rookie or a newbie, it would seem, say both are the same, but to a professional trader buying 5,000 shares for a buck, is higher risk on the Jensen's measure. Basically, these are metrics that mutual funds use. Hedge fund use. I'm a big hedge fund fan. At some point in time, I have dreams of having my own.
So the Jensen's measure and efficiency frontier and other metrics basically help you deploy your capital more efficiently. It basically measures whether taking on one additional unit of risk results in one additional unit of reward or less. If the reward is less than one unit, then the risk is not worth it.
Believe me, buying 5,000 shares for a buck is infinitely more risky than buying 500 shares for 10 bucks. When things go wrong, as they sometimes will, when you have an exposure of 500 the damage will be lesser, all other things remaining constant.
Now, what the Saudis will try to do with oil is since the prices of oil have compressed, they will try to sell more barrels and not all barrels will go at the same price. So they'll start to increase their discounts on the SP or is the official selling price, which is announced by all oil exporting countries every month.
It is all a known fact to professional oil traders that the SP is not constant. There are always discounts to the SP. The Saudis will offer a discount under the table as compared to the SP The SP is basically a face saving device. The actual give and take is the price, which actually is the money that actually changes hands per barrel.
So my guess is the Saudis will try to do what traders who are basically buying 5,000 shares for a buck are trying to do. They will rely on higher turnover, lower margins. Hey, that's very risky. So the on the Jensen's measure, Saudi Aramco's profitability does not look good. The Saudis will remain under pressure. They will try to shore up their revenues.
And at some point in time, there are so many moving parts in the organisation called OPEC plus, all it requires is one guy to go crazy and start ranting. You have the entire house of times going down south.
So remaining short on oil in 2020 is the way to go. But leave the entry and exit levels to the professionals. You can't just go out there and take a unilateral decision. Okay?
Weekly Cash Alert subscribers will obviously be receiving on the hand only their required trade alerts, etcetera and for Fast Profits Daily viewers, in this playlist expect more videos from me.
This is Vijay Bhambwani signing off for now, not before reminding you to click like on this video if you're watching it on YouTube. In the comments section, please let me know what you think of this video and what else you would want me to record in my future videos.
Don't forget to share this video with your family and friends. Help me spread the cult of knowledge based investments and trades. Hey, we are on Telegram. Do join the telegram channel of Equitymaster with the handle Equitymaster Official, where I put up a couple of posts every day Monday to Friday. Do take very good care of yourself, your trades, your family, your health, and I'll see you in my next video. Thank you.
Stay safe!
Warm regards,

Vijay L Bhambwani
Editor, Fast Profits Daily
Equitymaster Agora Research Private Limited (Research Analyst)
Recent Articles