Is Intraday Trading For You?
May 13, 2021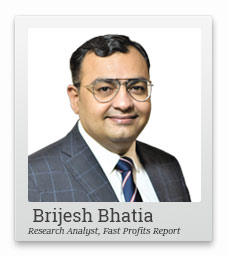 So you what to be an intraday trader?
That's great but do you know what it takes to be one?
Many people have jumped on to the trading bandwagon recently to make extra money during the lockdowns.
Unfortunately most don't have the necessary knowledge or skills to become a good intraday trader.
In this video, I will shed light on this topic and show you what I've learnt over the years as a day trader.
I hope you find the video useful. Do let me know your thoughts.
Is intraday trading for you? What is intraday trading?
In this video, we'll be discussing some of the nitty gritties and I'll share my experience on how, intraday trading has been helpful for me, can be for you, and what are the hindrances or what are the problems which generally occurs during intraday trading.
Myself Brijesh Bhatia, senior research analyst and editor at Equitymaster and welcome to the Fast Profits Daily video series. So let's start with, what is intraday trading?
So basically intraday trading is you buy when the markets open in 9:15 in the equities or if you're trading commodities at 9 AM and by the end of the market closing at around 3:30 PM on the NSE or BSE and 11:30 or 11:55 on the MCX or currency, whatever it is you're are trading, and by the market close, you end up your positions. Which means that buying and selling has happened and you close your positions.
So that's basically intraday trading.
Now, should you do intraday trading?
Going LIVE Today at 5pm: Our Special Event on India's Revival
I started my career in 2006. I probably started first trade in 2007 into the commodities especially and if I just remember, the first trade was on gold, which I bought and sold, probably in 1 hour 30 minutes, or 1 hour 40 minutes.
So staring into commodities as a career, the margin was slightly lower and I had no idea what the equities were all about because I was just a newbie into the markets. When you're a newbie looking at the market, it's always that you want to make money out of it and I guess the same has been experienced by you as well.
But as the time evolved, I realise that there are many, many things apart from just analysing and trading into the intraday side. I am sure that the intraday trading right in 2006, 2007 probably in 2010, and the culture now in 2021 has seen a drastic change.
So I know many of them who were trading in way back in 2008-9 and people were more dependent on the research calls, which they get on SMSs or probably at that time it was BlackBerry messaging. WhatsApp was probably new to the world. So people use to be dependent more on calls and they used to trade.
But now, since the time has changed, people are evolving, people are focusing more on their studies, denoting time to their research.
In 2020 when the lockdown started, people started opening up their new demat accounts, new trading accounts, they closed accounts which were inactive, started activating them, which means that people are now looking for, during this bad time, are looking for business avenues.
So there are small traders. There are big traders, the small shop vendors, or probably who are looking for some of the revenues to mitigate the costs of their households and gain some income from this intraday trading.
This has changed drastically in the last 10-15 years, is what I have seen. So people are now educating about intraday trading. So I will share my experience. What are the stuffs you should think of intraday trading.
I have created a special YouTube channel, or probably to playlist on how to do a trading for a living. So you can watch that in detail.
So first thing is, the biggest challenge, generally, which people face today in intraday trading is, are you able to denote time from 9:15 to 3:30 if you are trading equities? If you're trading commodities, 9 AM to 11:30 PM.
There are various problems, family problems, although those stuffs which are there. So are able to denote the time for this intraday trading?
Second is strategies. People generally don't have a proper strategy for stock selection, especially the stocks selection. So people just look at the screen. The stock is moving, you jumping in now on to the running train and you make a profits out of it.
So I guess that is the biggest problem in intraday trading. So you need to strategise yourself, try various strategies. There are a number of strategies on intraday trading. So I generally follow Heikin-Ashi 10 minutes and 15 minutes charts, where I think in case something is excellently building up on the Heikin-Ashi and there is a trade on the intraday side, I'll definitely look for it. So you need to strategise some of this stuff.
Third is discipline. Yes, discipline is very, very important. So there is a disciplined that you need to keep right from 9:15 to 3:30 when it comes to the intraday trading.
Greed. So every day it won't be the money making day. So they have could be days out of 22 trading sessions there could be trades where you are making 17 days money and probably, five days, a loss. So try to control your greed.
For targets, you will try to keep daily targets as well. So making 2,000 a day, making 5,000 a day, making 10,000 a day, whatever your target is. In case the target is achieved, try to lower your risk. So there are various risk management techniques you should learn for intraday trading. So greed is very much important and how to control it.
Risk management. So there is a risk management. In case you are looking for 1.5% trade 2% during intraday, what is the stop losses? So I generally what I prefer is, 1% should be the stop loss. Max 1% risk I will take on my intraday trading. So if 1% it is, I generally stop my trading day. So you need to keep your rest management under control.
Next is trading platform and brokerage. So trading platform plays a key role over here. Those who are trading intraday, generally look for technical stuff, look for derivatives, so there are various brokers who offer the platforms. I don't want to name them because this is not a sponsored video, but there are various brokers who are giving you excellent trading platforms to analyse, to trade with just a single click.
So you need to try to find out which is suiting your style, which is suiting your derivatives data. Will it be available? Will technical data be available? Is it real time? Is it slightly delayed? So you need to figure out those which is very much important for you as a trading platform.
Selecting the best broker. So you need to select the best broker which will benefit you. The support should be there. There should have no glitches, or technical errors. So there are all various stuffs when you're selecting the brokers.
Charges. This is very, very much important because generally you don't know what the brokerage is being charged. What are the charges? If you remember the SEBI rules which have the higher cost when you are ending the trades in the in the money options. So you need to keep all those charges by brokers by SEBI, all those stuff. Before trading you should have handy on the stuffs what is your break even.
Next is margin funding. So basically, when you trade intraday, brokers generally offer you margin funding and when you have a lakh in your account, brokers give you 3x or 4x. When you have a lakh with 4x, it means you are offered a margin of four lakhs. So till 4 lakhs you can trade on the intraday side.
So you need to keep a margin. What kind of leverage you want to take? What is your risk management subject over here? So these are the various stuff which I have experienced during my intraday journey of the last 10-12 years. So you need to keep watch on this.
Again this I've learned by evolving, by trading and all that stuff. So you should keep a watch on these stuffs. Tough this seems simple when you watch this video, but they are practically very, very much important. So you need to keep watch on this.
I hope during this bad times during the lock downs, during the slow down, intraday trading helps you to make money and be dependent on your trading income.
So before signing of, I request you to click on the like button and click on the subscribe button. Also do comment. We are very happy that people are commenting on our video and I would request you to comment, about whatever, anything on this video.
Signing off. Brijesh Bhatia. Thank you.
Warm regards,

Brijesh Bhatia
Research Analyst, Fast Profit Report
Equitymaster Agora Research Private Limited (Research Analyst)
Recent Articles