Protect Your Wealth from Fund Managers
May 14, 2020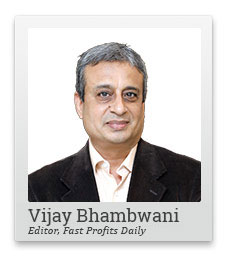 The recent Franklin Templeton debt fund fiasco has brought to light the pitfalls of investing in fund of funds.
This is when a mutual fund invests in another mutual fund.
In an investment like this, you end up paying fees twice over.
In today's video, I'll tell you why you must be on your guard against these kinds of funds.
Hello, friends. This is Vijay Bhambwani back again with you still recording these videos from my residence because of the lock down. I hope you're staying safe watching the markets.
Do not lose pulse of the markets or when you actually get back into trading or investing, you might feel a little out of touch.
This video is triggered by what I read in the mainstream media about the Franklin Templeton funds.
In my younger days, I wanted to read all I could about the Second World War and I read William Shirer's book The Rise and Fall of the Third Reich. Shirer says historians dissuaded him from writing about the Third Reich because, they said, if you write about any historical event or any event any earlier than 50 years after it has transpired, you might put out incomplete were version of history. The reason is a lot of data keeps coming out.
Similarly, the Templeton saga is still unfolding and throwing out a lot of data in front of us market watchers. The present set of information that was carried by a frontline pink paper actually saddened me. I wish it wasn't so, but then hey it is.
It seems, Franklin Templeton incorporated Funds of Funds. Now these are finds that invest in other funds. So can you imagine a mutual fund incorporated very early from the point of view of taking money from the investors and putting it in a mutual fund, a sister concern of the same management.
Most investors would say so what?
Wake up! I say you need to wake up in such a case. What really happens is that you are basically paying fund management fees as mutual fund manager's salaries, enterprise expenses of running the offices of these mutual funds twice.
You wanna pay these fees twice. Go ahead. Be my guest, but I think and average investor. Or let's say average Joe needs to be a lot more sharper about where he or average Mary, where she is deploying her money, how it is being used.
The sources and application of funds needs to be very, very clear. It's your money. I can only make some videos to help you safeguard your money. But at the end of the day you're the guy who's gonna have to get out from that chair and do a bit of work.
Now let me tell you a little bit more. How do hedge funds, typically a fund of funds, operate? This should interest you. And if you're if you're not interested in learning, I would strongly suggest switch off this video of and go watch a movie.
But it's shocking to me as a market professional, as an investor, as a founder, promoter of an incorporated company that invest its money in markets, as to how gullible investors can be. Really.
Now let's go back to fund of funds. Now these hedge funds typically charge you money twice over. One is the asset management or the fund management fee. Typically, a hedge fund would charge you say 2.5% of the corpus has fund management fee.
Then there would be salaries of the research staff, the fund manager etc, and then there would be profit sharing. But before you say oh my god, profit sharing, these guys give you a lollipop. A lollipop called the high watermark.
Now it works like this. The fund will not share any profits with you unless and until it gives you a minimum of a bank fixed deposit, say, 6% per annum, which is the going bank fixed deposit rate.
So you say that's fair. I mean, as long as I am getting at least the bank fixed deposit rate over and above that, if there is a profit, which I hope there will be, let the fund manager keep a little bit of money.
The going rate, the norm for hedge funds, is 20%. Now just think what happens if you are an investor of a fund of funds. You sign away on the dotted line, saying you're willing to part with 20% of over and above the bank fixed deposit rate, which is the high watermark rate, as it is called in in hedge fund parlance and this fund of funds invests in another fund, wherein the fund manager of the end fund signed a similar agreement with the fund of funds.
You see what's happening. You paid 20% of the profits above the high water mark twice. Twice. You seriously think you're going to make serious money by parting 40% of your money? Shocking. But there are investors who seem to have.
If you're really in such a great hurry to give up a of money. May I suggest you take my bank account details and transfer it to be instead? It's not even funny. It's not funny, but you must learn. You must learn how to take care of your money.
At the end of the day, you are the best guardian, the whole and sole cop who can look after the safety of your own money. My job as a parent is to see to it that all the fruits of my labour, whatever I have toiled for in my life, is passed on to my coming generations with as few leakages as far as possible. As long as this is money, there are going to be scores of people who are willing to relieve me of my money. I know that. I can live with that. All my life, I lived with that, but it is my job as a guardian of my money to see to it that my next generation gets as much as it can without these leakages.
Stay on guard, be very careful. Read all the offer documents twice, not once, twice. There is a reason why the print is really really fine, whichever is to your detriment. I'm 54 years old. My eyesight isn't exactly the same as the 18 year old. I've bought myself avery high powered magnifying glass to read the fine print.
Don't ever sign away anything that can be to the detriment of you, your next generation and your family. The whole and sole purpose of this video is to tell you en guard! Stay on your toes. Let's be careful out there. It's your money.
Before I sign off from this video, let me remind you to click like on this video. If you're watching it on YouTube. In the comments section, do let me know what you think about this video and what else you would want me to record in my next video for you. And do not forget to share my videos with your family and friends and help me to spread the cult of knowledge based investments and trades.
There's a whole lot of financial literacy that needs to reach a lot of people. We are trying to do the same with these videos. We need your help to spread the message.
And join Equitymaster on Telegram with the handle Equitymaster official. I put up a couple of updates every day Monday to Friday. Now love it if you could read my updates.
Take very good care of your investments and trades. Vijay Bhambwani signing off for now till we meet again in my next video. Thank you.
Stay safe!
Warm regards,

Vijay L Bhambwani
Editor, Fast Profits Daily
Equitymaster Agora Research Private Limited (Research Analyst)
Recent Articles